GAA director general Tom Ryan has hit back at suggestions the association's top brass should have intervened in the All-Ireland club football final '16th man' row.
The GAA's Central Competitions Control Committee (CCCC) has ordered a replay between the sides after a hearing into winners Kilmacud Crokes defending the final play of the game with 16 active players on the pitch.
GAA director general Tom Ryan has defended Croke Park's handling of the Glen-Kilmacud Crokes saga #RTEgaa pic.twitter.com/43I34iViWM

— RTÉ GAA (@RTEgaa) February 2, 2023
The CCCC waited for beaten finalists Glen Watty Grahams to object to the result rather than launching their own inquiry, as was possible under rule 6.44, apparently to avoid setting a precedent.
That led to criticism of a lack of leadership from the GAA but Ryan insists that the independence of the CCCC had to be respected.
"I don't really think it helps matter too much if we dive in," he told RTÉ Sport.
"The worst thing we could possibly do is the GAA step in [because] there's a deficit there, the GAA should intervene and direct something.
"I have never picked up [phone to] the chair on the CCCC, or anybody on the CCCC, to say, 'Derek [Kent, chairman], this is the way I want this to go'. I will not do that. Any suggestion implied or explicit that in some way we should have been directing something, that's completely wrong. Completely inappropriate.
"To the extent that people don't get that, that's okay.
"The safest thing we can do is to abide by the process that is tried and trusted and it works. We have to be really careful not to intervene but to not undermine that process either."
We need your consent to load this YouTube contentWe use YouTube to manage extra content that can set cookies on your device and collect data about your activity. Please review their details and accept them to load the content.Manage Preferences
When asked whether an exception should be made for such a high-profile game, Ryan replied: "No is the answer, because to my mind if you're playing Junior D football in west Kerry or are an All-Star from Antrim it's the same disciplinary system and people are entitled to have the same rigour applied, irrespective of how good you are or the level you're playing at.
"Also, that competition started out with the normal disciplinary regime attached to it, the first round of various county championships, and it's appropriate that the same regime would apply at the pinnacle of it as well. I wouldn't be in favour of a two-tier or multi-tier disciplinary system based on how good players are."
GAA president Larry McCarthy did not want to comment on the issue but he did accept that tighter rules around making substitutions could be needed.
Speaking after presenting his annual report, Ryan called for members not to rush to judgement on the split-season that was first introduced in 2022 and added that he did not foresee a return to September showpieces.
"Let's give it the three years it deserves before we decide one way or the other," he said. "But it does give certainty of dates to players at all levels.
"I know people have views on summer All-Irelands and the traditions of September that we're leaving behind.
"Traditions are important but perhaps we have an opportunity to forge new traditions now.
"I think the All-Irelands will be summer events. We may end up varying dates a little bit, a couple of weeks here or there, but I don't see us going back to September time."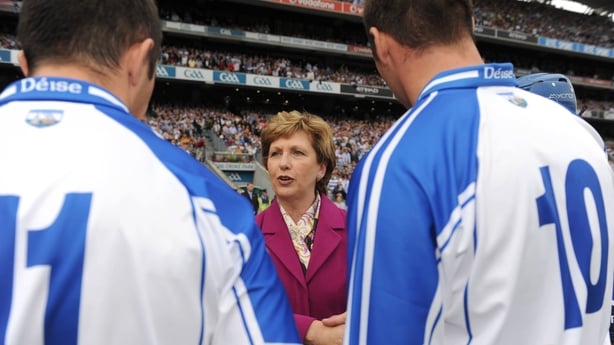 Ryan also said that the proposed merger of the GAA, Ladies Gaelic Football Association and Camogie Associations was "inevitable" but pleaded for patience, saying there were risks to moving too quickly.
"Integration has to happen," he said. "There's only one future for Gaelic games and that's a combined future.
"We're not embarking on this because it's a popular thing or expected of us. We're doing it because it will make for better Gaelic games.
"The will is there on the part of all parties to deliver it. But it's really complicated and the capacity to get things wrong is significant.
"One of the biggest risks is that it looks like one organisation has taken over two other organisations. That's not what it's about. And a risk around catchment areas and who is eligible to play for what club. That's going to take a lot of thought and ingenuity to get around.
"So we need to be afforded the time and the space and the respect to be able to get along with at our own pace.
"It's not a quick process but we have the best possible person guiding us in terms of President McAleese. I can already see the impact she is making on that process."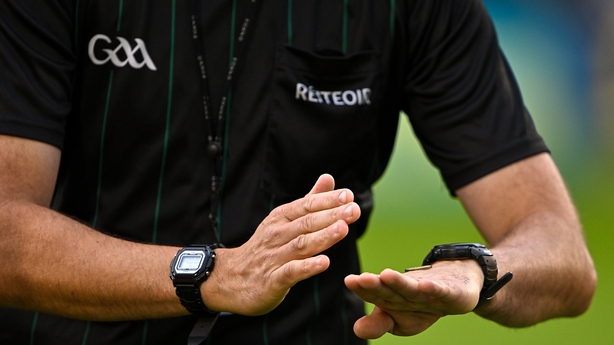 Reflecting on a year when a number of alleged assaults on referees made the headlines, Ryan admitted abuse against officials "has been an issue for us this year" and expressed hope that a survey of refs would lead to new measures to prevent it.
"I've talked [in his report] about how referees are treated and how we can do better, make sure that the abuses they suffer don't happen," he said.
"I think we have actively promoted positivity and respect for officials. And we have to make sure that the disciplinary process stands by referees and trusts in them.
"We've been polling referees throughout the last year. We will have formal feedback from that process in the next two months and that will inform where we go."
Ryan added that those who abuse referees were not welcome at the association's games and should be challenged if they cross the line.
"But to change our collective attitudes and culture, we have to call out or deal with unwanted behaviour.
"Everyone goes to matches and we all see things that are not good from time to time. I think there is a responsibility on each of us as individuals to say 'That's not the way we want things to be'.
"For people that need to be convinced about how you need to behave to referees at matches, we don't really want them at matches.
"I hope, in time, 2022 will be heralded as a watershed moment and things were different in 2023. But it's not going to happen on its own."
Watch Cork v Limerick live on RTÉ2 and RTÉ Player from 7.15pm Saturday and highlights of the weekend's action on Allianz League Sunday, RTÉ2, 9.30pm