The GAA recorded a surplus of €18.2m in 2022 as crowds returned to games and gigs following the Covid-19 pandemic.
The combined surplus, which includes central (€6.7m), provincial (€2.5m) and county (€9m) surpluses, was up from €13.5m in 2021, even as government funding fell to €21.3m (22% of total revenue) compared to €29.8m (44%) last year. Combined revenue was €138.7m, a 17% increase on the previous record of €118m of 2019.
The association had central revenue of €96.1m, up 10% on the 2021 figure.
Gate receipts rebounded to €33.4m (up from €11.7m) as stadiums reopened fully following the end of restrictions. That is almost €3m below the 2019 record but between 2017 and 2018 levels.
In its annual report and financial results, the GAA promised that there would be no increase in championship ticket prices this year, despite what it called the 'marginal' increase of €3 in the price of Division 1 and 2 Allianz League games.
Director general Tom Ryan said the new €18 flat rate (€15 concessions) for league tickets was a "rebalancing" of 2019 prices when advance tickets were €15 and paying on the day was €20.
He said that the decision to freeze championship ticket prices had been a difficult one given high cost inflation and expectations that this year would be tighter financially.
"The surplus is great but is predicated on non recurring things," he said. "We won't be in the same position next year. We're under the same cost pressure as any other enterprise."
The report vowed to stick with the advance ticket purchasing system in Super Valu and Centra "despite some initial challenges" and promised to make student and OAP tickets available through the system this year.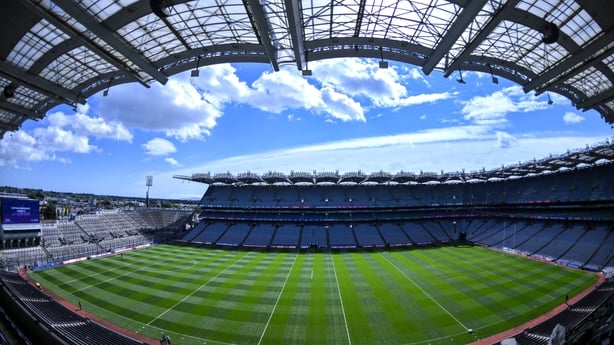 Separate to gate receipts, Croke Park provided a record €17m - almost all of the surplus - in a year in which Garth Brooks finally got to play his long-desired five concerts and Ed Sheeran also filled Jones' Road twice.
That was a 60% jump on the previous high of €10.5m (2019) but there are no shows scheduled or expected for 2023 as yet and Katie Taylor's promoter Eddie Hearn has claimed it would be too expensive to host her next fight at the stadium.
Commercial revenue declined by 14%, from €26.2m to €23m, but the GAA said the latter figure was a return to expected levels as the 2021 figures also included income from the December 2020 All-Ireland finals.
The €21.3m in Government support included €8.2m in direct grants for inter-county male and female players, €6m distributed to clubs under the Government Covid Club support scheme, €3.5m in National Governing Body Covid rescue funding and €2.5m in coaching and games grant funding.
Capital grants (26%), match, team and competition costs (18%) and player welfare (14%) were the biggest areas of expenditure, followed by administration and organisational development (12%), games development (11%) operating grants and club supports (10%) and county distributions (€8.5m).
The figures came in the GAA's annual statement of accounts, ending on 30 September last.