Eleven years before giving one of the great individual All-Ireland final displays, Shane Walsh made his first significant impression on the hallowed turf of Croke Park.
St Jarlath's of Tuam lost a Hogan Cup final by a point, but one of the big takeaways from the 2011 decider was the performance of the Kilkerrin-Clonberne teenager, slotting over frees off the ground with both feet as well as soaring scores from play.
Years of honing his skills off left and right were coming to fruition. His primary school principal Peadar Brandon insisted he take frees off his weaker left foot, while at the football hotbed in Tuam, Fr Ollie Hughes built upon that strong body of work.
Tomorrow he is set to make another debut, a few miles northeast of headquarters, if he lines out for his new club, Kilmacud Crokes in the Dublin SFC. A surprising turn for the career of a gifted footballer whose own fortunes have seemed long intertwined with those of Galway football.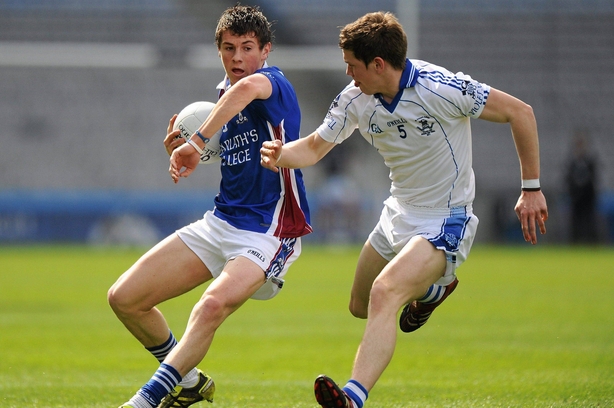 A central cog in a Galway Under-21 team that included the likes of Daithí Burke, Tom Flynn, Fiontan O'Curraoin, Damien Comer and Ian Burke, All-Ireland success came their way in 2013 with Walsh assuming the place-kicking duties.
A senior debut was inevitable, but the circumstances could hardly have been worse, making his bow off the bench against Mayo in a crushing 17-point Connacht defeat.
A year later and he exploded on the national stage, ending the year as an All-Star and Young Footballer of the Year nominee.
The dashing forward Walsh was employed mainly on the half-forward line and while Mayo were too strong in the Connacht decider and Kerry eased past them in the last eight, he was quickly establishing himself as a scoring threat both from play and placed balls.
"When we produce a good forward, they are good forwards and Shane Walsh is kind of coming through now and he looks like he is going to be the real deal if they can sort his injuries out," Padraic Joyce, an RTÉ analyst at the time, said with justifiable authority on the matter.
Sandwiched in between those defeats was the qualifier win over Tipperary and a classic piece of Walsh wizardry upon which so much of his reputation is built.
He picked off five points against the Premier men, but one in particular was quickly cast among his YouTube reel highlights.
Paul Conroy's free from the ground was pulled, but Walsh was quickest to react, racing to meet the ball first time. The first touch, with the instep of his right, was gentle enough to take the sting out of the ball. Without breaking stride, he jinked to the right and spun the ball over off his left with all the ease in the world.
We need your consent to load this YouTube contentWe use YouTube to manage extra content that can set cookies on your device and collect data about your activity. Please review their details and accept them to load the content.Manage Preferences
Progress stalled somewhat over the next three years as the Tribesmen struggled to maintain their place in the chasing pack.
In 2015 a broken hand in a fatal car accident meant there wasn't an opportunity to build on a breakout campaign. A first provincial title came his way in 2016, but in successive All-Ireland quarter-final exits at the hands of Tipperary (2016) and Kerry a year later, Walsh was held scoreless from play.
Claims in some quarters that Galway, and indeed Walsh himself, were drifting were becoming harder to ignore.
I know my strengths. When I am on the ball I know I can make things happen
For all his undoubted talent, questions over his overall contribution remained. Earlier this year, the 29-year-old acknowledged this area of his game was still a work in progress.
"People give out to me, especially Pádraic and Scan (selector John Concannon), 'you only come to life when you get the ball. Can you do more off the ball?'
"That is the challenge for me I have to keep working on. At the same time, I know my strengths. When I am on the ball I know I can make things happen."
Team-mates weren't immune to scratching their heads on occasions over how a player could go from match-winner to at times non-existent.
Former Galway captain Gareth Bradshaw saw the burgeoning talent arrive into the panel and wondered himself how much leeway on teamwork such a gifted individual can be afforded.
"Do you make allowances on the pitch for someone as skilful as Shane? It's a tricky one when you are dealing with 25, 30 other personalities in the group," he told RTÉ Sport.
"There are certain tolerances you have to take based on the skillset. He is going to provide you with so much more than anyone else can."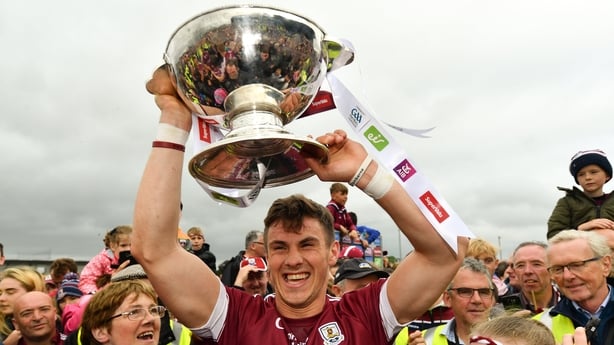 The 2018 Connacht final was a prime example. Walsh's late arrival on the team bus meant a delayed departure for Dr Hyde Park and a showdown with the Rossies.
Kevin Walsh's side floundered in the first half, the only bright spark in an underwhelming display that of the Kilkerrin-Clonberne man. His three points kept the Tribes in the hunt at the break before they powered to victory with a much-improved display after the interval.
"He kept us in the game," Bradshaw says. "Truth be told, the bus should have left without him that morning as he was late. You are saying to yourself, 'is this lad's head really in it?' but then he goes and shoots the lights out. That's what he is capable of doing. He has the talent."
Galway's 15-year wait for a football All-Star was ended that season, though most had predicted it would be courtesy of Walsh, rather than Corofin's Ian Burke.
Prominent against both Kerry and Kildare in the inaugural Super 8s, he gave Dublin defender John Small a torrid time in the semi-final, plundering 1-02 from 11 possessions.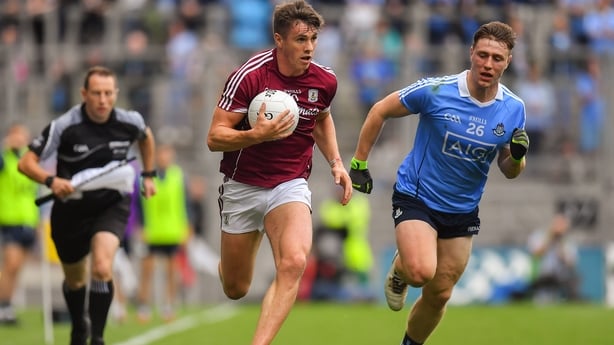 Alan Brogan described his season, six years after his debut, as a "coming of age".
Kevin Walsh's departure paved the way for former team-mate Padraic Joyce to try his luck in the hotseat. His insistence that only an All-Ireland title would be deemed a success set the tone, and the decision to instil Walsh as captain was seen as a significant statement.
His only championship outing in a Covid-hit season was in many ways a classic Walsh performance.
He took Mayo for seven points, including a couple of sensational strikes from distance, but some wayward late free-kicks and ambitious pot-shots fell the wrong side of the posts in a one-point defeat. Questions over decision-making resurfaced, but not for a player who is driven by instinct and feel.
"When you get a football in your hands it is a ball of magic really," he responded this year when asked about his approach to football.
A second successive provincial final defeat to Mayo was particularly crushing. Set in Croke Park, Walsh scored a goal and set-up another as Galway threatened to run riot and full value for a five-point interval lead.
An off-the-ball incident curtailed his impact as the Tribesmen wilted, his final game as captain ending in a demoralising six-point loss.
Joyce's lofty goals were seriously called into question. Would Walsh be destined to finish his career without featuring on the biggest day of the football calendar?
Early season progress in the league was backed up by bringing home the Nestor Cup with Walsh (1-06) sparkling in attack against in-form Roscommon.
"One of the best footballers I've ever seen playing," Joyce remarked afterwards.
Against Armagh and Derry Walsh failed to hit similar heights, though his free-taking prowess against the Oak Leaf County in particular was crucial in a slow-burning start for his side.
In a cagey semi-final, Conor McCluskey effectively blotted the forward out of the game, but still felt two-footed Walsh was the sternest test of his senior career.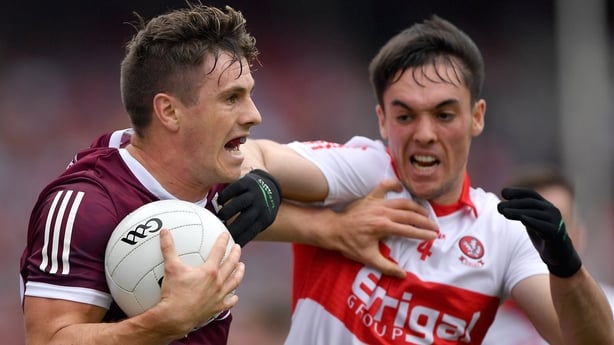 "Marking him required 100% concentration. Reactions are so important. You are trying to read the game and keep an eye on him. Even just trying to keep up with him, he's so quick.
"You need to be touch-tight and hip-to-hip, for near hand tackling. The closer you are, the less it matters what foot he solos off, you are just getting the hand in.
Tom O'Sullivan experienced the full array of Walsh weaponry in the final, with a few collectors items in the haul of 0-09, but the westerners simply ran out of puff coming down the stretch, Kerry taking the spoils and David Clifford edging their duel.
Shane Walsh scores another sensational point for @Galway_GAA. pic.twitter.com/df2oqRfkcO

— The GAA (@officialgaa) July 24, 2022
With his stock at an all-time high and little action to chew over, the news of a switch to Kilmacud Crokes was always going to grab headlines, though the depth of emotion from his own people may have taken him aback somewhat.
Kilkerrin-Clonberne chairman Ian Hynes said the club were "devastated" with the development and vowed to "fight this all the way".
Walsh has often referenced his football obsession, with a change in career from finance to studying a BA in Physical Education at Portobello College in Dublin the reason behind the transfer.
"Could it have been handled better? Possibly, yeah. But it's not an easy topic to discuss," he conceded last month.
"It's a sensitive topic. No one can control anyone's actions. At the end of the day, you're your own person."
Long-term, Walsh believes Galway will be beneficiaries of the move in cutting down on travel and potentially extending his career – he also reiterated his desire to resume playing for Kilkerrin-Clonberne in the future - but of more immediate concern is aiding Crokes push for All-Ireland glory.
The manner of last year's final defeat to Kilcoo will rankle, clutching defeat from the jaws of victory.
The south Dublin club have eased through their first two games of the championship, and Sunday's live TV coverage on TG4 against Templeogue Synge Street is likely to have a strong Galway viewership with Walsh poised for his first appearance.
Kilkerrin-Clonberne have opened their intermediate championship with two wins on the spin despite the loss of their No. 14 - match programmes for the Galway championship were printed before Walsh announced his intention to move – and are trying to channel all energies to matters on the pitch.
Their talisman may well return, but for now there are pastures new for the football obsessive.