After a few false dawns and many disappointments, 2022 may be the year when Galway firmly establish themselves among Gaelic football's elite for the first time in two decades.
As a result, Shane Walsh, the Kilkerrin-Clonberne maestro, a man described by his manager as "one of the best footballers I've ever seen playing", could get to flaunt his considerable wares on the game's grandest stage.
Walsh has long been recognised as one of the most lavishly gifted footballers in the game, a two-footed wizard and owner of the most confounding sidestep in Gaelic football.
In an increasingly choreographed sport, Walsh is a player apart - a jazz musician among set dancers. If he is in tune this evening, Galway's chances of getting past Derry increase significantly.
Inevitably, this occasionally leads him to be out of sync with his team-mates.
Running hand in hand with his instinctive talents is a propensity for the odd brainfart, witnessed most notoriously in the crucial dying seconds of normal time against Armagh in the All-Ireland quarter-final, when he sprayed an absurd Hollywood crossfield ball into Justin Kieran's clutches after several far more prudent options had presented themselves. The Ulster side were given one last chance to sally upfield, from which they manufactured the equaliser to force an additional 20 minutes.
Galway supporters, so often thrilled by Walsh over the years, had their head in their hands at that moment (literally in many cases). And yet Walsh was able to shrug it off, surviving an outbreak of cramp in extra-time before slotting home the opening penalty in the shootout.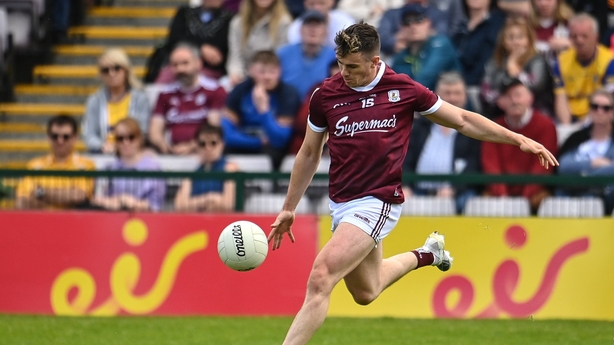 For you take the rough with the smooth with Walsh - and the good of his spectacular attacking ability far outweighs the bad of his intermittent decision-making faux pas.
Though he still sometimes has the air and enthusiasm of an impetuous young player, Walsh has been around for a long time and turned 29 last month.
He made his senior championship debut on possibly the most harrowing day in the whole history of Galway football - being introduced as a first-half substitute in that infamous 17-point mauling at the hands of a ravenous Mayo side in Salthill in 2013.
Galway football had been adrift in mediocrity for several years before that, usually trotting out of the championship on some July evening after an abject one-point loss to a middling team. The jolt of that 2013 defeat, a humiliating reversal against their oldest rivals, played out live on national television, may have served to wake them from their slumber. Rock bottom had been reached. For the most part, they've been on an upward curve since.
Their rise has been uneven in the years after but, through it all, Walsh has been their most shimmering talent, the most widely feared member of their forward arsenal.
In 2014, Galway returned to the All-Ireland quarter-final for the first time in six years, Walsh decorating the last-12 win over Tipperary with a viral score in the first half, controlling an under-hit 45 with his in-step, soccer-style and then swinging over a point on the swivel.
YouTube is home to a couple of compilation videos showcasing his finest moments, marred - as is apparently obligatory with these productions - by some irritating musical choices.
With his acceleration, stylish elegance, ability to solo the ball at full throttle, jinking sidestep and majestic finishing, Walsh at his best resembles a glorious amalgam of Michael Donnellon and his manager Padraic Joyce.
Typical of Walsh's approach is his attitude to free-taking, where he switches between kicking from the hands or from the ground purely on the basis of how he's feeling at that precise moment.
"I play on my instinct," Walsh told GAA.ie's John Harrington in an illuminating interview in June. "So if I feel a ball should go off the deck, it goes off the deck. If I feel it should go out of my hands, it goes out of my hands."
Like Maurice Fitzgerald, he's been known to stroke over frees with both right and left. Walsh credited his primary school principal Peadar Brandon with forcing him to strengthen his left side.
"He would give me about three or four weeks and when that block came he would say I was not allowed to kick off my right foot and it would be a free against me every time I did," Walsh told the GAA website. "I love a challenge, I love when people challenge me."
Surprisingly, or perhaps not, the individual awards have eluded him. Galway, under the hard-headed direction of Kevin Walsh, left their early 2010s torpor behind them to win a couple of Connacht titles in 2016 and 2018.
There was a perception - contested by the manager - that the elder Walsh had sought to get his mercurial attacker to conform, forcing him to become another cog in a defensive system. Walsh (the player) scored just one point from play across four games in the run to the quarter-final in 2016.
In 2018, as Galway reached the All-Ireland semi-final, winning 11 of 15 games across league and championship, Walsh was a far more vivid and expressive presence, scoring 1-32 in total, much of it from play.
His manager was adamant he should have been honoured by the All-Star selectors that year - Corofin's Ian Burke, in 2018, is still Galway's only football All-Star of the past 18 years.
Notwithstanding the previous manager's protestations, the perception was that Padraic Joyce was more inclined to let Walsh be Walsh.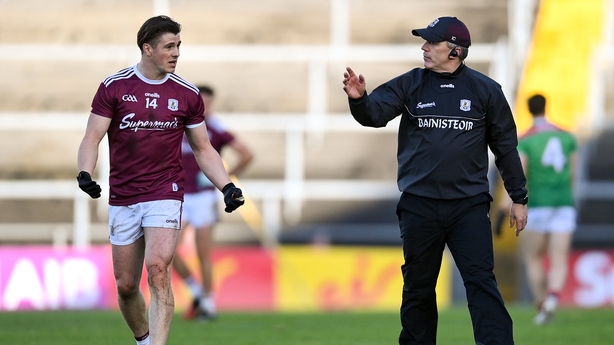 In the behind closed doors Connacht final of 2020, a long haired Walsh, now donning an alice band, was at his most characteristic, alternating between brilliant and frustrating.
With Galway struggling in a scrappy encounter, he glided up the left wing and kicked two sensational points, carbon copies of each other. Late in the game, however, he was over-ambitious from placed balls, pushing two efforts from the sideline wide of the post and his team were edged by one.
The following year, he was singled out for rough attention.
Having rattled the net early in the Croke Park provincial decider against Mayo, he burned the opposition defence for pace on the outside, feeding Damien Comer for the second. Within minutes, he was dumped on the ground following an off-the-ball tussle with Padraig O'Hora (how it started is in dispute) and was rendered a virtual passenger for the rest of the afternoon, Galway going down limply in the second half.
He was similarly dragged into some MMA style grappling late on against Armagh two weeks ago.
Those irritants aside, 2022 has been a bumper year for Walsh and Galway already and he delivered possibly his most electric championship display yet on the county stage in the Connacht final against Roscommon.
A first All-Star award will surely be in the offing if he lights up Saturday's semi-final. One boon for Walsh is that he is very, very far from a one-man band, instead a key part of a magnificent Galway attacking ensemble consisting of Damien Comer, Rob Finnerty, Paul Conroy et al.
"In my mind, he's probably the most skillful player in Ireland," his former manager Kevin Walsh said on the Irish Examiner GAA podcast this week. "Shane loves his football, he never leaves the football down. It's football, football, football. And he's so skillful that you don't want to take that flair out of him because he has that. He can make things happen.
"But the challenge for him and Galway - and it's going to a bigger challenge for him than anyone else - is if he's starved of ball or brought down the sidelines all day and it's not happening for him, he needs to have the patience to be a team player and to make sure that ball isn't kicked away stupidly or hoofed and just take the punishment."
Listen to the RTÉ GAA Podcast at Apple Podcasts, Soundcloud, Spotify, or wherever you get your podcasts.
We need your consent to load this rte-player contentWe use rte-player to manage extra content that can set cookies on your device and collect data about your activity. Please review their details and accept them to load the content.Manage Preferences