Special Congress has rejected the opportunity to revamp the All-Ireland football championship after voting to revert to the system last seen in 2017, with qualifiers and quarter-finals, but no Super 8s.
Despite the public backing this week of current and former presidents Larry McCarthy and John Horan, who both had a vote, as well as a majority of county boards, Proposal B, a league-based championship, received 50.6% of the vote, falling short of the 60% that was needed to carry the motion.
85 delegates voted in favour, 83 against the proposal.
Proposal A, four provincial groups of eight, was rejected by 90% of the delegates present.
Today's result means a return to the pre-2018 qualifier system for next year's championship, with the Tailteann Cup added in, meaning two rounds of qualifiers instead of four.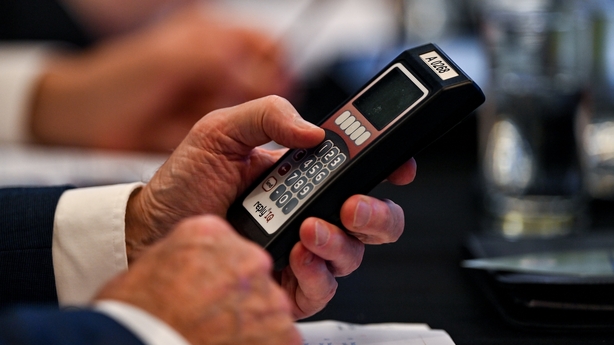 Eight Ulster county delegates were joined by Mayo and Galway in speaking out against the motion.
"I think this organisation will make change when the merits of a motion are structured correctly," Donegal's Micheál McCrann said. "By being the best on the table today doesn't mean that it's right."
The dissenting voices all agreed that change is needed, but called for greater consultation in structural changes.
Addressing delegates ahead of the vote, John Horan said today should be taken as a starting point in the restructuring of the football championship, urging them to show "courage" as he signed off.
GPA CEO Tom Parsons reiterated his view point that Proposal B will "spark life into Gaelic football" while former president Sean Kelly, while advocating Proposal B for a three-year trial, conceded that there was a danger the provincial championships could go the same way as the Railway Cup or the McKenna Cup, under the proposal.
For the secret ballot, each county had between two and five votes, proportionate to their number of clubs, with the 32 counties accounting for 86 of the electorate.
The GAA's Central Council (52), overseas bodies (38) and past presidents of the association (7) made up the remainder.
There had been a growing clamour for Proposal B in the lead-up to today's Special Congress.
Under Proposal B, there would be a league-based championship with each team playing seven games. Preliminary All-Ireland qualifiers would feature second and third in Division 2 taking on the winners of Division 3 and 4.
Quarter-finals would be the top four teams from Division 1 against the fifth-placed in Division 1, Division 2 winners and winners of the preliminaries, while teams that failed to qualify for the All-Ireland series from Division 3 and 4 would enter the Tailteann Cup.
Provincial championships would have been retained, but as spring competitions.
Flaws in the proposal had been highlighted, chiefly that Division 3 and 4 winners get the chance of a place in the ten-team knockout stages that 6th-8th in Division 1 and 4th-8th in Division 2 do not.