Footballer of the Year Lee Keegan admits that the lure of an All-Ireland medal has prevented him from travelling and taking time out with Mayo.
The Westport clubman collected his fourth All Star and was recognised by his peers after another outstanding campaign in the green and red, but it was another case of so near yet so far for Stephen Rochford's side.
Dublin, widely acknowledged as one of the most gifted sides of all time, were pushed to the pin of their collar in the All-Ireland final replay, but yet again Mayo came up short on the big day.
Echoing the sentiments of Dublin's Paddy Andrews recently, Keegan says the demands on GAA players are increasing year-on-year, with the pace of the game now at "insane" levels.
"You don't get much of a life outside work and sport"
"It's getting very difficult," he said. "Even the league has got so competitive. It's hard to sustain, to keep your body in shape and stay motivated, to go back to the club.
"It's very hard to sustain yourself for 10 months of the year. You don't get much of a life outside work and sport."
Rory O'Carroll and Jack McCaffrey both missed Dublin's success this year after stepping away for different reasons, and the 27-year-old admits it is something that has crossed his mind.
"Of course," he says when asked if he has ever considered an inter-county sabbatical.
"My partner, she'd love to go travelling sometime, or see more of the world in the summer because she is a teacher.
"She puts pressure on me that time of year," he jokes, before adding that there is an obvious reason why he hasn't acted on travel plans.
"You always think what the possibilities could have been if I hadn't played Gaelic or took a year out.
"You look at Rory O'Carroll, he's probably not coming back next year, he's obviously enjoying his life away from football.
"But it's easier for him because he has won three All-Ireland medals."
Would finally getting his hands on Sam Maguire make the decision easier?
"Of course...winning an All-Ireland influences a lot of things.
"I'd love to go off for a year and experience different things...even just relax. You'd love to see the different options around the world, but it's our choice.
"We love it so much we come back every year."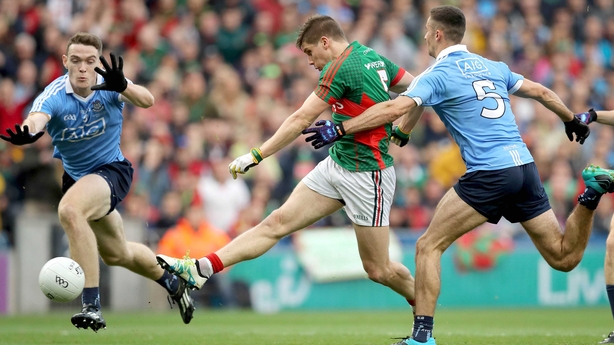 Keegan shoots to score a goal in the All-Ireland Final
Few counties would begrudge Mayo their day in the sun, though Keegan doesn't subscribe to the view that they are an unfortunate bunch of players - despite three All-Ireland final losses in four years.
Indeed he counts himself as "lucky and blessed" to be competing for top honours every year.
Best known for his swashbuckling runs and scoring prowess, Keegan says Rochford and his backroom team have introduced fresh ideas to the panel after the acrimonious departure of Pat Holmes and Noel Connelly.
One in particular centered on the defensive side of Keegan's game, with Rochford thrusting the attacking-minded player into the full-back line during the National League.
He jokes he initially got a nose bleed in his new surroundings, recalling wistfully chasing after Kerry's Darren O'Sullivan in the defeat in Castlebar.
The experience however stood him in good stead for the business end of the year.
"That's where the challenge came from Stephen this year, going in full-back and corner back to expand my game," he said.
"I learned a lot of harsh lessons in the League. I came across some great players and they gave me some hard times. That really helped me towards the championship and I got a different flavour for how corner-backs and full-backs work.
"I didn't do too bad, I got a few scores [against Cork and Donegal] from there as well.
"Overall I was just delighted from the aspect that my defending became a lot better because of it.
"Even playing in the half-back line, getting used to the surrendering one-on-one position, brought my game on a lot more."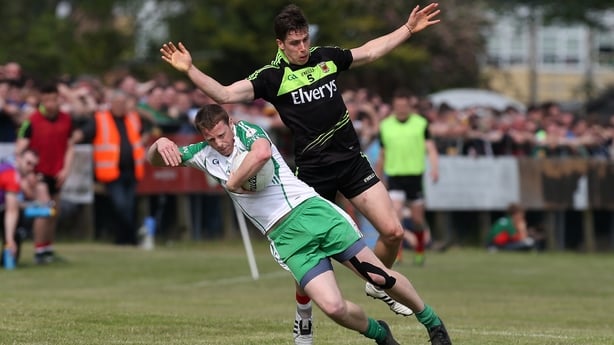 Not that Keegan's natural instincts up the field were entirely curtailed. He was on the scoresheet in the defeat to Galway, while his tally 0-02 in the qualifier against Fermanagh meant he was their top points scorer from play.
He matched that against Tyrone, including what turned out to be the match-winning score, and found the back of the Dublin net in the All-Ireland final replay to finish off a sweeping, clinical attack.
It was, however, his primary job of defending for which he gleaned the most satisfaction when he was told of his Footballer of the Year accolade.
"I like to be recognised for my defending. I am a defender. I pride myself on stopping forwards scoring, to limit their influence as best possible."
In that regard, he could only have been pleased with curbing the influence of Diarmuid Connolly, with his duel with the gifted St Vincent's man again a fascinating sub-plot.
In a ding-dong battle, Keegan was black-carded for his challenge on the Dublin forward which ended his All-Ireland replay in the 35th minute.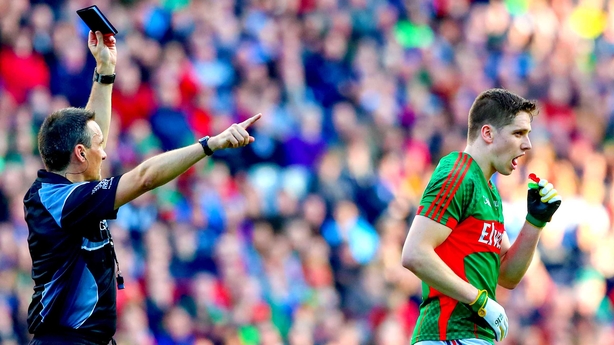 Maurice Deegan issues the Westport man with a black card in the All-Ireland Final replay
Some observers believe the media spotlight on Keegan in the build-up to the game contributed to the decision by Maurice Deegan, but the incident isn't changing his style of play any time soon.
To do so, he believes, would not present Mayo with the best chance of ending their 65-year title drought.
"I have no intention of stopping the way I play. I play hard, I play as fair as possible. I'm there to win at all costs."
The immediate attention turns to Westport's intermediate final at the weekend, but next year, Mayo will go again.
"We just want to achieve the ultimate goal, but it is very me easy saying that."
Lee Keegan was speaking at the launch of the 2016GAA/GPA Opel All Stars jersey, which will continue to support the Childhood Cancer Foundation. The newly designed jerseys are now on sale from O'Neills.