Dublin forward Paddy Andrews says the standards introduced by manager Jim Gavin ensures there is no complacency in the silverware-laden squad, but accepted that they can take their toll on the players.
The 28-year-old claimed his third All-Ireland title following the replay victory over Mayo in October, with Gavin's all-conquering side unbeaten in 2016 and seeking a third Sam Maguire on the trot next year.
The St Brigid's man started the replay after plundering 0-02 off the bench in the drawn final and admitted while he didn't have his best performance in blue, the win was his most satisfying to date.
The hard-working forward says the intensity for places, from the start of the year right through to All-Ireland final day, has been achieved by the squad buying into the culture created by Gavin and team management.
He revealed the ruthless attitude to achieve results, whatever the competition, which has served the Dubs so well.
"Every single game matters," he said. "There's no game where we're like, 'we'll take this one handy here'. Or, 'it's only a league game'.
"That mentality may have been there years ago with Dublin but it's absolutely not the case now.
"The thing that drives that is the competition. I'm already itching to play O'Byrne Cup games because I know I want to get back in and get re-established."
Since Gavin was appointed as Pat Gilroy's successor in October 2012, he has led his native county to four National League titles, four Leinster titles and three All-Ireland titles, with the shock defeat to Donegal in the 2014 the only blot on the copybook.
Andrews admits however that there is a trade-off for the incredible run and continuous improvement of standards.
"It does," he responded when asked if it takes its toll on the players. "You kind of find that the older you get as well. I think I've played eight or nine years with Dublin and it is hard. It's difficult and the pressure that comes with it.
"We played Donegal, we played Kerry and we played Mayo twice. It terms of trying to win an All-Ireland that's as hard really as it gets in terms of that route. And even the two Mayo games, I mean any time with Dublin and Mayo it's just so intense.
"So mentally....even [after] the drawn match, you're kind of set up that the season's going to be over after this and you're ready to put it to bed. Then all of a sudden you've another two weeks of it.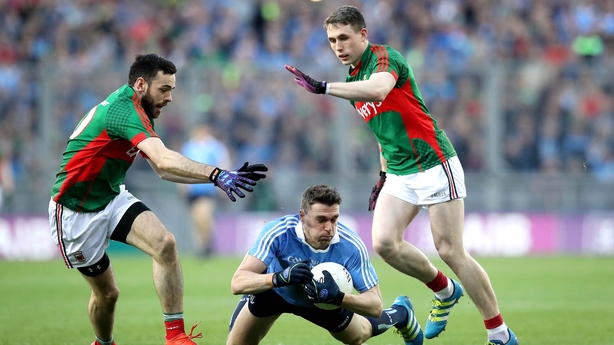 Andrews hit two points in the drawn game after being introduced as a substitute
"We didn't perform the first day as well so there's that frustration too. It does take a lot out of you physically and mentally and that's why it's so important now when you get the break to enjoy it and relax and let the body re-charge."
Andrews also feels that the demands of the long seasons may be reflected in their recent All-Ireland final displays, which he feels have been below par.
After an "amazing" performance against Kerry in this year's semi-final, Andrews was their top scorer from play in the drawn final with two points, while they failed to fully hit their straps offensively in the replay as well.
"We haven't really played our best stuff in the finals"
Last year they were too strong for Kerry in the decider without ever hitting the highs they are capable of.
"We didn't play particularly well in either game [against Mayo]," he conceded.
"I think if you look at our All-Ireland finals that we've won over the last four or five years, we haven't really played our best stuff in the finals.
"By that stage of the season there's so much tension and you've nine months of work behind you, you're nearly hitting the wall," though he adds that it was extra satisfying having to grind it out in such a closely-fought battle.
Andrews acknowledged that Footballer of the Year Lee Keegan had an "unbelievable" year for Mayo, but his choice would have been team-mate Brian Fenton.
"He's just been a breath of fresh air for us.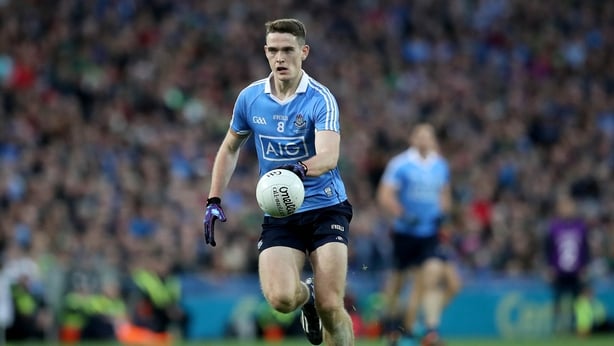 Brian Fenton has yet to taste defeat in a Dublin jersey
"To come in so young last year and cement himself as the number one midfielder and his performances, his energy, the maturity of his play.
"It's way beyond his year for a guy with that little experience."
His club season only concluded at the weekend, but the rest will be short-lived. A team holiday in January is something to look forward to, but the attentions have already turned to 2017.
"Guys get their own gym programmes and things like that to keep ticking over in the next few weeks," he said.
"It's just about trying to push on again and make the most of it, because you won't have too many years left for me anyway. I'm 28 so we want to win as much as we can, while we're still there.
"We'll be every bit as focused at the start of 2017 as we were this year again."
Paddy Andrews was speaking at the AIG Skills Challenge between Dublin and the All Blacks, which marked the launch of AIG Insurance's new discounts for drivers and their spouse/partners.