It has been a special few days for Irish athletics, but nowhere is that pride more evident than within Tallaght Athletics Club.
With Israel Olatunde making history in the 100m, and Rhasidat Adeleke serving notice of her talent in the 400m, the progress of both athletes to final appearances at the European Championships in Munich has been watched on with particular interest by those within the club that nurtured both athletes.
Last night 19-year-old Adeleke announced herself on the world stage with a blistering run in the final of the women's 400m claiming a new Irish record in a time of 50.53 with a fifth-place finish.
The family of Rashidat Adeleke said they are extremely proud of the Dublin sprinter after a blistering run that broke the Irish record in the 400m final in Munich last night. | https://t.co/28QEj7ft2d pic.twitter.com/eD12SEjzdx

— RTÉ News (@rtenews) August 18, 2022
Sister Latifah vividly remembers how her younger sibling got her start in athletics.
The location was St Mark's primary school in Tallaght in Dublin, and the time was around ten years ago.
"We were doing sports day in school and Rashidat was racing against the boys and she beat them," Latifah told RTÉ News.
"One of the teachers said 'you need to join an athletics club'. The teacher then got the contact details for Tallaght Athletic Club and that's how she joined."
A decade on and standing trackside at the club, Latifah is beaming with pride after last night's exploits.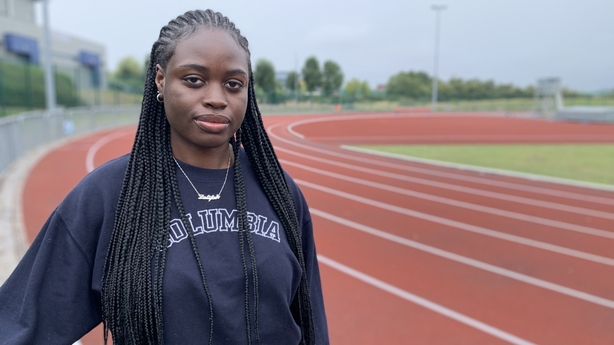 "Honestly, I'm so proud of her, I'm actually honoured to be her sister," she said. "Seeing her doing all these things at such a young age, it's amazing."
Latifah didn't make it out to Munich and was watching the race unfold on TV from Dublin.
"I was at home in my room, screaming 'Rashidat go! Rashidat go!' I wish I was there to see it."
Also at the club today was coach Johnny Fox, who remembers Rashidat coming in as an 11-year-old.
He saw her potential and is delighted and unsurprised about her success.
"I'm only 5 foot 5 but I think last night, I was about 6 foot ten. She's absolutely brilliant."
He then leans in a little closer and says: "You make sure to listen to this. She's going to be number one, there's absolutely no doubt about it."
On Tuesday, 20-year-old UCD student Olatunde ran a new national record (10.17) to finish sixth in the first ever appearance by an Irishman in the 100m final, 0.01sec faster than the mark set by Paul Hession 15 years ago.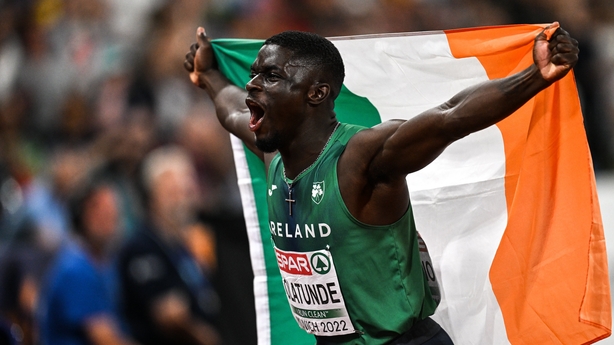 Adeleke joined the club as an 11-year-old and competed in a number of disciplines – 60m, hurdles, cross-country – while Olatunde remains under the tutelage of club coach Daniel Kilgallon.
Tallaght AC PRO and coach Cecil Johnson says the performances of both athletes is a source of inspiration to many.
"Israel was certainly someone who was a late developer to the sport," he told RTÉ's Morning Ireland. "It is fantastic to see, at a time when you have young sports people dropping out after their teenage years or weary 20s.
"To see the likes of Rhasidat and Israel being retained within the sport and progressing so well..."
Johnson is confident Olatunde will "go all the way" and expects both to build nicely for the Olympic Games in 2024
"The Olympics in Paris in two years' time, you will see more of Rhasidat and Israel."
Speaking on the Ray D'Arcy show, Adeleke said: "We're like a duo at this point. We're a team.
"He [Olatunde] has always supported me and I have always supported him. I'm just so happy he's getting the recognition he deserves."
Additional reporting by Conor Hunt