Israel Olatunde ran a new national record to finish sixth in the first ever appearance by an Irishman in the 100m final at a European Athletics Championships.
The 20-year-old finished strongly to record a time of 10.17 seconds in Munich, .02 faster than the mark set by Paul Hession 15 years ago.
Italy's Olympic champion Marcell Jacobs won the final in a championship-record equalling time of 9.95, with Great Britain's Zharnel Hughes second in 9.99 and compatriot Jeremiah Azu third in 10.13.
A historic evening as Israel Olatunde runs a new Irish 100m record to finish 6th in the European final, a race won by Italy's Marcell Jacobs #Munich2022 pic.twitter.com/1WHURBb8ZM

— RTÉ Sport (@RTEsport) August 16, 2022
"It's just amazing," Olatunde told RTÉ Sport of his historic achievements. "To be here in a European final, finish sixth and get a national record, I just can't believe it. I had no idea I ran that fast. It's a dream come true.
"To be able to call myself the fastest man in Irish history is just amazing.
"The atmosphere was amazing, the crowd was amazing. These are the fastest guys in Europe and I'm up there with them. I'm so happy to be there and I know I can definitely improve so I'm looking forward to that."
'It's amazing to be here in a European final... I'm just so grateful to be here' - European finalist and new Irish record holder Israel Olatunde speaks to @DavidGillick after his stunning performance in Munich #rtesport #Munich2022 pic.twitter.com/6PxzriAKCE

— RTÉ Sport (@RTEsport) August 16, 2022
Earlier, Dundalk man Olatunde had run a brilliant closing 50m to finish second in his semi-final behind Jacobs in a time of 10.20.
That meant an automatic place in the final, for which he was the slowest qualifier but he finished ahead of Britain's Reece Prescod and Italian Chituru Ali.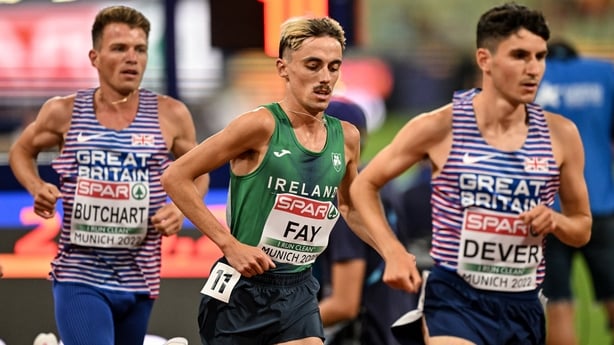 Brian Fay finished with a flourish in eighth in the 5,000m as Jakob Ingebrigtsen coasted to victory in his title defence.
The Norwegian clocked 13 minutes 21.13 seconds as he kicked clear of Mohamed Katir of Spain and Italy's Yemaneberhan Crippa in the home straight.
Fay recorded a time of 13:31.87, with compatriot Darragh McElhinney back in 16th in 13:39.11 as the latter paid for his early exertions in the closing stages.
Ciara Mageean produced an assured performance in this morning's 1500m semi-finals to comfortably advance to Friday's final, while Sarah Healy failed to make it through.
After her recent silver medal at the Commonwealth Games, the 30-year-old continued her good form to set a season's best 4:03.03 in finishing second to Poland's Sofia Ennaoui in what was a significantly faster race than the earlier semi-final won by Tokyo silver medallist Laura Muir.
The Down native took the initiative right from the start, moving to the front where she set the pace to take the bell with Romania's Claudia Bobocea on her shoulder.
On the final bend, Ennaoui made a push for the front and eased past Mageean on the home stretch, with the top four guaranteed of progressing.
In the first semi-final, Healy's time of 4:10.75 saw her finish in 11th place, with Muir first across the line in 4:06.40.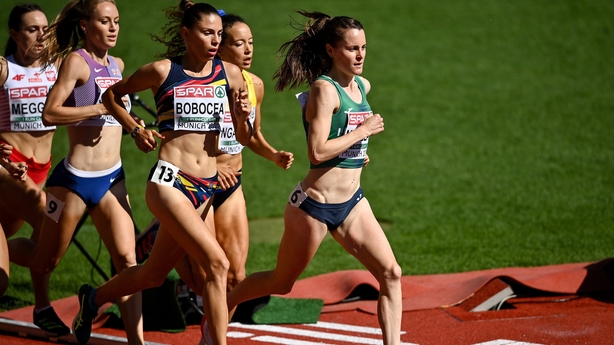 The final takes place on Friday evening at 7.45pm and speaking after the race, Mageean said she felt "controlled" throughout: "I knew Bobocea would probably want to get out fast, that's typically how she races, so I was prepared for any race. If it went slow, I was prepared for a fast finish, if it's a bit faster from the start..."
After watching compatriots Luke McCann and Andrew Coscoran forced to jostle for position in their 1500m exploits yesterday, Mageean stated that her focus was to stay out of trouble.
"I watched the men's 1500m yesterday and I saw the boys fall back into the field and it was scrappy and messy trying to get back.
"I could see the positioning down the home straight, I could see it up on the big screen and I knew I didn't need to race Ennaoui to the line because I was safe in the top four. I'll save that for the final on Friday
"I know I am in better shape than 4:03. I'm prepared for a final that will be much faster."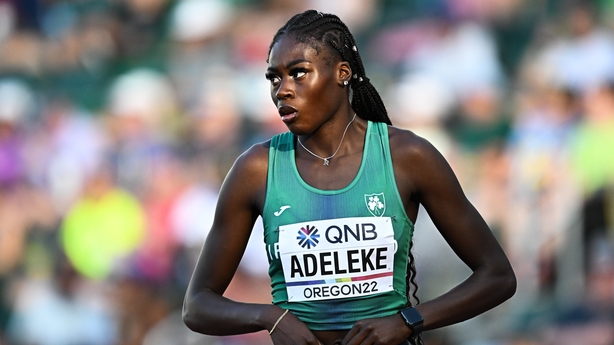 Rhasidat Adeleke booked her place in the 400m final by advancing as the fastest qualifier from the semi-finals.
The Tallaght AC runner was in the third of the semi-finals and was joined by the formidable Femke Bol of the Netherlands.
After a restart due to Belgium's Cynthia Bolingo jumping the gun, Adeleke made a very strong start in lane five where Bol was to the fore.
Coming off the final bend, it was Adeleke, who missed out on a place in the World Championships final last month by one position, who appeared to be pushing Bol the hardest, but she tired a little in the last 50m to allow Bolingo take second.
In what was the fastest of the three races, Adeleke's time of 51.08 saw here through as the fastest qualifier, with Bol winning in 50.60.
"I just wanted to make sure I got out, and I was somewhat in contention coming around the bend and just hold on," she said afterwards.
"It's a short turnaround compared to Worlds, so I wanted to preserve some energy. I thought I was comfortable in second but I got caught on the line. I'm still in so hopefully [there will be] more for the final.
"I saw I was in second and I didn't see anybody on my right. People started to up the gears and I got pipped, but luckily I'm in the final."
The 400m final takes place at 9.02pm Irish time on Wednesday night.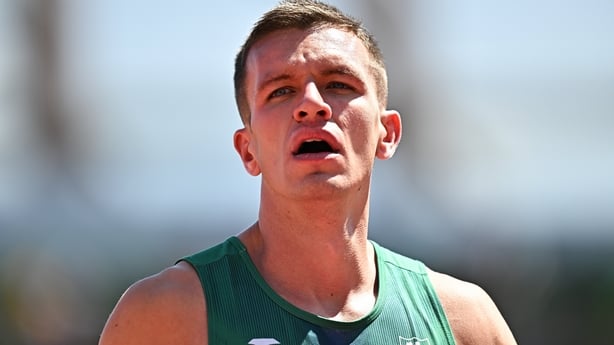 Meanwhile, Chris O'Donnell's fifth place in his 400m semi was not enough to make the final.
The Sligo runner had set his sights on a time around his PB of 45.26 set in June, but crossed the line in 45.73.
The race was won by Britain's Matthew Hudson in 44.98, with Ricky Petrucciani of Switzerland second in 45.55.
O'Donnell entered the championships as Ireland's top-ranked athlete off the back of a strong showing at last month's World Championships, where he reached the semi-finals of the 400m and the final of the 4x400m mixed relay.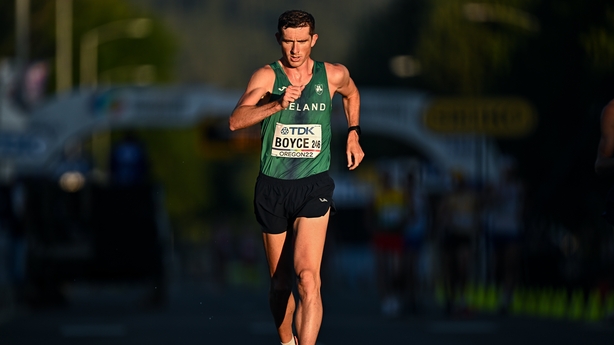 A strong second half to the men's 35km walk from Brendan Boyce saw the Finn Valley athlete secure a top-10 position.
Boyce made up 10 places to finish 10th overall in a time of 2:38:03, over 11 minutes down on Miguel Angel Lopez of Spain, who blitzed the field to take gold.
Competing in his third European Championships and coming off the back of a 25th-place finish at the World Championships in Oregon, Boyce was with the leaders until the 6km mark, when the gap to Lopez at the front went out to 15 seconds.
Two kilometres later it was pushed out to just under a minute and he was in 17th position overall.
While the Spaniard dictated terms at the front and increased the pace in testing conditions in Munich, Boyce maintained his place, going through the 16km mark in 19th place, four minutes and 22 seconds down on the leader.
The three-time Olympian, coached by Rob Heffernan, picked up 10 places in the second half of the race to secure 10th position.
Germany's Christopher Linke was second.
Watch live coverage of the of the European Championships on RTÉ2 and RTÉ Player