Israel Olatunde had already written himself into the history books by becoming the first Irishman to qualify for a 100m final at the European Athletics Championships.
Ranked eighth of the eight starters, Olatunde capped a superb championship showing by finishing sixth in a new national record of 10.17 seconds, one hundredth of a second faster than the mark set by Paul Hession 15 years ago.
In the wake of a breakthrough performance in Munich, the 20-year-old from Dundalk paid tribute to those who had supported him along the way.
"To be able to call myself the fastest man in Irish history is just amazing," Olatunde told RTÉ Sport.
"To be here in a European final, finish sixth and get a national record, I just can't believe it. I had no idea I ran that fast. It's a dream come true.
"The atmosphere was amazing, the crowd was amazing. These are the fastest guys in Europe and I'm up there with them. I'm so happy to be there and I know I can definitely improve so I'm looking forward to that.
"This whole season has just been such a blessing. I'm so grateful to be here.
"Thank you to my coach [Daniel Kilgallon], my training partners, my family, my community, everybody that has been supporting me and showing me so much love. It has pushed me on to get to this point."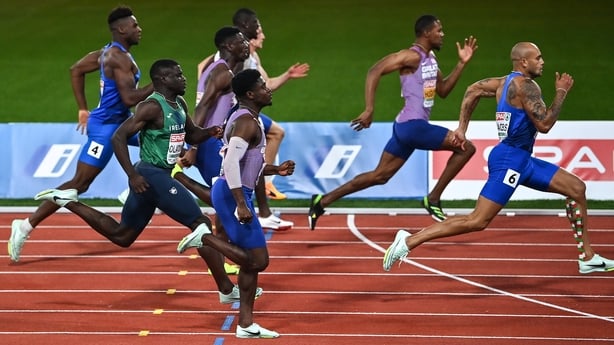 Hession was 24 when he set the previous record in 2007. How has Olatunde, who only turned 20 in May, managed to make the step up to elite level so quickly?
"I think just believing in myself and my faith. Believing in those people around me that have been supporting.
"It has been a long journey to get here. I know I'm still young and I have a long way to go but I'm grateful for the journey I have been on to get to this point.
"I know this isn't going to be the end. I'll look back on the season with my coach and see what we can improve on.
"I think next year is going to be another big season: European Indoor Championships, World Indoor Championships, European Under-23 Championships. I'm looking forward to all of them and I'm hoping to put in better performances."
Olatunde will be back in action with the Irish men's 4x100m relay team on Friday morning and he urged everyone to "tune in and give us some support".
Watch live coverage of the of the European Championships on RTÉ2 and RTÉ Player