There's no event in athletics quite like the indoor 400m, the blend of speed, strength and stamina. But very often it's not about who's the fastest – it's who is the most fearless.
Phil Healy and Thomas Barr will find that out again this weekend, the pair leading the hopes for Irish sprinters at the European Indoor Athletics Championships in Glasgow, which begin on Friday morning.
For Healy in particular, this is a huge opportunity, the Bandon athlete coming in with a realistic shot at a medal. She's only run three times this season, but they were impressive runs, opening with a 52.31 in Vienna before finishing second at the Millrose Games in New York and then cruising to the national title in 52.81.
"For all the brilliance of Barr and Healy, perhaps the best Irish medal chances are in the middle-distance events, specifically the men's 800m and women's 1500m."
Her run at nationals was good. It was a training run, a case of what she could do by herself. When you're in that form and so far ahead of everyone else, it can be a little uncomfortable to produce a good effort as it is, essentially, a training session. But she did it well and looked both strong and fast.
For indoor running, the fact Healy has that base speed over 100m and 200m means she just needs to commit over that first lap this weekend and put herself in a good position. The first thing she needs is to get through the rounds – however in what was an open draw she's been handed a tough assignment from lane 1.
Other athletes are coming into form, it's very close in the rankings so there's not a huge difference between the top women.
Rankings are a good indication of current form, but doing it in a championship environment is what really matters. She will also face the unusual occurrence of having to run both her heat and semi-final on the same day, which doesn't happen at outdoor championships.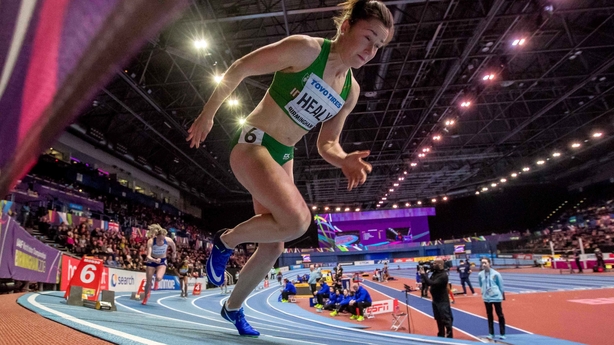 The key is recovery and making sure you come back ready to roll in the evening semi-finals. It's a case of preparing yourself physically and mentally. Once the race is over, it's so important to be time-efficient, get the warmdown done, eat, hydrate and get a massage from the physio. Get back to the hotel and chill out.
Sometimes you have such nerves and tension before a race but then have that euphoria post-race, you could be so relaxed you chat away with no concept of time, losing important recovery minutes and hours.
Allocating a little more time in the evening to warm-up (because your body can be a little tight from earlier in the day, including time on the physio bed to aid the warm-up) can help. It's a unique situation for 400m runners and it is tough, but planning is key.
I can see Phil advancing with ease to Friday evening's semi-final, and from there it'll take a good run to move through to Saturday's final.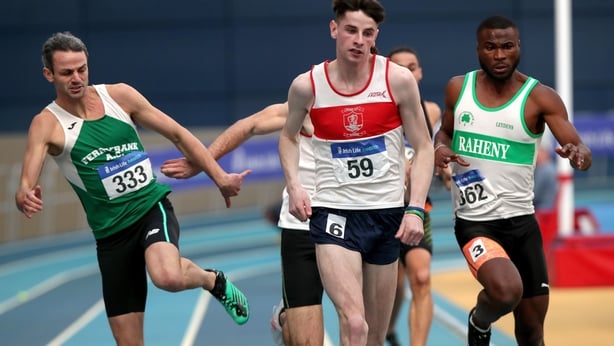 To get there, she'll have to embrace one of the key aspects of indoor running: contact. Thomas Barr felt the full brunt of that in the national 400m final, barged out of the race at the halfway point as he came into contact with Andrew Mellon and Brandon Arrey.
I was watching from the far side of the track in Abbotstown and when I saw the break approaching with three people close together, I knew somebody was going to get bumped out.
It's hard to pinpoint who exactly was at fault, but to be honest that's 400m indoor running. If you're coming in going for a time or to at least medal, then you do what the eventual champion Cillín Greene did: you get to the front and you go for it. The others didn't do that and were left thinking of what might have been.
Tom will be going in with a season's best of 47.05 so is unlikely to have a good lane-draw in the heats, but in the first round a 46-high will get you through, maybe even a 47-low.
For someone of his calibre he should negotiate the first round, even in a bad lane, but he has to make sure he pushes and puts himself in contention over the first 200m, which he hasn't been doing in his last races.
For all the brilliance of Barr and Healy, perhaps the best Irish medal chances are in the middle-distance events, specifically the men's 800m and women's 1500m.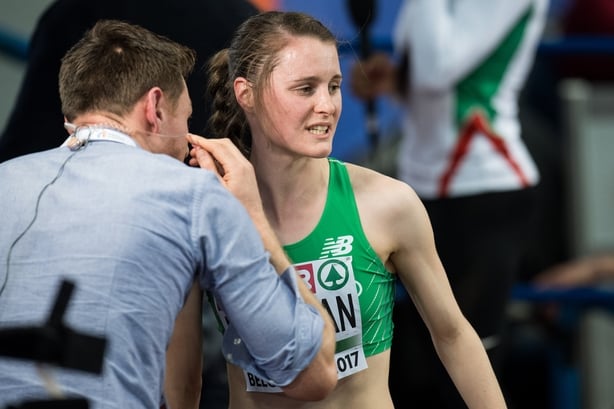 Ciara Mageean looks an athlete full of confidence, going to Glasgow off the back of impressive wins at the Athlone IT International over 1500m and at the national championships over 3000m.
The changes she's made in moving to Manchester have seemed to have worked really well, and to me she seems to have realised the level she is at – and the level she could be at.
In Athlone she ran very well. It wasn't the strongest of fields but the way she performed was really impressive and Ciara came away with personal best and a national record.
At the nationals she looked very comfortable. She's going in confident, and even though it's a very tough field in the women's 1500m, she'll be aiming to get a medal.
Mark English will be doing likewise in the men's 800m. He's an athlete who's coming back to form at the right time. We all know Mark well and have long been aware of his talent, but that gets you to a certain point and at this level everyone has talent.
He has had a few ups and downs the last few years with various injuries and coaching changes, but he's back running well and coming in under the radar. I don't think many are talking about him as a medal chance and he's almost the forgotten one.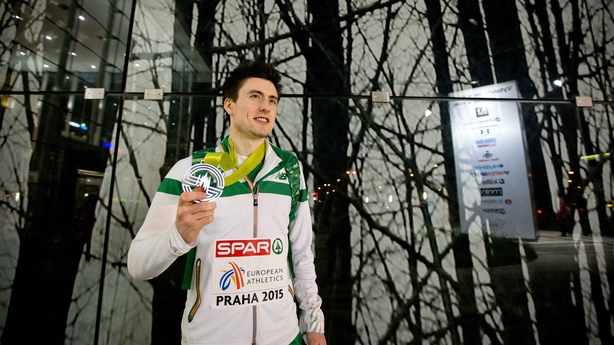 At nationals, he was a good level above the others and only did what he had to do in his confident way. He has medalled at this level in 2015 and there's no reason he can't do that again.
It will be tough, but he has experience in this environment and needs to keep the head, negotiate the rounds and run confidently. If he gets into that final, he could be the dark horse.
While the above four will take star billing for the Irish, it's worth also highlighting others.
It's great to see the breakthroughs from our juniors of last year.
Sommer Lecky will go in the women's high jump after her world Under-20 silver medal last year; Molly Scott, Ciara Neville and Lauren Roy, all members of that world Under-20 4x100m squad that won silver last year, will compete in the women's 60m; Joseph Ojewumi, the 20-year-old Tallaght sprinter, will become the first Irishman since Paul Hession to contest the 60m at this event; and who knows what Greene will do in the 400m after a superb run to win the national title.
It's a tough 18 months ahead for our athletes breaking into the senior ranks. Qualifying standards for both worlds and Olympics are really hard so it's great to see the youth qualifying and making the most of the opportunity.
Internationally, all eyes will be on Scottish hero Laura Muir in the women's 1500m and 3000m, an ambitious double that will be tough to complete, while on the men's side, look out for the Ingebrigtsen brothers – Jakob, Henrik and Filip – who'll likely add to the family's massive medal haul.
Will some Irish athletes also be returning from Glasgow with some excess baggage? Here's hoping.
Watch the European Indoor Championships live on RTÉ2 and the RTÉ Player from 6.30pm on Friday, 6pm on Saturday and 6pm Sunday