Olympian Thomas Barr dropped out of the 400m final at the Irish Life National Indoor Championships today after being bumped off course.
Unlike the outdoor version, runners don't have to stay in their own lane after one lap (200m) of the the indoor race and, as the runners converged, Barr collided with Andrew Mellon and was knocked off balance before calling it quits.
Not how I'd anticipated it would go today, but thats the excitement of 400m indoor running 😈🤷🏻‍♂️. When a stiff breeze could knock me it serves as a good lesson to stay out of trouble at the break come Glasgow in two weeks! Body is 100%. Today is parked. Onwards. https://t.co/NAfEduUquU

— Thomas Barr (@TomBarr247) February 17, 2019
The race was won by Cillin Greene in 47.19 seconds, which qualified the Galway man to line out alongside Barr in the European Indoor Championships in Glasgow in a fortnight's time.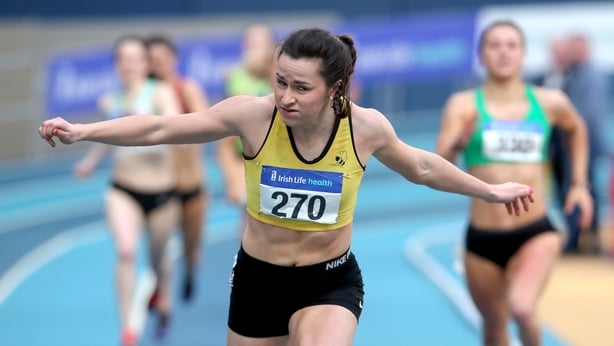 Phil Healy, meanwhile, cruised to the women's 400m title in a championship record of 52.81 seconds.
The Bandon sprinter secured the gold medal in style, finishing over a second clear of St Joseph's athlete Sophie Becker who took the silver, with Nessa Millet taking bronze.
Leon Reid secured his third consecutive Irish title, taking the 200m gold medal at the Dublin venue.
Racing in the outside lane, Reid led from start to finish but was pushed all the way by the impressive running of Raheny Shamrock's Mark Smyth who took silver in a time of 21.64, just 0.22secs behind Reid.
Leevale's Conor Morey finished third to take bronze.
In the women's 200m, Tallaght's Rhasidat Adeleke comfortably took gold in a time of 24.13.
Also running in the outside lane, Adeleke finished well clear of Catherine McManus and Aoife Lynch who took silver and bronze respectively.
Mark English held off Zak Curran to win his sixth 800m title in 1:51.91 and Síofra Cléirigh Büttner caught Claire Mooney off the bend to claim the women's 800m in 2:04.16.
Glasgow-bound sprinter Joseph Ojewumi won the men's 60m in 6.78 seconds. Marcus Lawler took silver, while Dean Adams finished third to take bronze.
Thank you God and thank you coach, 60m European indoor qualifying standard in the bag😅 #awe pic.twitter.com/KD2jK818HY

— Joseph Ojewumi (@JoeOjewumi100) February 8, 2019
Molly Scott took the women's 60m in 7.32secs. The Carlow sprinter produced a brilliant race, with a personal best of 7.32 seconds to strike gold – her first national senior title.
Ciara Neville (Emerald) was right on time in second place in 7.40 – bang on the Athletics Ireland European Indoor standard. And it was Patience Jumbo-Gula (St Gerard's Dundalk) that came third in 7.44 – making it three of the world Under-20 relay silver medallists on the senior podium.
Scott also went in the 60m hurdles, but was edged in an exciting duel with Kate Doherty (DSD), who won in 8.29secs compared to Scott's 8.36.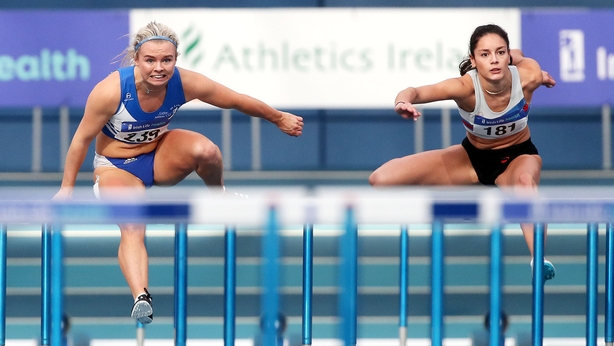 Matthew Behan (Crusaders) broke 8 seconds to win the men's 60m hurdles in 7.96 with Rolus Olusa (Clonliffe Harriers) second in 8.17 and Shane Aston (Trim) third in 8.33.
This was Aston's second bronze of the championship having finished third in the pole vault on day one. The multi-eventer had one last trick up his sleeve and rounded out the championships as the final competitor to win gold in the high jump with a clearance of 2.00m.
Most unexpected victor of the day was Eoin Pierce (Clonliffe Harriers) who surprised the crowd, and himself, for an excellent win in a tactical men's 1500m in 3:55.54 from Eoin Everard (Kilkenny City Harriers) in 3:55.79 and defending champion Kieran Kelly (Raheny Shamrock) in third in 3:56.48.
Amy O'Donoghue (Emerald) lived up to her favourite tag was a smart winner of the women's 1500m in 4:22.18 from Ellie Hartnett (UCD) in 4:22.49 and Maisy O'Sullivan (St Abban's) in 4:24.10.
Irish seniors were a success topped it off with a new Pb 🤪, feeling blessed.🙌🏽  #bronze pic.twitter.com/VJIRVC1Gbu

— Patience ⚜️ (@Patience_Jumbo) February 17, 2019
John Travers (Donore Harriers) impressed in the first final on the track of day two winning the 3000m in 8:07.89 from Paul Robinson (St Coca's) in 8:09.79 and Brian Fay (Raheny Shamrock) in 8:10.10.
Saragh Buggy (St Abban's) produced a championship best performance of 13.05m to defend her women's triple jump title.  
In the women's pole vault, Clodagh Walsh (Abbey Striders) was a good winner with a clearance of 3.60m from Ciara Hickey (Blarney/Inniscara) with 3.50m and Orla Coffey (Carraig na Bhfear) with 3.20m.
In the men's event, Michael Bowler from Enniscorthy took gold with a winning vault, clearing 4.60m. Matthew Callinan Keenan took silver, clearing 4.50m, with Shane Aston (4.10m) taking bronze.
Shane Howard (Bandon) impressed earlier in the day to win the men's long jump with 7.44m.
Sean Breathnach led a clean sweep for Galway City Harriers in the men's shot put to win his 8th indoor title with a best of 16.22m. Brendan Staunton was second in 12.97m with his brother, Michael Breathnach, third in 12.65m.
World Under-20 silver medallist, Sommer Lecky, took gold in the high jump. The Finn Valley athlete cleared 1.86m to finish ahead of Phillipa Rogan (1.83m) and Amy McTeggart.
Swinford's Micheala Walsh won the shot put competition, with 14.44m enough to secure the gold medal, ahad of Alana Frattaroli and Geraldine Stewart.