It's been a great week for Ciara Mageean and the 26-year-old athlete says she is full of confidence ahead of the European Indoor Championships in Glasgow next month.
Three days after setting a new Irish indoor record in the 1500m on her way to victory in the AIT International Grand Prix, Mageean produced a dominant display to win the women's 3,000m in the National Indoor Championships.
The UCD runner pulled away with every lap to win comfortably in a time of 9:02.57 on the first day of the event, but insists she won't be attempting the double in Scotland.
"It was something my coach [Steve Vernon] and I looked at, but I'm going to focus on the 1500m," she told RTÉ Sport's Greg Allen.
"I was aiming to go out in sub nine minutes, I just fell short of that but got the European standard."
Having broken the mile national record last month, Mageean says she was happy with her indoor form ahead of her national record exploits during the week.
"I'm feeling good and going from strength-to-strength"
Her time of 4:06:78 in Athlone eclipsed her previous personal best of 4:08:66 and says the winning feeling is great as she plots more success in Glasgow.
"Being fourth fastest in the world gives you great confidence going towards the European Indoor Championships. I'm feeling good and going from strength-to-strength.
"The confidence is building."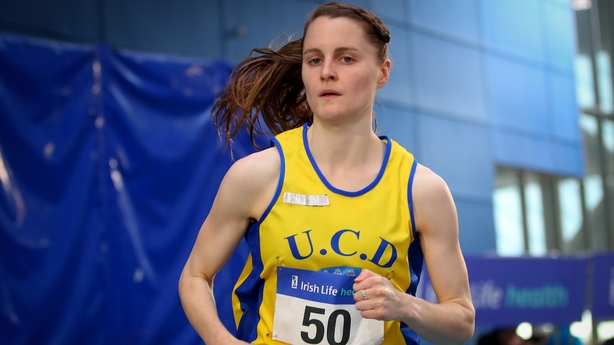 In December 2017 she linked up with Vernon and Team New Balance in Manchester and has spoken previously how she has benefitted from the team environment.
After a successful 2016 followed by a disappointing year, she is looking to bring more consistency to her performances on the track.
"Like most athletes, it's hard to be constantly up there on a high, to have a continuous progression of positivity.
"2017 was a tough season. I didn't meet my expectations a few times and that was tough. I've enjoyed a fantastic year and a bit having moved to Manchester and I'm loving being with the team.
"I've had a good consistent year."