In the golden days customers were offered free banking. But unfortunately those days are over for new customers. 
But how can you keep the fees to a minimum? 
Most banks offer certain categories of customers (e.g., students, over 65s, etc) either reduced or free banking, but for the rest of us charges for using our bank accounts are pretty much unavoidable.
And, if you're not careful these seemingly innocuous fees can build up once they're applied to your account.
All of five main banks operating in the Irish market are taking measures to modernise their current account offerings to meet changing expectations, but according to Mark Whelan from comparison website bonkers.ie, "some banks are doing a better job than others".
He says AIB and Bank of Ireland customers should "avoid paying by chip and PIN where possible, with the banks charging €0.20 and €0.10 for debit card transactions respectively.
Numerous trips to the ATM can also be expensive, with AIB charging €0.35 per withdrawal.
KBC and Bank of Ireland charge €0.30 and €0.25 for ATM withdrawals.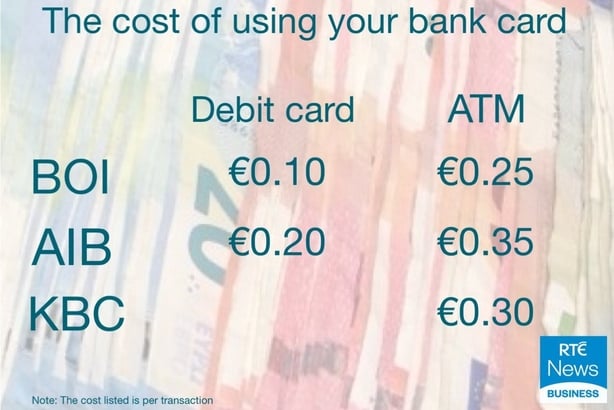 Therefore, customers who prefer to pay for items with cash should get cashback at the point of purchase where they can, as this comes with no fee.
However, there are no contactless fees with any banks, except for Bank of Ireland, which charges €0.01, so this method should be the most prevalent.
It is interesting to note that AIB says fees for contactless transactions "will be waived until further notice", so until you receive such notice you can fill your boots by using your bank card for contactless payments without fear of racking up any large fees.
In addition to transaction fees, all of Ireland's leading banks charge maintenance fees and these can be quite expensive.
AIB charges €18 a year, Bank of Ireland charges €20, KBC charges €24 and Permanent TSB and Ulster Bank both charge €48.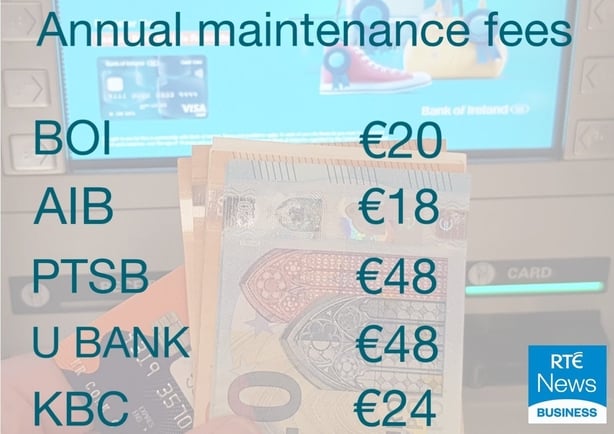 All banks apart from Permanent TSB provide a way for customers to reduce or avoid fees, but for many of us it is next to impossible to qualify for such waivers.
For example, AIB will waive fees for customers who can keep €2,500 on deposit at all times, Bank of Ireland will waive transaction fees (but not the €20 annual maintenance fee) for customers who keep €3,000 on deposit, KBC will dispense with fees for customers who keep a minimum balance of €2,000 for the quarter, and Ulster Bank will waive fees for customers who lodge €2,500 every month.
However, Permanent TSB does things a little differently with the bank paying customers €0.10 back for every debit card transaction, up to a maximum of €5 a month.
Since PTSB charges €4 a month in fees, it is technically possible for prudent customers to make a profit of €1 a month, or €12 a year.
Mark Whelan does point out that "there has been a surge in innovation and competition between Ireland's leading banks over the last two years and consumers now have more choice than they have had in recent times.
"As customers' spending habits continue to change, the banks will be under pressure to constantly innovate and offer the latest technologies and reasonable fees."
Bonkers.ie advises that consumers "who are unhappy with their bank's features and fees should consider shopping around and switching to a more forward-thinking institution".
Current account switching remains low in Ireland, but consumers are becoming more and more curious about the options available to them and it is likely that there will be an increase in movement between banks over the coming years.
An example of recent innovation comes from Ulster Bank in the form of its 'Get Cash' facility, which allows you to withdraw from an Ulster Bank ATM without your bank card, which can be handy if you're an Ulster Bank customer who's forgotten their bank card.
You simply use the lender's app to generate a time-sensitive code that you can then use at the ATM.
Bank of Ireland has decided on the loyalty route, offering customers cashback offers at a range of retailers via its Live Life Rewards loyalty programme, with the lender also introducing a proactive care programme to help to build financial capability.
If you lodge a minimum of €2,500 per month, KBC's 'Extra' account will not charge quarterly or transaction fees.
There is no need to maintain a minimum balance with this offer and the lodgement does not need to be a single one – as long as the sum of lodgements is at least €2,500, it is free.
Time to 'cheque' your habits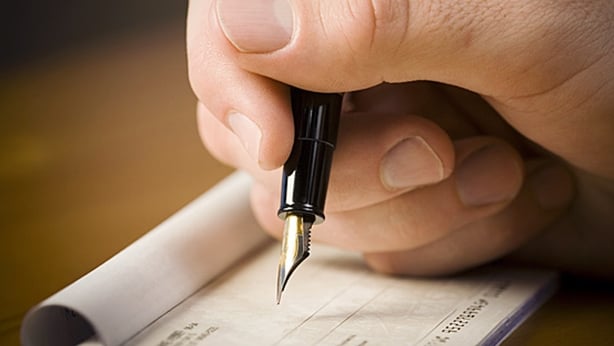 It should be noted that if you're still attached to the practice of using a cheque book, the State makes you pay a heavy price for the privilege, with stamp duty charges amounting to €0.50 per cheque!
That works out at €20 for a traditional book of 40 cheques.
When you compare this with the considerably lower €0.12 of stamp duty charged per ATM transaction, it might finally be time to put the cheque book in the paper-recycling bin.
Apple Pay/Google Pay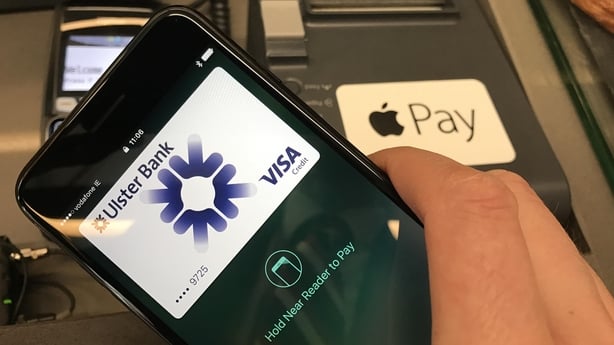 Mobile contactless payment options are becoming increasingly popular in the Irish market, with three of the five main lenders now supporting Apple Pay and Google Pay - just Bank of Ireland and Permanent TSB are still to make the leap in this regard.
AIB treats mobile payment services the same as traditional euro contactless payments, so there is currently no charge for AIB customers availing of either Apple Pay or Android Pay.
KBC also treats the technology in the same way it does with contactless payments and there is no charge for using digital card payments.
As Ulster Bank does not charge day-to-day transaction fees for current account holders, there is no additional fee for using digital cards for payment.
Essentially, all of this means you're not paying any more or less if you use these options instead of making traditional contactless payments.
Bank of Ireland says it has no plans at the moment to introduce these mobile payment options, however, it is understood the lender is in the midst of a multi-million euro IT overhaul and is not likely to offer either Apple Pay or Google Pay until this is complete.
PTSB has said the adoption of these additional mobile payment options are in the pipeline but are not expected to be introduced this year.
Mark Whelan says paying for items with Apple Pay and Google Pay is "the cheapest, safest and most convenient way of paying for items day-to-day.
"There are no fees associated with the payment methods, which unfortunately cannot be said for other ways of paying for items."
Beware of fees to lodge your money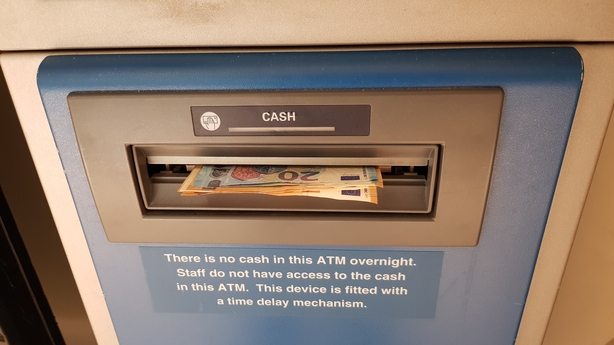 You might have assumed, perfectly reasonably, that banks will not charge you to place your own money on deposit, but if you go to a branch or lodgement ATM to pay funds into a bank account there is a fee to be paid.
For using Bank of Ireland lodgement ATMs there is a €0.25 charge and if you queue up and lodge money in-branch at the counter in BoI the cost rises to €0.60.
AIB has a blanket €0.35 fee for "self-service transactions", which covers making lodgements at the bank's machines. Customers who wish to avail of a "paper/staff-assisted transaction" will have to fork out an extra €0.04.
If you make a number of smaller lodgements, maybe ask yourself if you could save them up and make fewer trips to the bank to deposit.
Ulster Bank, PTSB, and KBC don't charge any additional fees beyond the respective maintenance charges for lodgements.
Keeping costs down
In order to keep bank fees to a minimum, the Competition and Consumer Protection Commission (CCPC) says customers should "think about how you use your account.
"If you are charged per transaction, keep an eye on how many times you use ATMs or use your debit card.
"Visiting the ATM once, or availing of a cashback option with a debit card will be cheaper than multiple transactions."
The CCPC also points out that "many banks now charge a different fee for the same transaction, depending on whether you do it online or over the phone, at an ATM, at an in-branch kiosk or in-branch with a teller.
"Automated transactions, such as using phone or internet banking, can be cheaper than in-branch transactions, so check the charges for each type of transaction."
Another shrewd move - that might seem counter-intuitive - may be to consider transferring cash to your credit card that either has a zero balance or is in credit and use your credit card to pay for purchases.
So long as you pay your bill in full and on time, you will pay no interest and unlike debit cards, there are no transaction fees.