Irish fans are expected to be in the majority in Perth's Rectangular Stadium as Ireland take on Canada in their crucial World Cup tie.
The stadium, which has a capacity of around 20,000, is sold out.
Irish people are still scrambling for tickets for the game, which will determine Ireland's progression in their first ever Women's World Cup.
Ireland must draw or win this fixture to get out of their group and while the Olympic champions have always been billed as Ireland's toughest opponents, Canada's 0-0 draw with Nigeria has given hope that Ireland may get a result.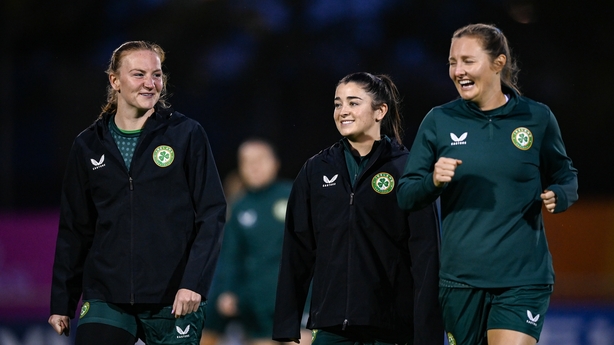 Among those who will be cheering on the Girls in Green is an Australian government minister who was born in Blanchardstown in west Dublin.
Stephen Dawson moved to Australia as a teenager and is the only Irish-born member of parliament, but he said six or seven of his colleagues also have Irish heritage.
"I'm the Minister for Emergency Services, Innovation, Digital Economy, Science, and a few other things in the West Australian Government.
"I first come over as a teenager, so my mum and dad and my brothers and sisters are here. And I lived back in Ireland a few times again. I got elected to parliament ten years ago, and I've been a minister for the last six.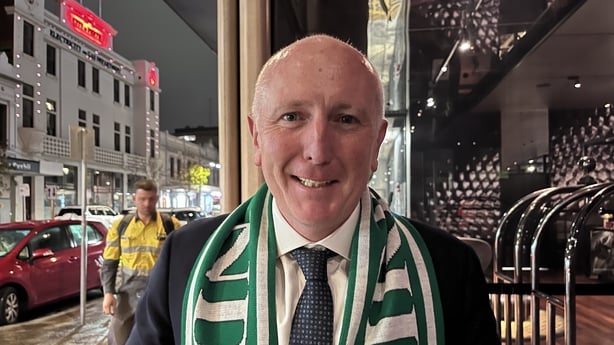 "Perth is a fantastic place, normally sunshine and the heat, but of course we put on the rain for the Irish team to give them the best opportunities to win the match. About 10% of Western Australians are Irish born or from Irish families. So we're a big contingent over here," Mr Dawson said.
He said having Ireland play a game in Perth has been important for the Irish community.
"It's really important. It's a long way away from Ireland and certainly during Covid, we were in lockdown for two-and-a-half years so we couldn't leave the state or people couldn't come in. So home was a long way away. So to have the Irish team in Perth this week is great.
"And I think there'll probably be four Canadians in the crowd and the rest of the Irish. I think we will show the Irish team good fan base and good support and hopefully it helps them get across the line."
Karen Hennessy, from Malahide in Dublin, came to Australia with her husband in 2008 as a backpacker, but she said the global financial crisis led them to stay Down Under.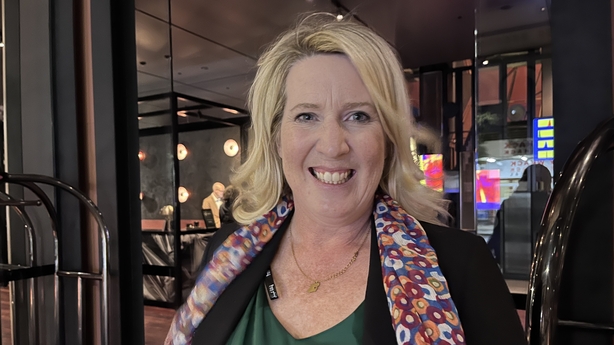 She now lives in a rural part of Western Australia, which is a 17-hour drive from Perth, and is working for Football West, the governing body for soccer in Western Australia, promoting the women's game.
As someone who struggled to find a team to play for when she was a little girl in Dublin, she said she was overcome with emotion when she flew to Sydney to watch the opening game and when the national anthem began to play.
"To look down and see those players that we never knew about. That we never knew there was a pathway to get there when you were my age. You felt they were there for us. For everybody," Ms Hennessy said.
She said she believes Ireland can get a result against the Olympic champions.
"The girls I'd say are well up for it now after last week's game. They know they can do it with that last 20-minute performance. Now we just have to come away with a win. So come on Ireland," she said.
As well of the support of the local community, Irish people living all over Australia have flown here for the game.
There is also a strong contingent of supporters who have made the journey from Ireland for this second game of the World Cup group, including Kevin Brady, his wife Fiona and their son and daughter who live in Glasnevin in Dublin.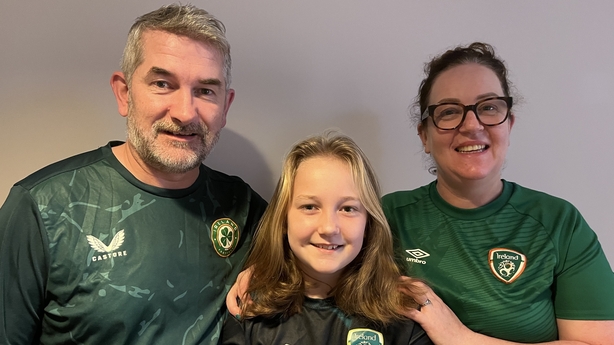 "We're involved with girls soccer back in Dublin. The morning of the draw, we all kind of looked at each other in the sitting room and jumped at the opportunity. It's an amazing experience," Kevin said.
Fiona said travelling to a World Cup has been beyond what she imaged.
"As the slogan says, 'Nothing beats being here'. I had no idea what the atmosphere was going to be like coming out, but it's just been a great craic around the cities, catching up with and chatting to Irish people and to the opposition fans. It's just been an amazing experience to be part of it.
"In Sydney, it was just spine-tingling when you went into the stadium. And I just think it's a fantastic opportunity to be here and be part of it for the first time.
"I think Canada will come out all guns blazing tonight [local time]. I think they'll feel they left it behind [in their last game].
"I think we felt coming out of the pitch on Thursday we'd left a point behind, so it's very hard to judge really. But I think Canada have an awful lot more to prove tonight. I think I'd be very wary of this."
But Kevin is slightly more optimistic.
"I think there was more positives and negatives the last time. I think if our supporters can bring as much support to the girls as we did the other night, I think it's gonna be amazing experience for them. And I think we're gonna be well in it when we get to Brisbane."