A new documentary, broadcast on Monday in Poland, examines John Paul II's handling of allegations of sexual abuse against three priests during his time as Archbishop of Krakow.
The 90-minute film, 'Franciszkanska 3', produced and aired by independent broadcaster TVN, examines then-Archbishop Karol Wojtyla's record in the diocese between the early 1960s and mid-1970s.
Two of the three priests served prison sentences for the abuse of minors.
Over the course of a six-month investigation, the film's reporter Marcin Gutowski interviewed more than a dozen victims of sexual abuse.
He also accessed documents from Poland's National Institute of Remembrance, along with church documents to confirm a pattern of abuse in the diocese by the three priests, now all deceased.
"What I have to underline very strongly is that this [documents from the national archives] is not our main source," the film's reporter Marcin Gutowski told RTÉ News.
"We verified everything. We talked to dozens of witnesses, to whistleblowers who talked to Wojtyla personally during his period in Krakow, gave him some information about the scandals, about the predators."
Since Monday night's broadcast, the programme's makers have been contacted by a number of other people who claim that they were abused by the priests featured in the film.
The documentary has received widespread coverage in Poland, with some publications calling for a reassessment of Pope John Paul II's legacy.
A trail of abuse
Allegations of the sexual abuse of boys by Fr Boleslaw Sadus, a colleague of Karol Wojtyla's in Krakow during the 1950s, are featured in the film.
From 1960 to 1972, Fr Sadus oversaw the teaching of religion in schools in the diocese of Krakow, and also served as a parish priest.
Documents recorded by Poland's former secret police (known as the 'SB' during the Communist era) cite allegations of sexual behaviour by Fr Sadus towards young boys in the diocese, and that the mothers of abused boys in Krakow confronted and shouted at the priest.
A retired capuchin priest from the diocese, filmed using a hidden camera, recalls that Fr Sadus displayed "a sexual deviation towards boys".
In 1972, Archbishop Wojtyla requested a move for Fr Sadus to Austria.
"We also got church documents from Austria when one of the cases was about a priest who was a colleague of Wojtyla. He [Sadus] was sent by Wojtyla, abroad to Austria. And we got letters that were signed by Wojtyla personally, sent personally by him to the Cardinal of Wien [Vienna]," said Mr Gutowski.
In the letter, Archbishop Wojtyla asked the Archbishop of Vienna to allow Fr Sadus to undertake research on the psychological development and "impact of technology" on children.
No mention of past allegations of sexual abuse by Fr Sadus were made in Archbishop Wojtyla's letter.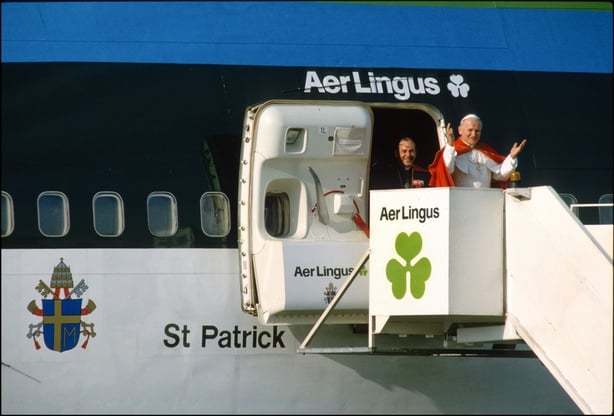 Fr Sadus worked as a parish priest in the town of Gaubitsch, Austria until his death in 1990.
The film contends that Fr Sadus kept in touch with Pope John Paul II during his papacy, and that the Pope phoned Fr Sadus shortly before he died in a hospital in Austria.
Another priest named Eugeniusz Surgent was moved to five different parishes within the diocese of Krakow between 1957 and 1971, following allegations of abuse of young boys at each location.
A number of interviewees in the film, speaking on condition of anonymity, recount being abused by Fr Surgent.
One witness, interviewed by Mr Gutowksi, said that he visited Archbishop Wojtyla at the Krakow curia in the summer of 1973 and informed him that Fr Surgent was molesting children at his parish.
Police records from 1973, shown in the film, cite that the "Krakow curia and Fr Sadus are interested in making the case silent" and that the police recommended an investigation.
Surgent was sentenced to three years in prison for his abuse of a number of boys between 1971 and 1973 in the village of Sol-Kiczora.
He served one year of his sentence before returning to the priesthood and working in two dioceses in northern Poland until his death in 2008 at the age of 77.
Abuse by a third priest, Jozef Lorenc, is also documented in the film. In 1970, he was sentenced to two years in jail for abusing girls in a primary school where he taught.
Lorenc served one year of his sentence and following his release worked for some time as a chaplain at a children's hospital in the town of Chrzanow, in a neighbouring diocese.
Reaction in Poland
The documentary has received widespread coverage in Poland, both from liberal and right-wing publications.
Daily newspaper 'Rzeczpospolita' ran a story on how the National Institute of Remembrance, where many of the documents used by Mr Gutowski's team were discovered, plans to reassess archival material on members of the clergy connected to sexual abuse during the Communist era.
Left-wing politicians gathered at John Paul II Avenue in Warsaw yesterday to call for a renaming of all streets and schools named after the former pope.
But those on the right of the political spectrum have defended John Paul II.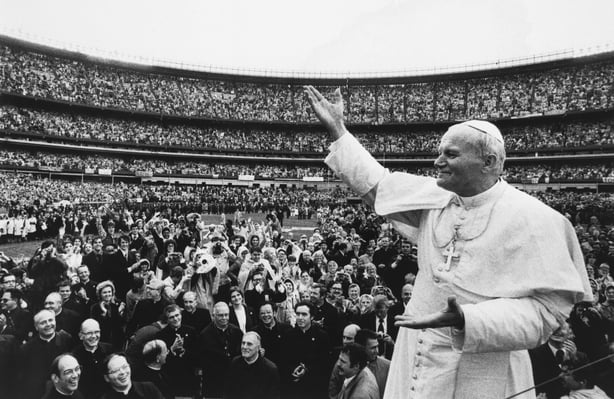 Marzena Paczuska, a member of the National Broadcasting Council, called the film "a shameful attack on John Paul II that will be counterproductive. Borders have been crossed".
On Monday evening, whilst the documentary aired, Poland's Prime Minister Mateusz Morawiecki of the ruling right-wing Law and Justice Party changed his Facebook and Twitter image to that of John Paul II.
And today, Rafal Bochenek, spokesperson for Law and Justice, said that the party intends to propose a bill in the Sejm, Poland's parliament, which aims to "defend the good name of John Paul II".
Church attendance is waning in Poland. In January, the country's Institute for Catholic Church Statistics published its latest survey on church attendance.
It found that 28% of Polish Catholics attend Mass regularly, compared with 40% in 2011.
Mr Gutowski said that representatives of the curia of Krakow declined to be interviewed for the film.
A senior representative from the Catholic Church in Poland also declined an offer from TVN to discuss the findings of the documentary following its broadcast last night.
The documentary is not the only publication to reassess the former pope's record as Archbishop of Krakow.
Today, a book by Dutch journalist Ekke Overbeek entitled 'Maxima Culpa: John Paul II knew' will be released in Poland.
Mr Overbeek's book also focuses on documents from Polish state archives, which catalogue incidents of the abuse of minors by priests in the diocese of Krakow whilst Karol Wojtyla was Archbishop.
Both the TVN documentary and Mr Overbeek's book are separate investigations.
First non-Italian Pope for centuries
Karol Wojtyla was born in Wadowice, southern Poland in 1920.
Ordained as a priest in 1946, he rose to prominence within the Catholic Church in Poland, becoming an auxiliary bishop to the Archbishop of Krakow in 1958, and was ordained as archbishop of the same diocese in 1964. He was appointed cardinal in 1967.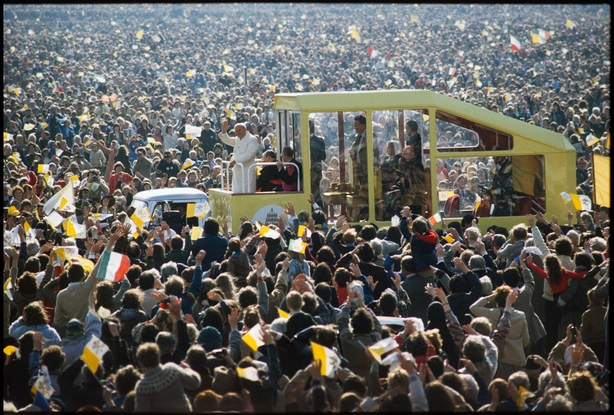 In 1978, Cardinal Wojtyla became the first non-Italian Pope to be elected by a papal conclave in 450 years, taking the papal name, John Paul II.
He famously visited Ireland in 1979, celebrating mass with more than one million people in Dublin's Phoenix Park.
He remained as pope until his death in 2005 and was later canonised.
Mr Gutowski and colleagues at TVN have produced six previous films in a series called 'Black on White' about the papacy of John Paul II, which include his record of handling sexual abuse cases committed by members of the clergy across the globe.
"I'm not sure if it [the film] changes everything about John Paul II. This is the necessary part of the truth about this person, [who is] maybe the most important Pole in history," said Mr Gutowski.
"We cannot close our eyes and pretend there is no problem. We have to bravely face it. And there is still a problem with this in Poland. Many people don't want to see it."