The COP27 climate negotiations in Sharm el-Sheikh, which have been ongoing for almost two weeks, have been extended into tomorrow.
The Egyptian COP27 Presidency has scheduled a press briefing for tomorrow evening at 7pm.
Minister Eamon Ryan, who is the EU Ministerial Representative at the COP27 negotiations on the issue of climate-related loss and damage, said there is still a lot to do before an overall agreement can be reached.
Overnight the EU formally proposed the establishment of a new Loss and Damage Response Fund to help the poorest and most vulnerable countries who are exposed to some of the worst climate change impacts.
The EU proposal would see multiple new sources of finance for such a fund, including levies on aviation, shipping, and the coal and gas industries, as well as richer nation states including China.
It would also include other innovative sources of finance.
That offer is inextricably linked to other aspects of the EU proposal which would require all countries to increase their efforts to reduce greenhouse gas emissions - mitigation - and increased investment in adaptation measures and finance for developing countries to deal with the impact of the changing climate.
While this formal proposal from the European Union is a sign of progress, there is no agreement yet and it remains to be seen what the response from other countries negotiating at COP27 will be.
There is a fear that the talks could end in failure with the parties still divided on a number of significant issues.
Details of EU proposal
Specifically, the EU wants to establish a Loss and Damage Response Fund for the Most Vulnerable Countries to support co-operation and facilitation in developing country that are most vulnerable to adverse effects from climate change.
The fund would be designed to respond to the needs of the most vulnerable countries and to the adverse effects of climate change.
It would receive financial contributions from countries that are in a position to do so, as well as from a variety of other sources, public and private, and innovative new sources of finance.
This would include contributions from sectors such as the aviation industry, the shipping industry, and the oil and gas industry as well as from countries such as China.
The fund will be just one part of a mosaic of solutions responding to loss and damage.
Other parts would include the possibility of reorganising a country's debt as a form of climate relief, and reforming Multilateral Development Banks so that they can assist more.
The EU proposal is that the establishment of this fund should be part of a balanced COP27 outcome which would involve the following:
The creation of a space for parties to discuss how to make all finance flows support the objectives of the Paris climate agreement.
Re-affirming the Glasgow Climate Pact and the pursuit of efforts to limit global warming to 1.5C.
The peaking global emissions before 2025.
The reduction non-carbon dioxide greenhouse gas emissions including methane by 2030.
Urge all parties to urgently increase efforts in this decade to increase greenhouse gas mitigation to put the would on a pathway consistent with 1.5C.
Requesting countries to revisit and strengthen their 2030 targets for national greenhouse gas emissions reductions.
To pursue and accelerate the phasedown of unabated call power as soon as possible and submit roadmaps towards that objective.
To have an annual report about the progress being made toward implementing the phasedown of unabated call power.
To phase out inefficient fossil fuel subsidies.
All countries to enhance the implementation of renewable energy sources.
To urge the reduction of global methane in missions by at least 30% by 2030 relative to 2020 limits.
'A difficult day ahead of us'
Mr Ryan said it is "not certain we'll get a deal across the line".
He said the EU proposal would establish a fund to provide loss and damage funding to the "most vulnerable countries".
"We would do that at the same time as broadening the source of funds going into that - including the likes of aviation, chipping, fossil fuel industries, reform of the global financial system - to deliver the climate justice we need in the whole climate process," the minister told RTÉ News.
"At the same time, what we have to do is also get greater ambition and reducing emissions, because the quicker and more we do that, the less the damage will be done and the less the need for such funding.
"It's a difficult day ahead of us. It's not certain we'll get a deal across the line, but I think what we did in the European Union yesterday gives us the possibility of getting that."
Minister for Climate @EamonRyan calls for greater ambition on reducing emissions, saying 'the quicker and more we do that, the less damage will be done' and the less need there will be for climate justice funding for vulnerable countries | #cop27 | https://t.co/XiZEkh8XUF pic.twitter.com/sXVHh2vPiu

— RTÉ News (@rtenews) November 18, 2022
Developing and poorer countries had been demanding that richer and more developed countries should provide financial compensation to them for the loss and damages they have, and will continue to suffer, due to extreme weather events and the impacts of climate change, for which they claim they have had the least amount of responsibility.
UN Secretary General Antonio Guterres has warned negotiators that the blame game is a recipe for mutually assured destruction and urged them to act quickly.
He described what is unfolding at COP27 last evening as a clear breakdown in trust between north and south, with less than 24 "scheduled" hours remaining in the marathon climate negotiations.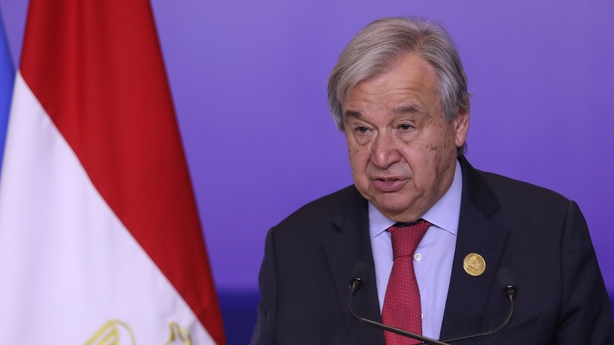 It was billed at the "Implementation COP", a summit that would finally get countries to step up and deliver on the Paris Climate accord of 2015.
That would mean increased pledges to cut greenhouse gas emissions, the delivery of €100 billion per year in international climate finance that poorer countries are still waiting for, and an increased focus on efforts to prevent the rise in global temperatures exceeding one point five degrees.
But so far it is not shaping up like that.
A small number of countries tried but failed to get the 1.5 degrees Celsius limit dropped, saying it is unrealistic and too hard to achieve.
The language around phasing out the use of coal has been weakened in a draft text to phasing out "the unabated" use of coal.
Phasing out fossil fuel subsidies has become phasing out and "rationalising inefficient fossil fuel subsidies", another weakening.
Not surprisingly climate activists are alarmed heading into the final day.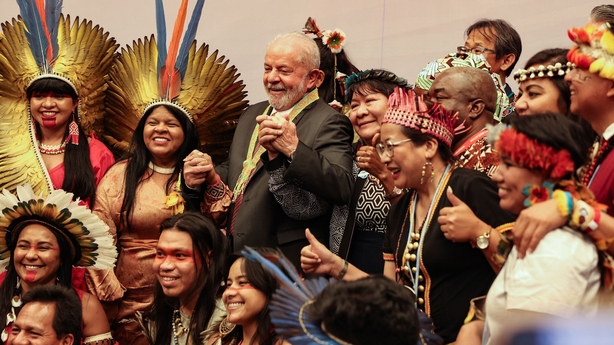 Mr Guterres has said that the most efficient way to re establish trust between the richer and poorer countries - the so-called Global North and Global South - is by finding an ambitious and credible agreement on loss and damage and financial support for developing countries.
Yet the sides are miles apart.
Ministers from poor nations on the frontlines of fiercer floods, droughts and storms said the COP27 talks would let down their hard-hit people if they end without agreement on a fund to deal with worsening "loss and damage" driven by climate change.
"Climate justice delayed will be climate justice denied," said flood-battered Pakistan's climate change minister, Sherry Rehman.
She called for "a bargain between the Global North and the Global South" to set up a fund that would later channel billions of dollars to those bearing the brunt of climate change impacts.
"It is of pivotal importance," she said, noting the recent flood in her country from super-charged monsoon rains - which covered a third of its land - had affected 33 million people.
"Vulnerability should not become a death sentence, because that is what many economies and countries and people are facing," Ms Rehman said, adding that parts of the world could become uninhabitable if climate change continues unchecked.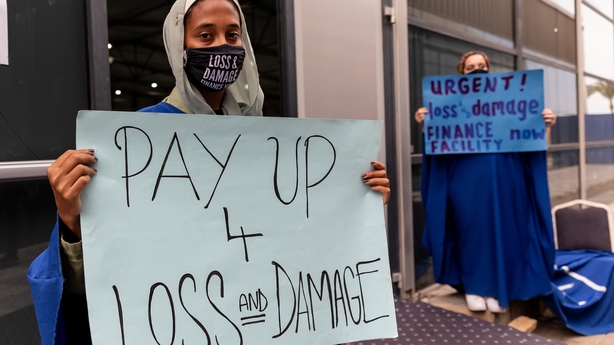 Mr Guterres said the time for talking on loss and damage finance was over and urged action.
"No one can deny the scale of loss and damage we see around the globe. The world is burning and drowning before our eyes," he told journalists.
"I urge all (government) parties to show that they see it - and get it. Send a clear signal that the voices of those on the frontlines of the crisis are finally being heard," he added.
Some rich nations favour using the new Global Shield Against Climate Risks, which will provide insurance and other social protection to get money fast to disaster-hit communities outside the UN process, in addition to other potential sources of finance such as development banks.
Alioune Ndoye, Senegal's environment minister, noted that the group of 46 least developed countries he represents at the talks are already paying the price for climate change - despite being the smallest contributors to planet-heating emissions.
In Niger and Nigeria, for example, heavy floods this summer displaced 1.5 million people from their homes, he added.
The thorny question facing wealthy governments is where to find more funding when they have yet to meet existing promises of climate finance to vulnerable nations, and are failing to fully cover UN appeals for humanitarian aid, leaving people short of life-saving relief.
Overstretched aid agencies have warned at COP27 that they cannot be expected to meet rising needs from people battered by climate disasters.
Additional reporting Reuters