Iran has a long history of protests. However, little has changed following decades of anti-government demonstrations over the economy's sluggishness and the impact of Western sanctions.
As the latest uprising enters its fourth week, many are determined that this time things are different.
Leading the biggest challenge to the country's leadership in years are women and girls on the streets and online.
"Death to the dictator," they chant in droves.
These displays of rebellion against Supreme Leader Ayatollah Ali Khamenei and President Ebrahim Raisi are historically rare and cannot be underestimated.
In unprecedented scenes for the country, women have been burning hijabs and hacking off their hair. Hair is seen as sign of beauty that is decreed to be hidden in Iran and it has become a poignant symbol of protest.
"It's about a refusal to comply any longer with laws of the state that are against women's rights and their ability to have choice over their bodily autonomy," Narges Bajoghli, Professor of Middle East Studies at Johns Hopkins University told RTÉ News.
Not only are women forced to cover their hair with a headscarf, females must seek permission for employment, marriage and divorce. Women are also forbidden from watching men's sports in stadiums.
Schoolgirls have also been joining the movement for change and have been seen shouting profanities at the Islamic Republic's leaders.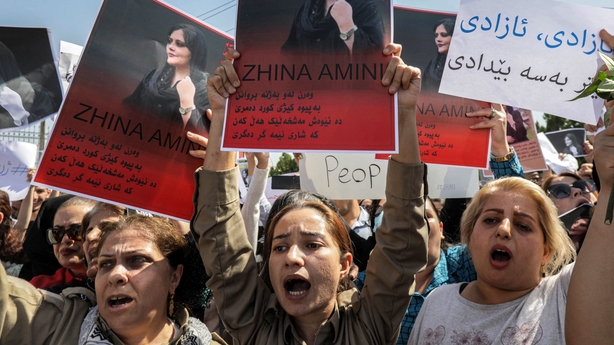 Pupils at one school hit headlines for heckling a member of Iran's feared paramilitary Basij force, while students in Tehran chanted "get lost" as President Raisi when he visited the university's campus on Saturday.
"This is not a protest anymore. This is the start of a revolution," chanted a group of students at Mashhad University.
What makes this time unlike any other anti-government movements, is that a united force of Iranian women and men from different geographical and cultural backgrounds are calling for a separation between church and state.
"It is about the state's enforcement of religion on you. It's about choice. So, if anyone can relate… It will be Irish people, especially Irish women," said 'Sara', who, like many Iranians abroad, does not want to give her real name when speaking out against the regime for fear of retribution.
What is known is Iran's "morality police" have a tight grip on the female population. The group place women and girls under surveillance to make sure they are dressed appropriately.
Along with covering their hair, women are also forbidden from wearing coats that do not reach below the knee and tight trousers.
The punishment for being seen in public without a headscarf includes arrest, a prison sentence, flogging or a fine.
Amnesty International has reported that there are countless stories of the morality police slapping women across the face, beating them with batons and throwing them into police vans because of the way they are dressed.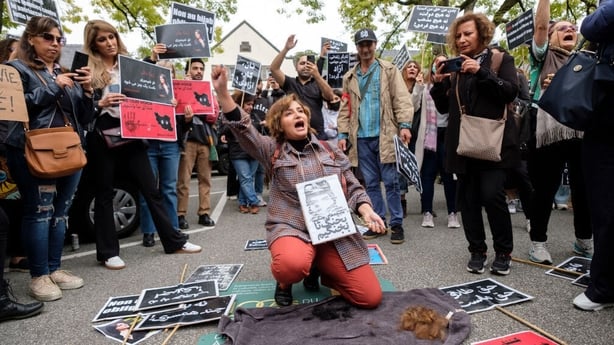 While women have pushed the boundaries of enforcement over the decades, a new and ultra-conservative president, Ebrahim Raisi, has empowered the morality police since he took office in August 2021.
The group now find themselves at the centre of the latest round of protests.
Demonstrations were sparked following the death of 22-year-old Mahsa Amini in police custody.
She was detained by this special branch for allegedly violating the law requiring women to cover their hair with a headscarf. She died in custody three days later.
Iranian officials claimed she died after suffering a "heart attack" and falling into a coma, but her family said she died after being beaten by police.
Ms Amini's death has become the tipping point for many Iranians who have been testing the limits of Sharia law for years.
40-year-old Zahra Gholamvand, who lives in Dublin and is from Tehran, told RTÉ News that when she visited Iran during the summer, she had a run in with authorities.
Ms Gholamvand chose not to wear a headscarf during her trip and was caught on camera by the morality police and fined.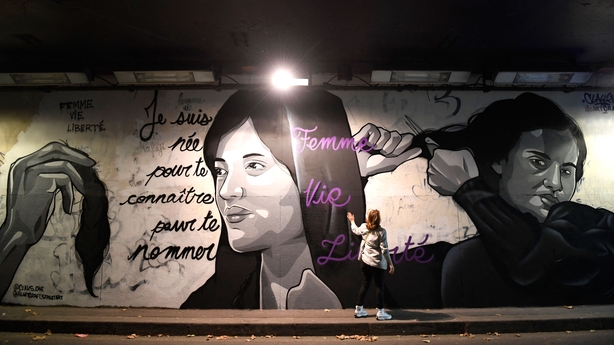 Even if the morality police are not physically around, their threat looms, according to Ms Gholamvand.
"Shop owners come to you with a very shameful face begging you 'could you please not do that? because [the police] often check the cameras and they close our business'… then you go to the taxi driver and he asks the same 'please wear that because we will get captured by the camera and they will cancel our plate'.
"And this is the thing, they put people in front of each other when they cannot control directly," she added.
"If this protest doesn't go somewhere and we don't get this right, the situation is going to get even worse, because they have the AI and then the cameras everywhere."
Never mind breaching rules in public, speaking out against them comes with a price.
While Iranian leaders have blamed the demonstrations on the West, human rights groups say more than 185 people have been killed since the protests in the Islamic Republic began on 17 September.
Human Rights Watch has accused Iranian authorities of using excessive repressive measures, including lethal force, against protestors.
Authorities have denied reports that security forces killed a 16-year-old girl during protests, saying she died by suicide by falling off a roof.
Amnesty International has said Sarina Esmaeilzadeh was killed by security forces when she was struck with batons on the head during protests over the death of Mahsa Amini.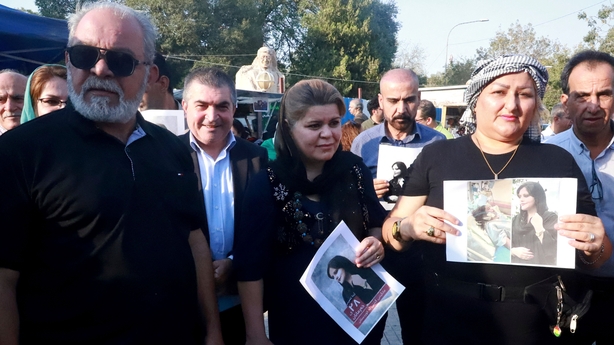 Iranian authorities earlier this week gave a similar cause of death for 17-year-old Nika Shakarami, who activists say was killed in Tehran while demonstrating.
Officials claimed that Ms Shakarami appeared to have been thrown from a building, possibly by workmen. Her mother accused authorities of murdering her daughter.
Even if 6,000km away, it is dangerous to seek change, for fear of what might happen family back home.
"I can't express myself freely. I can't say what I want. I can't wear what I want. You can't even speak up because then your safety will be on the line," said Sara, who is now in Ireland.
---
Read more: Spotlight on Iran's morality police after woman's death
---
"I don't want them to have to live with the stress of thinking that somebody might come for them," she said.
"I was speaking to my aunt and she was just sitting inside traffic so she couldn't drive away and she was playing…. a protest song.
"Just playing that song warranted 10 men to attack her car and smash her hand against the window and then taking her plate number.
"That is something that is not going to leave you," she added.
There is no sign of the protests dying down and, if anything, they appear to be getting more heated and deadly.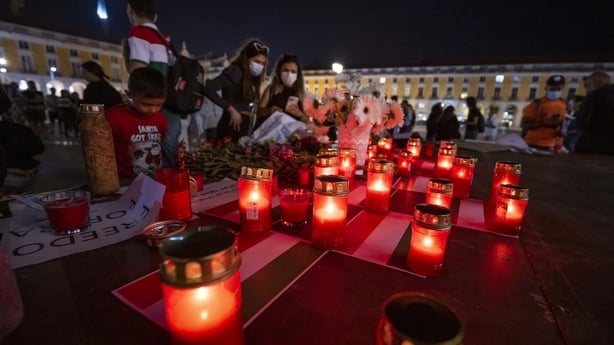 This weekend, the official news agency Irna reported that police used tear gas to disperse the crowds in dozens of locations in Tehran, as demonstrators "chanted slogans and set fire to and damaged public property, including a police booth and trash bins".
On Saturday evening, state television was hacked by opponents of the government. Images appeared on screen showing Supreme Leader Ayatollah Ali Khamenei with a target on his head, together with captions calling on people to join the protests.
Iranian women have been protesting mandatory hijab for decades, but it remains to be seen whether this movement can change the strict ruling system, according to Prof Bajoghli.
"[It] takes a very long time because as we know patriarchy has been around for a millennia all across the world. So how you fight back against these kinds of domination can take a while," she said.
For both Zahra and Sara, hopes and emotions are running high as they follow the protests from abroad.
They both believe that speaking out means it threatens their freedom to go home, but they hope that the West, and Ireland, will stand in solidarity with Iranian women.
"It's heart-breaking. I'm hopeless. I just cry, cry for ours… and this is what all Iranians abroad [are doing] because we cannot go back, we have our lives here. I have a child," said Zahra.
"At the same time, we admire the bravery. This is something we were hoping we could do, but we didn't dare."
In a statement to RTÉ from Iran's ambassador to Ireland, Dr Masoud Eslami, said:
"The tragic incident of Mahsa Amini's demise has grieved the entire nation and the government of Iran. Her death was a heart-breaking shock.
"Nevertheless, authorities at highest levels have responded professionally and responsibly undertaking a thorough investigation the result of which will be available soon.
"It is becoming increasingly evident that Mahsa's poignant death has been exploited for political purposes by the opponents of the Islamic Republic of Iran.
"They want to escalate an unfortunate incident and legitimate call for its proper investigation to prolonged turmoil and violent riot.
"Regrettably, the selective coverage of events on social media has contributed to the political manipulation of facts on the ground.
"Peaceful protests are protected in Iran by law and in practice. However, disruption of public order and endangering people's safety and security by violent acts of riot beget effective response by the police.
"For sure, civil demonstrations with legitimate political demands will continue to have their impact on the dynamic social life in Iran. However, foreign interference and incitement of violence will be thwarted."