EU energy ministers have agreed a windfall tax on energy companies in order to raise billions of euro that can be used to help consumers and businesses with soaring electricity bills.
However, member states remain divided on a proposed price cap on the amount of money Russia receives for its remaining sales of gas to the European Union.
Arriving at an emergency meeting of energy ministers in Brussels, Minister for the Environment Eamon Ryan said the energy crisis could last for at least two years.
With Russia escalating the war in Ukraine, and with the sabotage of two Baltic gas pipelines, there is growing pressure on EU member states to maintain pressure on Moscow, but at the same time bring down spiraling electricity prices.
This morning, energy ministers reached agreement on a windfall tax on those energy providers that have enjoyed huge revenues when selling electricity but who have not relied on Russian gas to generate that electricity.
There will also be a windfall tax on oil and gas revenues, and a cut of peak energy consumption across member states of 5%.
But getting unity on a cap on the price of Russian gas is proving much more difficult.
A European Commission proposal for a straightforward cap on the price paid for Russian gas is opposed by a number of central and eastern European countries who fear that Russia will turn off whatever gas remains.
However, other member states, including Germany, are opposed to an alternative plan put forward by some member states for a cap on all imported gas, which would lower the price paid but would still make it attractive for exporting countries to sell gas to Europe.
Critics believe this would put further pressure on security of supply because those exporting countries might just sell the gas elsewhere. So, there are still gruelling divisions on how to punish Russia without deepening the energy crisis.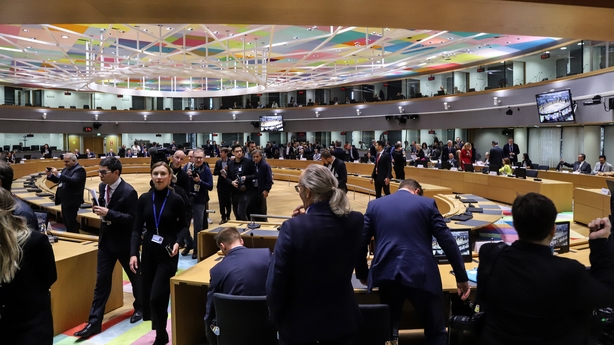 The decision on cuts to peak-hour power consumption and to impose windfall levies on energy companies was announced by the Czech Republic in its role holding the EU presidency.
Ministers from the 27 EU member countries approved measures proposed earlier this month to contain an energy price surge that is stoking record-high inflation and threatening a recession.
The package includes a levy on fossil fuel companies' surplus profits made this year or next, another levy on excess revenues low-cost power producers make from soaring electricity costs, and a mandatory 5% cut in electricity use during peak price periods.
With the deal done, countries began talks this morning on the EU's next move to contain the price crunch, which many countries want to be a broad gas price cap, though others - most notably Germany - remain opposed.
We need your consent to load this rte-player contentWe use rte-player to manage extra content that can set cookies on your device and collect data about your activity. Please review their details and accept them to load the content.Manage Preferences
The European Commission has also raised doubts and suggested the EU instead move ahead with narrower price caps, targeting Russian gas alone, or specifically gas used for power generation.
Brussels suggested that idea earlier this month, but it hit resistance from central and eastern European countries worried Moscow would retaliate by cutting off the remaining gas it still sends to them.
"On the price cap, there is nothing near a consensus," a diplomat from one EU country said.
By introducing EU-wide measures Brussels hopes to overlay governments' uneven national approaches to the energy crunch, which have seen richer EU countries far outspend poorer ones in handing out cash to ailing companies and consumers struggling with bills.
Energy crisis will be a 'two-year challenge'
Minister for the Environment Eamon Ryan, who is attending the meeting, said the energy crisis will last at least two years, meaning Ireland will have to ensure there are sufficient supplies of natural gas next winter as well as this one.
Speaking as he arrived in Brussels, Mr Ryan said it will take time to get the price of electricity down.
Mr Ryan said: "As we turn to other supplies [of gas] rather than Russian supplies there will be a moderating impact on the price.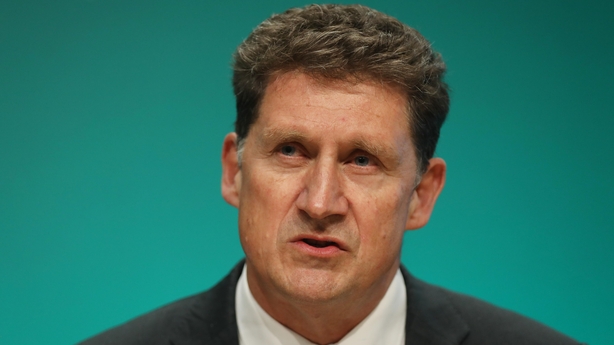 "But in the last number of months, we've realised this is going to be a two-year challenge, not a one year one.
"It's not one winter we have to fight for, we have to think about how we provide [for] and protect the next winter as well. And that should influence the approach we take so that we have reserves, and that's why unity is important."
The minister said he supported the European Commission's plans to agree a windfall tax on energy generators using non-carbon sources.
"They allow us to address some of the excess profits going to the energy industries and to bring it back to help our people," he said.
"Each country has slightly different circumstances but that broad principle - that the unfair profits caused by a war, not by any action of any companies, do have to be brought back in to help people with bills. I believe the commission text does that," he added.
Mr Ryan also said that member states could not cushion the entire blow. "There will still be a higher cost, even if a large amount of these windfall gains are recycled, that still leaves a pretty high price.
"So we have to be energy efficient - but we have to help our people too, and businesses."
He said Europe had been paying a very high price for gas because it needed to fill storage tanks quickly, but that this situation might change. Europe also had to coordinate more closely with both gas exporting countries, and gas consuming countries.
"We also have to work internationally. We have to work with some of the supply countries - Norway, UK, America. We have to work with other major consuming countries like Japan, Korea, because we are in the LNG market."
Earlier, the minister said he expects a windfall tax on energy companies could raise between €1 billion to €2 billion.
Speaking on RTÉ's Morning Ireland, he said: "How much is raised depends on a whole variety of issues, including what is the international price of gas particularly."
Mr Ryan said the Government will continue to review how the measures in the Budget are implemented.
"We don't want anyone going cold," he said, or face real acute fuel poverty this winter.
---
---