Russian President Vladimir Putin will hold a signing ceremony in Russia tomorrow to add new territories of Ukraine into Russia, his spokesman said.
"Tomorrow in the Georgian Hall of the Grand Kremlin Palace at 15:00 (1200 GMT) a signing ceremony will take place on the incorporation of the new territories into Russia," Dmitry Peskov said.
Ukraine has responded by calling an emergency meeting of national security and defence chiefs for tomorrow, further details to be announced.
Meanwhile, Finland has announced it will close the border to Russians with EU tourism visas from tomorrow, but Russians with visas to visit family, study or work can still enter the country, Finnish foreign minister Pekka Haavisto said.
The border will close from midnight local time, and Finland warned it will lead to significant cross-border traffic
It comes as Russian-backed officials in four regions of Ukraine said referendums held in recent days showed overwhelming majorities of their populations had voted to join Russia.
The votes slammed by Ukraine and the West as "shams".
Mr Putin will also give a major speech following the signing ceremony, and meet with Moscow-appointed administrators of the Ukrainian regions, the Kremlin said.
Ukraine's Luhansk, Donetsk, Kherson and Zaporizhzhia regions are occupied by the Russian army, which Mr Putin sent over the border in February.
All four Moscow-backed leaders of the regions said they were in Moscow expecting a meeting with Mr Putin.
Ukrainian President Volodymr Zelensky promised a robust response to a step he said has killed off chances of reviving peace talks.
He said the votes "are worthless and do not change reality".
"The territorial integrity of Ukraine will be restored. And our reaction to recognition of the results by Russia will be very harsh," he said in a statement.
Ukraine called on the EU to hit Russia with more sanctions and NATO to send more weapons to the frontline.
The appeal came despite repeated warnings from Moscow that it could use its nuclear arsenal to defend the territories from a Ukrainian counter-offensive that has wrested back swathes of territory this month already.
We need your consent to load this rte-player contentWe use rte-player to manage extra content that can set cookies on your device and collect data about your activity. Please review their details and accept them to load the content.Manage Preferences
The Russian foreign ministry in a statement yesterday that the regions made a "conscious and free choice" in favour of annexation.
Only Donetsk, which along with Lugansk makes up the industrial Donbas region partially controlled by pro-Kremlin separatists since 2014, had yet to formally ask Mr Putin for annexation.
Earlier this week, Mr Zelensky sought to rally international support for his country against possible Russian annexations in a series of calls with foreign leaders, including those of Britain, Canada, Germany and Turkey.
He told Canadian Prime Minister Justin Trudeau that the world must not bow to Russian "nuclear blackmail", adding: "The aggressor must clearly understand all the consequences of his irresponsibility".
The United States said it was working with allies and partners to quickly impose severe economic costs on Moscow over the referendums.
The European Union's executive also proposed fresh sanctions against Russia, but the bloc's 27 member countries will need to overcome their own differences to implement them.
Here, the Minister for Foreign Affairs Simon Coveney said Ireland would support an eighth round of sanctions against Russia.
Speaking to RTÉ's Six One, Mr Coveney described Russia's annexation of four regions in Ukraine as a "blatant breach of international law".
"This is Russia effectively trying to change international borders by military force. They've handled referendums at gunpoint and they have now, on the back of those sham referendums, justified annexing four regions in eastern and southern Ukraine, about 15% of Ukraine."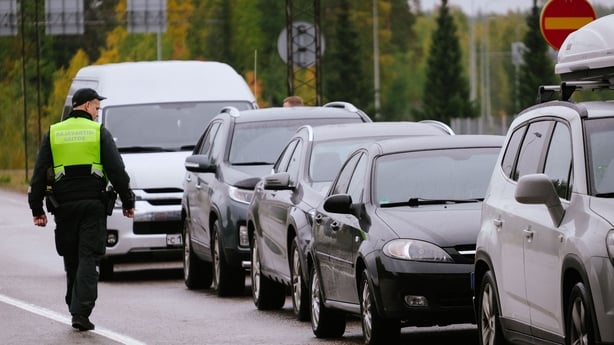 Exodus
Mr Putin's threat to use nuclear weapons in Ukraine coincided with his decision to call up hundreds of thousands of reservists to back up Russia's struggling forces in eastern Ukraine.
The move has sparked panic, protests and an exodus among military-aged Russian men for neighbouring countries such as Georgia and Kazakhstan.
Russians have been rushing to flee across Finland's Vaalimaa crossing as dozens of cars and buses with Russian licence plates lined up at the border, their passengers hoping to make it into Finland before it is too late.
"Many people are afraid," said Oleg, a bar owner from Moscow who had just crossed over to Finland.
"The mobilisation is a first sign that something worse might happen."
He feared the border might "close forever" and Russians "will live in a totalitarian state where they can't do anything at all".
"I live in a country which sinks a little more every day".
Finland said that more Russians came to the country over the weekend than any other weekend so far this year (around 17,000 entries) after Moscow's military call-up announcement sparked a surge in arrivals.
Moscow announced this week it would no longer issue passports to Russian men called up to serve and a region bordering Russia closed to passenger cars, with both moves fuelling fears the borders could close entirely.