Rishi Sunak and Liz Truss have ruled out giving Boris Johnson a role in government if they succeed him as UK prime minister.
Foreign Secretary Ms Truss said she believes Mr Johnson "needs a well-earned break" before eventually saying he will not be part of her top team.
Former chancellor Mr Sunak was more direct in stating Mr Johnson would not be involved.
Their comments came during their first head-to-head Tory leadership TV debate on the BBC.
Asked if Mr Johnson would be given a role in the cabinet, Ms Truss replied: "Having spent time with him this week on foreign affairs, I very, very much suspect that he would not want a future role in the Government, I think he needs a well-earned break from what has been a very difficult few years.
"After all, he was seriously ill with Covid, we haven't even talked about that, and that was a terrible moment when we didn't know what was going to happen, he has faced real challenges that no leader would have expected to face, the appalling war in Ukraine, so I simply don't think that is really an option."
She added that she thinks "that what's done is done" and that the party has made the decision.
"I don't believe that he would want further involvement."
Pressed further, Ms Truss said that she is sure he "will have a role" and will be vocal, but that he will not be part of the government.
Mr Sunak said that the "simple answer from me is no".
"I think we need to look forward at this point, that's why I want to be prime minister," he added.
The pair were also asked to rate Mr Johnson's time in office out of 10.
Ms Truss gave Mr Johnson a seven while Mr Sunak said: "My views are clear, when he was great, he was great and it got to a point where we need to move forward.
"In delivering a solution to Brexit and winning an election that's a 10/10 - you've got to give the guy credit for that, no-one else could probably have done that."
During the debate, the pair paid tribute to former Northern Ireland first minister David Trimble, who died today aged 77.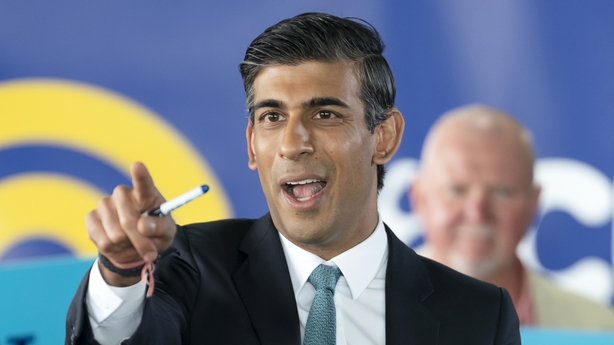 In his opening comments, Mr Sunak said that Mr Trimble was a "champion of unionism", while Ms Truss said he was a "political giant" who "helped secure peace in Northern Ireland".
During the debate, the pair also ridiculed each other's economic plans.
Mr Sunak claimed there is "nothing Conservative" about Ms Truss's approach and it would give the party "absolutely no chance" of winning the next election.
Ms Truss in turn suggested her rival would lead the country into a recession.
Ms Truss said she would put an economic growth plan in place "immediately" if she becomes prime minister, along with imposing a temporary moratorium on the green energy levy.
The increase in national insurance would also be reversed, Ms Truss said.
Mr Sunak said he would like to make sure that his government "always" has policies in place to support through the cost-of-living crisis.
---
Read more: Sunak the audience winner in first head-to-head debate
---
The pair clashed on the BBC after a weekend that saw allies of the two Tory leadership hopefuls trade increasingly personal attacks.
Mr Sunak also came under pressure from his rival over his strategy to combat illegal migration, as he seeks to win over the Tory grassroots voters who will decide the next Conservative leader.
Calling the current system "broken", he offered a 10-point plan yesterday that included a commitment to a narrower definition of who qualifies for asylum compared to that from the European Convention on Human Rights, with enhanced powers to detain, tag and monitor illegal migrants.
Mr Sunak, who was on the campaign trail yesterday, also promised to give parliament control over who comes to the UK by creating an annual cap on the number of refugees accepted each year, albeit one that can be changed in the case of sudden emergencies.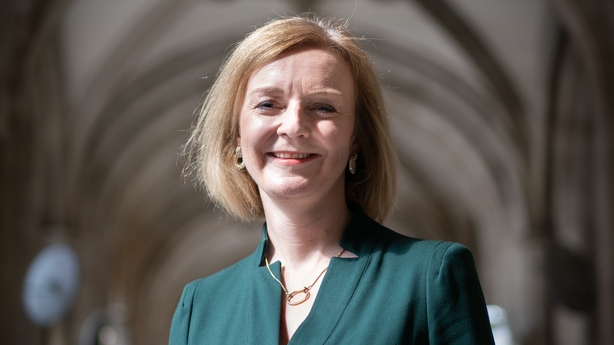 But those proposals were picked apart by allies of Ms Truss, who raised questions about Mr Sunak's proposals, arguing that it was unclear how the refugee quota would work and suggesting that some of his plans amounted to a "rebrand".
Allies of Ms Truss also queried a suggestion from Mr Sunak that illegal migrants could be housed on cruise ships, something the Truss camp suggested would amount to arbitrary detention and a breach of both domestic and international law.
The Truss campaign had said that as prime minister she would increase the UK's frontline Border Force by 20% and double the Border Force Maritime staffing levels, with Ms Truss claiming that her plan to tackle illegal migration would be given a strong legal foundation by the new UK Bill of Rights.
The plans from both candidates generated anger in some quarters, with Oxfam labelling as "cruel" any plan to link UK aid payments to countries' co-operation with immigration removals and Amnesty International saying that making policy only to please Tory members has caused "chaos and backlogs".
Elsewhere, Ms Truss unveiled plans to boost UK growth rates with "full-fat free ports", a move that may be seen as a bid to steal a march on Mr Sunak, who has been an advocate of free ports since his days as a backbench MP.
Pitched as the cornerstone of her tax-cutting economic vision, the Truss campaign said that the plans would see brownfield sites and other locations turned into "investment zones".