To judge the Tory leadership debate purely in terms of points scored, many could argue that Rishi Sunak came out on top.
The former Chancellor of the Exchequer got more rounds of applause from the audience – four-to-one by one estimate.
And at times, Foreign Secretary Liz Truss looked on the ropes, particularly when it came to scrutiny of her tax policies.
However, Mr Sunak may have come across as aggressive or hectoring, which could have put people off on an emotional level and may have earned sympathy for his rival.
Given his 24-point deficit in polling of Conservative party members, it seemed Mr Sunak decided he had to go for broke.
He pressed Ms Truss again and again on the effects of her proposed tax cuts and pointed out that the one prominent economist who supported her plans predicted they would lead to interest rates of 7%.
Mr Sunak asked the audience to consider what that would do to their mortgages, adding that Ms Truss' policies would produce a "sugar rush" followed by a "crash".
Ms Truss did not really answer that and looked almost lost when journalist Faisal Islam queried her plan to make the money spent on Covid-19 a long-term debt.
The journalist asked her if she had looked at long-term interest rates, which are higher. He could not see how that would save money.
Ms Truss did not directly respond to that point.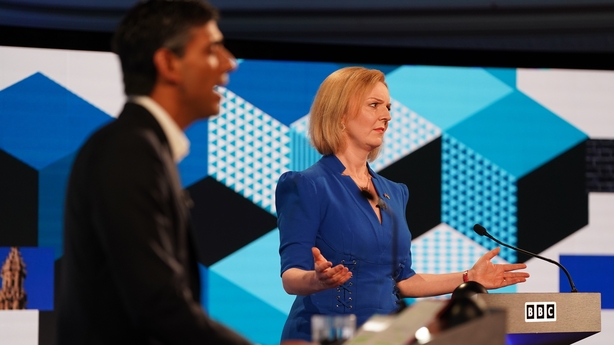 She was on much firmer ground talking about international politics and the threat of China and the war in Ukraine. Her current position as Foreign Secretary meant she came across as better briefed.
Ms Truss declined to distance herself from one of her supporters, who commented favourably on the thrift shown by her choice of earrings, compared to the expensive suit being worn by Mr Sunak.
However, Mr Sunak was able to deflect from his 'posh boy' image, which is judged to be a turn-off in the north of England.
He got one of the biggest ovations of the night, by saying he would not apologise for his parents working hard to send him to fee-paying school. He said the values of hard work, aspiration and providing for the better future of their children are Conservative values.
The two contenders were also split on Boris Johnson, with Mr Sunak defending his decision to resign, while Ms Truss pointed out she had continued to support the prime minister.
However, under repeated questioning, she said Mr Johnson would not be playing a part in her government if she won the leadership vote.
Ms Truss' supporters were already downplaying the importance of the TV debates beforehand, as if they knew these would not be her forte.
It is possible that Mr Sunak's ratings will have increased after the first head-to-head contest.
However, it remains to be seen whether the TV debates and hustings on the ground over August will be enough to close the ratings gap.