It took eight days to find, but on my way out of the country, I eventually discovered an advantage to being a woman in Afghanistan.
I swept past the long security screening queue for men and joined a handful of women waiting to be searched outside the small, specially constructed office.
Inside, the two women apologised for having to pat me down and one smilingly asked where I travelling to. As I explained that I was flying first to Dubai, then onto Germany and finally Dublin, her eyes widened at the largeness of my world.
Afghan women cannot travel more than 72kms without a male chaperone.
Before I left for Afghanistan, I spoke to Médecins Sans Frontières (MSF) medic Sarah Leahy, who had spent nine months working at a hospital in Lashkar Gah, the capital city of Helmand province.
She was there throughout the Taliban takeover and her insights were invaluable preparation for the week ahead.
She clearly loved her time in the country, something that I could not quite comprehend. The whole experience sounded hellish.
The suffocation of women's rights, the poverty, hunger and the Taliban. It sounded like a place to be endured, not enjoyed.
But Sarah clearly loved it. She put it down to the "amazing people" she met. It was a sentiment I was to hear throughout.
On our first day in the country, we went to the International Committee of the Red Cross's (ICRC) Kabul rehabilitation clinic. It was an oasis in the gloom. Behind the gates of the compound, we felt genuine happiness.
Most of the people there were disabled in some way, but that did not seem to matter. When we met the clinic's director, Dr Alberto Cairo, an Italian who had lived in Kabul for 32 years, we realised why.
Dr Cairo exuded warmth and positivity. He playfully chided us for messing up his system of going through the piles of CVs on his desk.
The clinic has a policy of what he calls "positive discrimination" and only employs disabled people, many of them women. Hen's teeth or All Ireland final tickets are much easier to find than jobs for disabled women in Afghanistan.
So in response to his advertisement for several vacancies, he had received hundreds, if not thousands, of CVs.
He tells us that he loves his job and has found "a kind of chemistry" with Afghans. He describes them as clever and generous, hard workers, who pick things up very quickly.
But it is their resilience that he admires most, the incredible ability to bounce back, "in a way that I would have died 20 times if I was an Afghan".
We both agree that resilience is a quality that people here have to draw on, time and time again.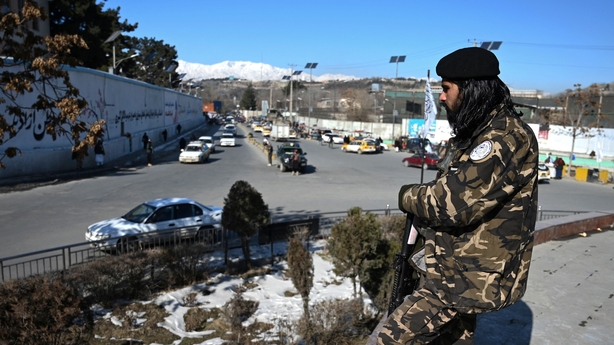 Since the Taliban takeover in August, Dr Cairo says the thing that has changed most is the atmosphere. He describes the current mood in the country as gloomy and says that "the joy has been sucked away".
He laments the current plight for women in the country, saying that they have been "erased" from society and implores the international community to find a way to do business with the Taliban, as he says that ultimately "it's the people who are suffering" from sanctions and blocking of the country's foreign reserves.
His greatest fear is that Afghanistan would be forgotten about and said it was crucial that the country "doesn't disappear from the map of international help".
The afternoon we spent in Dr Cairo's clinic was instructive because it demonstrated the kind of joy that could exist in this country, despite the horrors that have played out on its soil.
The other thing that we hear time and time again, is that the Taliban are here to stay. There is a resignation to it but also an acceptance that the group has to be lived with.
The fact that Abdul Qahar Balkhi, the spokesperson for the Ministry of Foreign Affairs, agreed to talk to us at all, is evidence of a willingness to progress, even incrementally.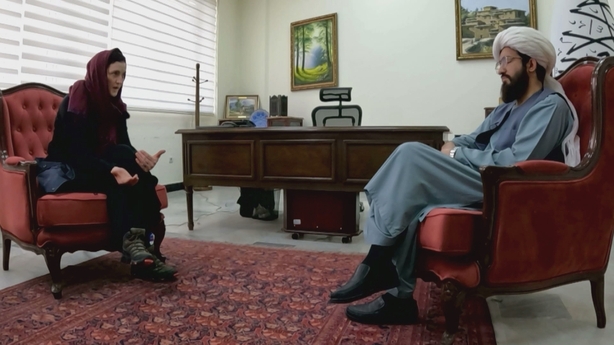 For many, it was sickening that we would engage with a representative of a group which has meted out such violence, devastation and ruination on the Afghan people.
But having to justify one's beliefs, as repulsive as they are to so many, is one step on the long road of tolerance and it is much harder to engage with skeptics than supporters.
I do not know if the content of the interview made me as hopeful as the fact that it took place at all. The passion with which Balkhi said that they would not progress, if that meant "throwing away the veil" does not fill me with optimism.
However, as Graham Davison of Concern International, wisely pointed out to us, "taking Afghanistan was the easy part. Now the Taliban have to do the hard part, govern".
Running a country means sacrificing principles, power often leads to pragmatism.
The Taliban are convinced that if they can free themselves from the yoke of international sanctions and get access to the country's foreign currency reserves, then the economic collapse that we hear so much about, can be averted.
But whatever the future holds for Afghanistan, it is imperative that the West still has some role. And it is understandable why some argue that if it means working with the Taliban, then that is the bitter pill which must be swallowed.
One thing that did fill me with optimism is the enthusiasm for education demonstrated by women and girls.
We visited a couple of universities while we were there but the Taliban would not let us in to film. Womens' classes are held in the morning and we stood outside the entrances watching female students pour in.
While they all were dressed in floor-length black, there was a wide variety of fashionable shoes and sandals on display and some wore stylish sunglasses. Our presence was acknowledged with smiles and nods from the students and some of the male lecturers held my gaze as they walked past.
In a society where free speech can bring devastating repercussions, those fleeting smiles and glances spoke volumes.
On our last day, we visited a community education project in the rural countryside of the Wardak province. The programme was run by UNICEF, our hosts for much of this visit.
The programme was over-subscribed and the children, aged between six and 13 has voracious appetites for knowledge. The thing that surprised me most on that trip was the attitude of the male, community elders.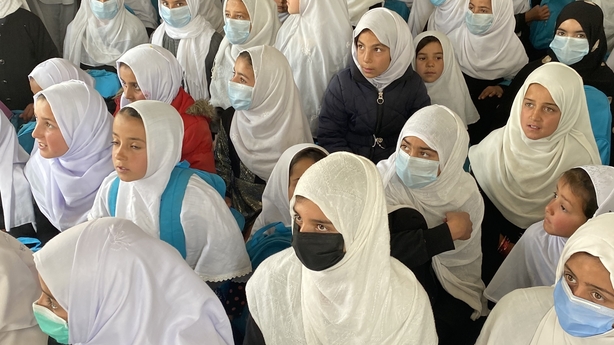 They were in attendance to ask UNICEF to build a school for their girls in the community and they said that they were hugely supportive of female education.
It is impossible to look at those students, young and old, and not be hopeful for the future of Afghanistan.
When we were in Wardak, a question mark still remained over whether girls would be allowed to register for formal school next week.
Since then, the Minister for Education has given a firm indication that they will be allowed to return. It is a seismic decision which will reverberate throughout the country. The girls we spoke to in Wardak had big dreams.
They wanted to be doctors and teachers and engineers and to contribute to the future of Afghanistan. If they are allowed to realise those dreams, the country will have harnessed its biggest, untapped resource - women.
Afghans are finding themselves in a perfect storm. There is not only the hunger but MSF are warning of a measles epidemic.
They point out that malnutrition weakens immune systems, making children susceptible to disease.
Increased violence last year meant that many children missed vaccinations and now the result is being felt.
And that is on top of the malnutrition crisis. For their parents, there are no prospects. The economy is on the floor and paid work is hard to come by.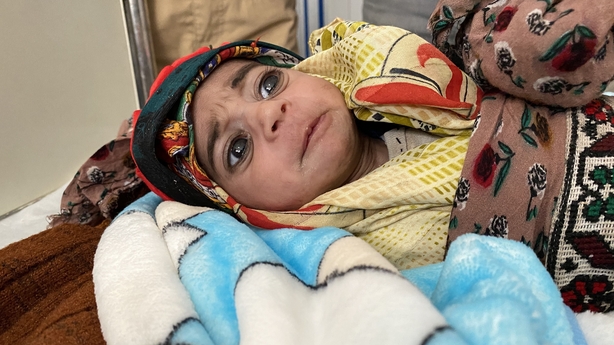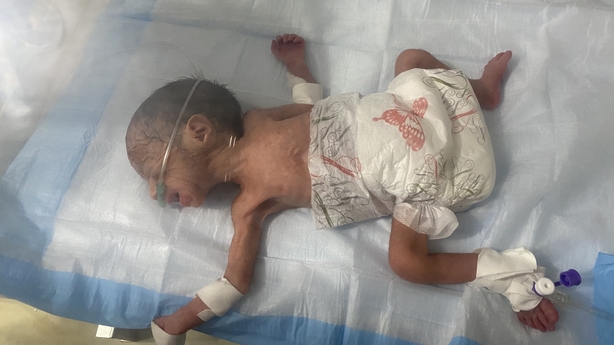 A lot of men travel to neighbouring countries to find employment, leaving the women behind to try to provide for extended families.
The country could not survive were it not for the support of NGOs and the United Nations.
Many of the people we spoke to were living on bread which they had made with grain supplied by the World Food Programme.
In Badghis, we met an elderly woman who said she had relied on foreign aid all her life. And on top of all this, there was the threat of climate change and natural disasters.
The country has just survived a huge drought which has internally displaced hundreds of thousands of people.
It is hard to equate this Afghanistan with the one of the 1970s. When it was a popular stop-off for backpackers en-route to India, lured by its stunning scenery.
When the women were not hidden behind veils but wore the short-skirted fashions of the day and were free to enjoy liberal privileges.
It is difficult to understand how things turned out so badly for Afghanistan and how different it might have been.
Someone observed to me that some Afghans still remember that country, still savour those freedoms and still believe in its future.