RTÉ's Foreign Editor Eimear Lowe is in Afghanistan, where she is visiting UNICEF-run community schools in Herat province where girls, desperate to go to school, appeal to the international community to help them.
The Internally Displaced People (IDP) camp that the Bismullah family calls home is by a main road in Afghanistan's Herat province.
It's one of the more permanent camps, populated by single-storey, mud buildings rather than tents.
We visit on a dry, warm spring day and clouds of dust rise as we move. In the rain this place must be even more miserable.
The Bismullahs welcome us into their small yard and Mr Bismullah politely answers our questions as his neighbours peer curiously over the walled boundary of his tiny holding.
He explains that drought forced them here. In their old life in neighbouring Badghis province, they survived on collected rain water. When that didn't fall, they tried to stick it out but eventually they moved.
Mr Bismullah had a civil service job but that went when the Taliban came to power. Now he says there's no work and despondently tells me that there are thousands of people like him, living their worst lives. He desperately wants work and something to eat, other than bread.
When I ask about education however, his demeanour brightens. While he and his wife are illiterate, he tells me with pride that five of his six children go to school with the four-year-old, too young at the moment.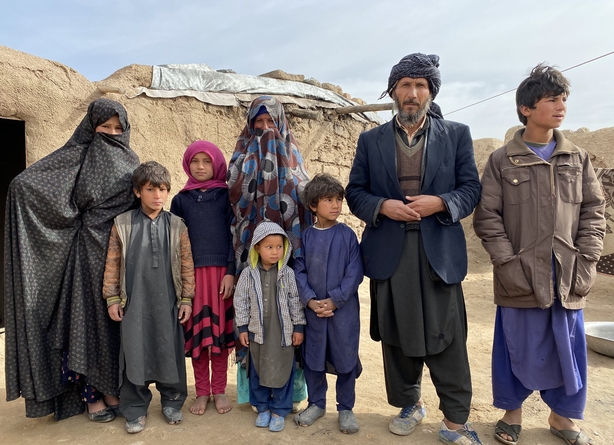 He is passionate about them continuing their education and sees it as a way out, a way of helping the family and the community. While he has no money, he supports the teacher in the nearby community school by helping them keep the tented school clean and lighting the fire there early in the morning. It's hard to find chinks of light in the gloom that the Afghan people currently find themselves in, but this faith in the potential of education, is one.
I later learn that there is no school to which the Bismullah children can progress after attending the community-based learning project in their camp. I think of the hope that their parents have in the improving-powers of education and their inevitable hopelessness when they learn it is not within their reach.
The girls in Maidan Wardak province are also concerned about the lack of educational progression. For them, learning is a privilege, not a right and they do not take it for granted. Over 70 of them are crammed into a small room in their local community facility. A cluster of buildings perched around small yard in which several cows are tethered. The girls take up 95% of the space in the room.
A sea of white head-dresses contrasted with the brilliant blue of their spotless UNICEF schoolbags.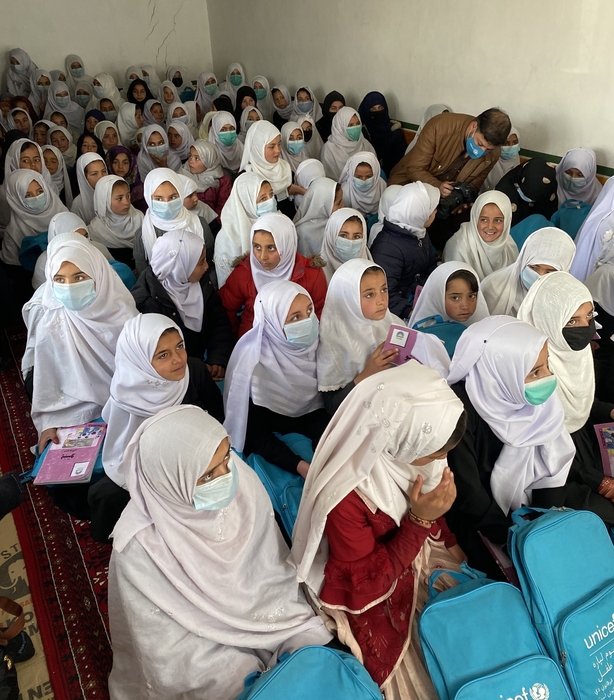 This is a community school and these girls are on an accelerated learning programme. It's the first programme of its kind and the response has been over-whelming.
UNICEF says that 76 girls are registered but that over 40 more unregistered students also turn up to class. The students are lucky and they know it. Previous generations did not have this luxury, as basic as it may seem. They cover six grades in three years to make up the time they have missed.
This area is pro-Taliban and was a no-go during the conflict, as evidenced by the rusted relic of a bombed US supply truck we see on our way in. The girls are squeezed in, with barely enough room for their teacher, Esmatulla, who wedges himself into the corner. They respond to our questions in a well-trained chorus. But when I ask them if their mothers or sisters are pleased that they are getting an education, the enthusiasm of their response knocks me backwards. Fortunately, the close proximity of the wall in this cramped space saves me from any embarrassment.
We need your consent to load this rte-player contentWe use rte-player to manage extra content that can set cookies on your device and collect data about your activity. Please review their details and accept them to load the content.Manage Preferences
The girls have messages, we're told. One of the older students, 12-year-old Sola Schirzai, stands up and picks her way through her kneeling class mates. She clears her throat and begins reading from her notes, she is nervous but determined to get her message across.
"A message from an Afghan girl to the international community," she begins. "As you know more than 50% of the population of Afghanistan are girls and women. In line with the Islamic law, we also have the right to an education. And to have a prosperous society. We also have the right to contribute alongside men in the society. We believe that the right to all girls should be respected because there is a strong emphasis from the prophet, and on many Islamic scholars, on girls' education.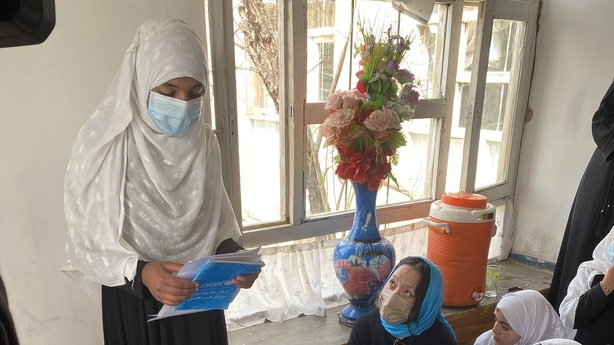 "Women are mothers of the martyrs, they are sisters of the martyrs. And they are also suffering a lot because of what has gone on in this country. Their contribution has been to take care of the children. That said, the key asks of me and my classmates to the international community, is please support our education, we want to have a literate society.
"The international community are claiming that girls are not allowed to school, but today you see that we are coming to school and we are very much eager to learn. But unfortunately we do not have a school building. The weather is cold and we still gather in this small room where there are chances of increased diseases.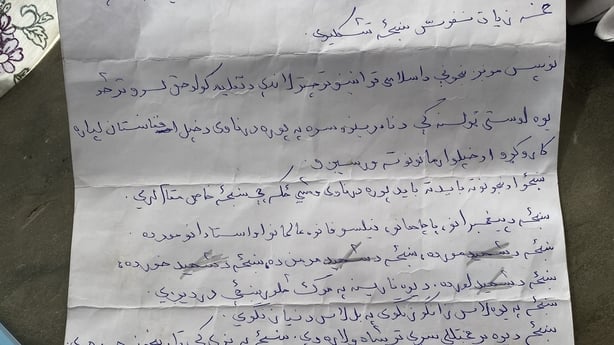 "Apart from what is provided here, we do not receive any more support. We need classrooms, we need more support for the education. We need a building, please construct a building, this is our desire, to have a school building in the community. We are thankful to the supports provided and we are eager to work and contribute in the building of Afghanistan. Thank you so much UNICEF for the support you have provided to the girls education in our society. Long live Afghanistan."
These girls have ambition. They are shy but assured. This is their opportunity, and it will not be squandered. Outside the class, the children retrieve their shoes from the neat pile at the door and take their place on a large mat. The village elders and some of the fathers are in attendance for this big event. Several girls step forward to sing or recite poems they have written. All aimed at show-casing their talents and demonstrating to UNICEF that they would be worthy recipients of a their request, a new school.
Peter Power, CEO of UNICEF Ireland, moves through them, beaming with pride. UNICEF has funded this community learning project and he's clearly pleased with the results. He is besieged with heart-felt requests from the girls themselves and the local elders. He is told that they desperately need another building. The current one is too small and even though the local community will donate a site, they need someone to construct it. A spokesperson for the local elders takes his turn in reading from a prewritten letter. They desperately want the girls of this community to be educated and they believe that it can be done respectfully.
As all this unfolds, our Taliban security watch on, cradling their automatic weapons. They give no hint of disapproval despite their well known objection to female education.
22 March is shaping up to be an interesting day as that's when students register for the educational term ahead. If girls are allowed book their places in formal education, it will be a clear indication that this Taliban is going to tolerate girls going to school. There are rumours of rifts within the Taliban itself, with the moderate wing seeing the writing on the wall and the inevitability of educated women.
Standing amidst all these girls who proudly announce their future career ambitions, and their desire to remain in Afghanistan and work for its prosperity, there's the awful realisation that they are yet one more of this country's abundant natural resources and there's the danger that their potential could remain unrealised for years to come.