There is a running theme through most of the funerals in Lviv's military church, they are mainly all for soldiers under the age of 40.
The service for Oleg Kobyrn is no different.
Mourners stand in drizzling rain clutching patriotic bouquets of blue and yellow chrysanthemums. Their eyes, smudged red and swollen from crying.
Two men stand on either side of a crumpled older woman, who I presume must be Oleg's mother.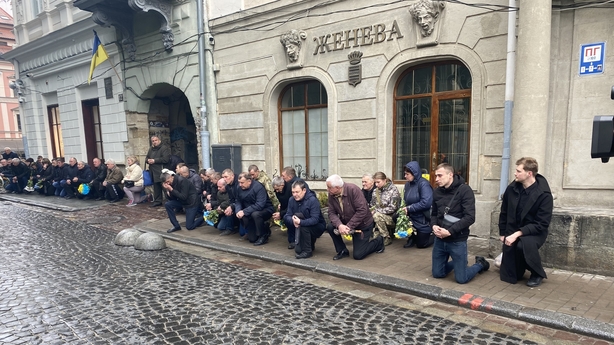 She would have collapsed onto the damp cobblestones were it not for the pair gripping her elbows.
A chair is found and she folds into it, sobbing loudly. A short distance away, a group of cadets stand proudly to attention.
The young man in the centre holds a framed photo of a smiling Oleg in his army fatigues.
A van reverses up the cobblestones, coming to a halt near the entrance to the church. Its door opens and the cadets form a cortege, hoisting his coffin onto their shoulders.
They advance into the church and the small crowd of mourners kneel and bless themselves as they pass.
Two old men support each other as they rise to follow the cortege.
We need your consent to load this rte-player contentWe use rte-player to manage extra content that can set cookies on your device and collect data about your activity. Please review their details and accept them to load the content.Manage Preferences

One of the mourners, Galyna Ivanivna, wipes her eyes as she tells me what a good person the 39-year-old was. He was the best friend of her son and godfather to her grand-daughter.
But she also fondly remembers him as one of her nicest students. Galyna has a heart condition so while military funerals are becoming increasingly common, she usually doesn't attend them for health reasons.
But she says she had to go to this one, saying "he was an extraordinarily good guy and it was a sin not to go".
She tells me that Oleg, a father of two teenagers, signed up to fight as soon as the war began.
She marvels at his lack of fear but breaks down as she recounts how he was badly wounded while fighting on the front line in Popasba in Donbas.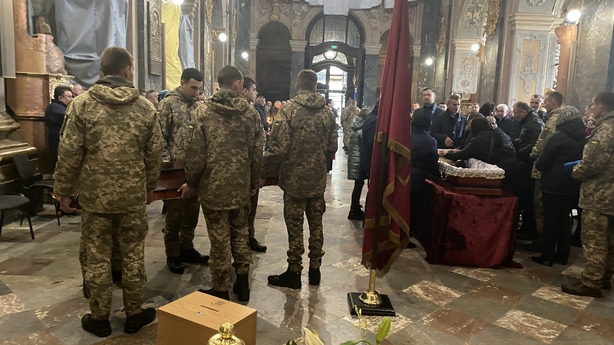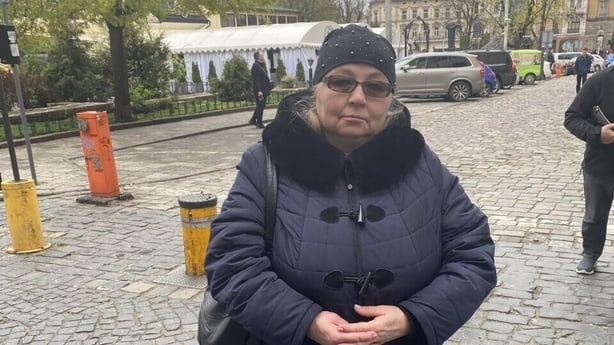 The entire community prayed for him but Galyna says it was his destiny to die the day before his parents could reach him.
Inside the church, the coffin has been opened and Oleg's devastated family stands sentry throughout the service. One male relative rubs his clasped hands resting on his stomach.
It feels voyeuristic to be here, watching this grieving family in their worst hour.
But it also feels important. Bearing witness to the unspeakable cost of this war on Ukrainians. Two paramedics stand behind the family.
I notice them and assume that they must have known him.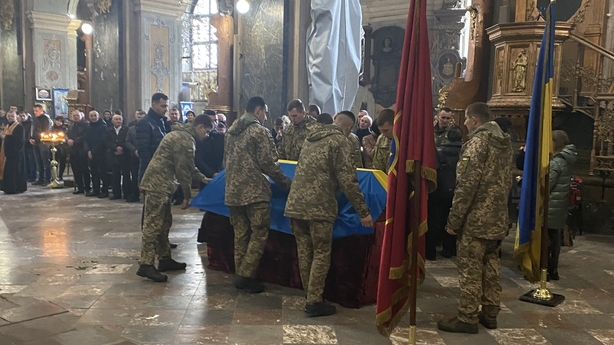 But just before the lid is placed back on the coffin, in those agonising final seconds before he began the journey to his village cemetery, his mother gave him a final kiss before brokenly sinking into the arms of his father.
One of the paramedics steps forward and crouches beside her as she is helped to a seat.
His widow and two teenage children stand silent and stunned.
The grief in this church weighs more heavily in the air than the smell of incense.
Father Nector, one of the chaplains here has presided over his fair share of military funerals.
This area has lost scores of young men to war since fighting in Donbas began in 2014. Now the fighting has intensified, the number of services has increased.
Nodding to the memorial wall of photographs behind him, he says that most of those he buries are younger than him.
A picture of Oleg Kobryn will soon hang on that wall. A growing gallery of local heroes, lost to what many believe will be a pointless war.