US Secretary of State Antony Blinken has said Washington's written response to Russia's security demands sets out a diplomatic path forward if Moscow were to approach it seriously.
As the US seeks to avert a military escalation against Ukraine, Mr Blinken said the document has a "principled and pragmatic" evaluation of the concerns that Moscow has raised, adding that the response was fully coordinated with Ukraine and Washington's European allies.
"All told it sets out a serious diplomatic path forward, should Russia choose it," Mr Blinken told reporters, adding that he expects to have follow-on discussion with Russian Foreign Minister Sergei Lavrov in the coming days.
Mr Blinken said the US response to Russia's demands reflects that Washington is open to dialogue and prefers diplomacy, but that it remains up to Russia how to respond. He warned the US would be ready either way.
Washington has made clear that Russian demands for NATO to pull back troops and weapons from eastern Europe and bar Ukraine from ever joining are non-starters.
It says it is ready to discuss other topics such as arms control and confidence-building measures.
Tensions are high after Russia massed an estimated 100,000 troops in reach of its neighbour's border, surrounding Ukraine with forces from the north, east and south. Russia denies planning an invasion.
Mr Blinken today said there will be no change in the US position on NATO's open door policy.
While the US Embassy in Kyiv will remain open, Mr Blinken said, he warned that Americans in the former Soviet country should strongly consider leaving.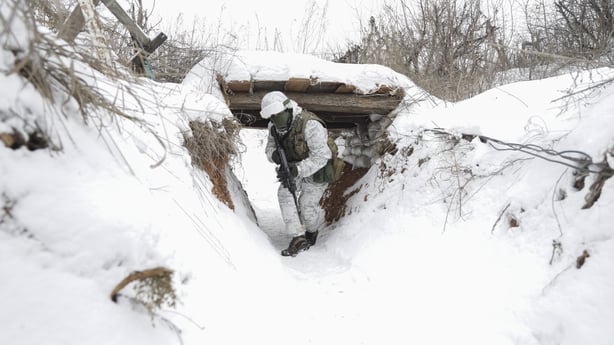 Russian and Ukrainian delegations met in Paris today for talks in a bid to defuse soaring tensions, with France seeking to usher both sides down a "path to de-escalation".
The high-level meeting, attended by senior diplomats from France and Germany, brought together the four countries in a format that has been used repeatedly since Russia's 2014 annexation of the Ukrainian province of Crimea.
Russia was represented by vice-prime minister Dmitri Kozak and Ukraine by presidential adviser Andriy Yermak, with diplomatic advisers to President Emmanuel Macron and German Chancellor Olaf Scholz also taking part in the talks.
France, which floated ideas for a "de-escalation" on Monday is keen for Europe to try to solve the crisis.
"It's very encouraging that the Russians agreed to enter into this diplomatic format again, the only one in which the Russians are stakeholders," an aide to Mr Macron said.
"This meeting will give us a clear indication of the Russians' mindset before the call between Emmanuel Macron and Russian President Vladimir Putin on Friday," the aide added.
We need your consent to load this rte-player contentWe use rte-player to manage extra content that can set cookies on your device and collect data about your activity. Please review their details and accept them to load the content.Manage Preferences
---
Read more:
No security in world without secure Ukraine, says Ambassador to Ireland
How the conflict in Ukraine is tied-up in post-Cold War politics
Why are Russian naval and air forces setting up off the Irish coast?
Irish fishermen plan to disrupt Russian military exercise
---
Separate talks between Russia and the United States have been held in recent weeks to discuss Russian security demands in Europe, including that Ukraine should never become a member of the US-led NATO military alliance.
After discussions last Friday in Geneva, Mr Blinken promised Mr Lavrov that Washington would give a written response to Russian demands and also floated the idea of a presidential meeting.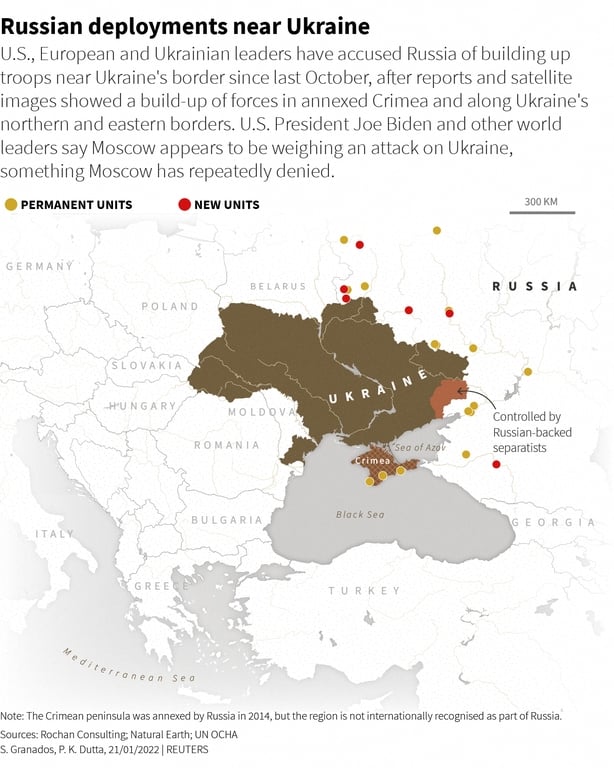 Today's talks in Paris come as Western powers keep up their warnings of massive economic sanctions in the event of a Russian attack on pro-Western Ukraine.
US President Joe Biden warned yesterday of personal sanctions on Mr Putin, while the White House said the risk of a Russian invasion of Ukraine "remains imminent."
The US has also been drawing up plans to shore up European gas supply should Russia cut off shipments through its pipelines in response to Western sanctions.
The White House announced yesterday that Mr Biden would meet the emir of gas-rich Qatar, Sheikh Tamim bin Hamad Al Thani, on 31 January to discuss, among other issues, "ensuring the stability of global energy supplies".