The Chief Executive Officer of the Irish South and West Fish Producers Organisation has said some of their members plan to peacefully disrupt Russia's plans to conduct a military exercise in waters off the Irish coast next month.
Patrick Murphy described the area as "very important" for fishermen and said they want to protect biodiversity and marine life.
Yesterday, Russia's Ambassador to Ireland said the controversy around the military exercise was "hugely overblown".
In a press conference in the Russian Embassy in Dublin, Yury Filatov said the exercise was "not in any way a threat to Ireland or anybody else" and he said no harm is intended by it.
The fishing organisation said it had been contacted by an official of the Russian Embassy in Dublin - and that they spoke after 2pm this afternoon.
Mr Murphy said he spoke with a named official who said "that it would be reckless for us to send boats out to intervene with their exercise".
There is just three ships involved, he said, but he had no other details on the exercise.
Mr Murphy said he assured the official that they were not sending boats out to engage with the Russian navy but "we are letting them know that we will be fishing in our traditional fishing areas and if this has an impact on their exercise this would be considered a peaceful protest".
Mr Murphy asked the official to send them an email confirming their conversation.
In a statement the Russian Embassy said: "We have seen the statement by the Irish South and West Fish Producers Organisation that some of their members are planning to 'peacefully disrupt' Russia's naval exercise in the waters of the Atlantic next month. While we understand the concerns of fishermen about the integrity of marine resources there are neither grounds nor scientific data to believe that these exercises would influence the biodiversity of the ocean.
"At the same time, we would think that any attempts to interfere with military exercises would be reckless and irresponsible act which could put in harms way both sailors and fishermen. All that has been explained to the Irish South and West Fish Producers Organisation."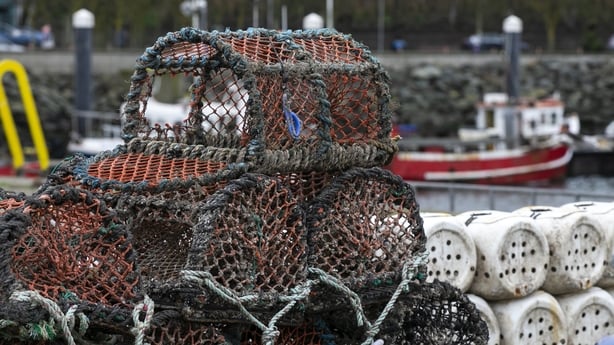 Tonight, the Irish South and West Fish Producers said they have had further contact with an official at the Russian Embassy in Dublin.
Mr Murphy said that during a second telephone conversation this evening, he was advised that the Embassy would be notifying the Irish Government on 27 January that the exercises will proceed and that it is the duty of the Irish Government to ensure all Irish fishing boats must not be in the area outlined in the notification to them.
Mr Murphy said that they are appalled at this development.
Speaking earlier on RTÉ's Morning Ireland, Mr Murphy said there are currently half a billion tonnes of blue whiting in the area that move up along the coastline.
"That's a one million tonne fishery - not just for ourselves but for the Russian fleet as well too," he said.
"So there's fierce risks in this. We feel that this is serious. You just had the minister on, Eamon Ryan, saying how critical fuel is.
"This is the same for us. This isn't about €100 per person, this is the livelihoods of fishermen and fishing families all around the coastline here.
"We've already seen 25% of what we were allowed to catch taken from us in the Brexit negotiations, and the cure to that is to wipe out one third of the fleet again? Another 60 boats are looking to be decommissioned by this Government."
Mr Murphy said they are entitled to fish there, describing it as "our waters".
"Can you imagine if the Russians were applying to go onto the mainland of Ireland to go launching rockets, how far would they get with that?" Mr Murphy said.
"It's no different to fishermen, this is our ground, this is our farm, this is where we earn our living.
"Why should somebody be able to come in and do that in our waters... this is going to affect our livelihoods and the marine life... there's seismic activity out there for years and it actually changed the migratory pattern of tuna at one stage.
"So this is a very important ground where fish come to spawn... and we don't know what's going on out here.
"We should be entitled to go fishing there, and if we're fishing there then these boats, these warships shouldn't be having war games."
Mr Murphy added that the ships will be followed by submarines and asked what would happen if the fishing gear at the back of their boats got tangled with a submarine.
He said this is a "real concern" and boats have been sunk by these vessels before.
"We in our industry feel nothing's being done here, like everything else, and we want to act," he said.
"We're not going to face down boats, we're not going to take them on that way, but we are definitely making a point here and we want our Government to do something for us.
"Getting rid of us is not the cure, trust me."