Members of the Irish South and West Fish Producers' Organisation are to attend a meeting in the Russian Embassy in Dublin tomorrow.
The Ambassador of Russia to Ireland H.E. Yuriy Filatov issued the invitation to hear directly the fishermen's concerns over proposed Russian naval exercises which are planned to take place off the southwest coast early next month.
The delegation of fishermen is expected to highlight the potential harm to fish stocks and cetaceans from the effect of military sonar use and possible disruption from live ammunition drills in the area during the drills.
It is expected that they will also formally request that the planned area for the exercises be relocated further south west into deeper water off the continental shelf.
In a statement yesterday, the Russian Embassy said: "While we understand the concerns of fishermen about the integrity of marine resources there are neither grounds nor scientific data to believe that these exercises would influence the biodiversity of the ocean.
"At the same time, we would think that any attempts to interfere with military exercises would be reckless and irresponsible act which could put in harms way both sailors and fishermen. All that has been explained to the Irish South and West Fish Producers Organisation."
Speaking to Joe Duffy on RTÉ's Liveline, CEO of the Irish South and West Fish Producers' Organisation Patrick Murphy said: "Any boat that's going to take on a warship - that is dangerous. Whether it is reckless - I am not advocating any [fishing] boat to take on a warship in any shape or manner. We're going there to fish."
"The protest that we envisaged was this: that we are in the area, if the manoeuvres they deem are becoming close to our vessels and that they ask us to move, our protest is no, we're not moving. We're going to continue under the laws of the sea that we abide by is to continue to fish."
Mr Murphy said the discussion about where Russia plans to conduct military exercises starts with: "Is it a fishing ground or is it a firing range."
He said: "We are hoping that if they are going to carry out an exercise, they will keep a safe distance from us - not the other way around. And if they feel that they need to come into our area where we're fishing, our protest is we're not moving. We are there to earn a living.
"We're not asking any boat to go out of their way from their traditional fishing grounds to engage with a Russian warship. Sure that's mad.
"You wouldn't expect any fisherman or any fishing woman or man or child to go up against a Russian warship. That is ludicrous."
'No security in Europe or the world without a secure Ukraine'
Ukraine's Ambassador to Ireland has said that there will be no security in Europe or the world without a secure Ukraine.
Larysa Gerasko said Ukraine is expecting further Russian invasion.
Russia has been warned by Western leaders that it will pay a heavy price if it does invades. US President Joe Biden said he would consider imposing direct sanctions on President Vladimir Putin.
The Kremlin denies planning an attack and says the crisis is being driven by Nato and US actions.
Speaking on RTÉ's Morning Ireland, Ms Gerasko said she expected Europe to impose more sanction on Russia.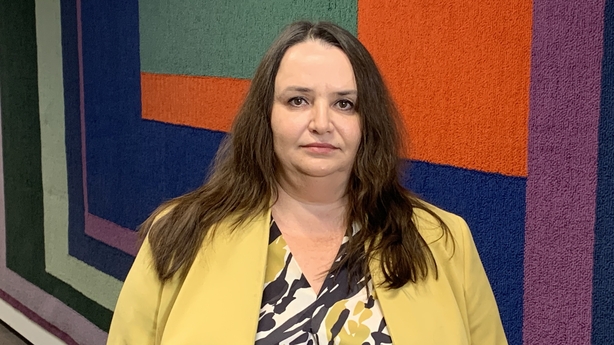 She said Ukrainian military experts say the current situation at Ukraine's border is not enough to start a full scale invasion, but Russia continues to bring more troops, tanks and other military equipment close to the border.
Ms Gerasko said Russia "spreads massive disinformation", launches cyber attacks and undermines the situation in Ukraine.
"The Kremlin is very resourceful and inventive," Ms Gerasko said.
"We are expecting the full-scale invasion."
---
Read more:
Why are Russian naval and air forces setting up off the Irish coast?
---
We need your consent to load this rte-player contentWe use rte-player to manage extra content that can set cookies on your device and collect data about your activity. Please review their details and accept them to load the content.Manage Preferences
Ms Gerasko added that Russia blackmails western Europe and the NATO alliance, and the upcoming military exercise not far from Ireland's coast demonstrates this.
She said Russia always brings threats to the region and has invaded Ukraine before, as well as occupying Crimea.
"I would underline that there will no security in Europe or the whole world without security in Ukraine," she said.
Ms Gerasko expressed her gratitude to Ireland for supporting Ukraine.
A US plane carrying military equipment and munitions landed in Kiev today, the third shipment of a $200m security package to shore up Ukraine.
Political advisers from Russia, Ukraine, Germany and France are due to meet in Paris under the so-called 'Normandy format' to seek ways of ending the conflict in eastern Ukraine between Kyiv's forces and pro-Russian separatists.