Chaos quickly ensued in *Aliya's office when President Ashraf Ghani told Afghanistan that he had fled to the United Arab Emirates. Everyone was told to leave. No transport was arranged. It was every man and woman for themselves.
News that Kabul had fallen to the Taliban ripped through the city; even Aliya's taxi driver abandoned her to be with his own family. They were scared, he told her. She was left on the street, frozen with fear.
"The taxi driver just asked me to get out of the taxi," she told me, speaking via WhatsApp late last month.
"I was so panicked, you know, I completely lost myself and I was not able even to walk or not able to even to talk to someone else, to act."
It was not her first experience of trauma. Her graduation ceremony at the American University in Kabul was bombed in late 2020, leaving her seriously injured and disabled for months.
She believes she remains a target for the Taliban. She has received calls from unknown numbers after the capital fell, which she fears are made by Taliban members with access to university records.
"I received two calls from unknown number and they were speaking a bit weird, like not like normal people, and then I just blocked those numbers."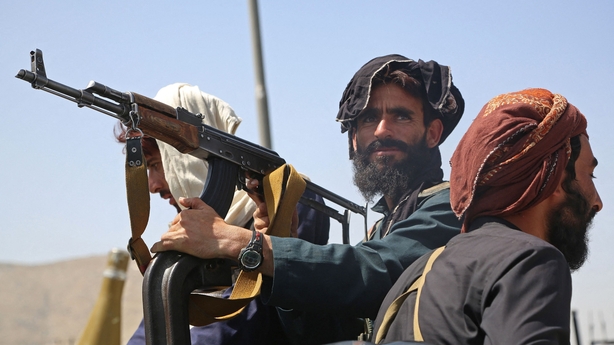 Her family - who worked for European and US-funded projects - along with several others were sent letters by the Department of Justice in Ireland to be used as a visa for travel to Ireland. Valid for 30 days, it is due to expire in the next two weeks. With no international flights from Kabul airport, and no visa for countries bordering Afghanistan, Aliya spent the last days of the airlift trying desperately to get on a flight.
"We got this Irish visa and we were asked by the Dutch military to come to the Abbey Gate (at Kabul airport) because they have a charter flight and they will provide a seat. We went there two nights, but there were no Dutch military," she said.
She queued at the Abbey Gate trying to convince American soldiers guarding the perimeter that she was due to board the Dutch flight to safety.
"There were all US military forces and when we were showing the visa and the ticket and they were just ignoring us and telling us 'sorry [you're] not Dutch'. They were not listening to anyone, they were just pulling out the people who has some US government, green card or passport or maybe in SIV (Special Immigrant Visa) approval or the gate pass that they are providing for their SIV people so they are just listening to those," she told me.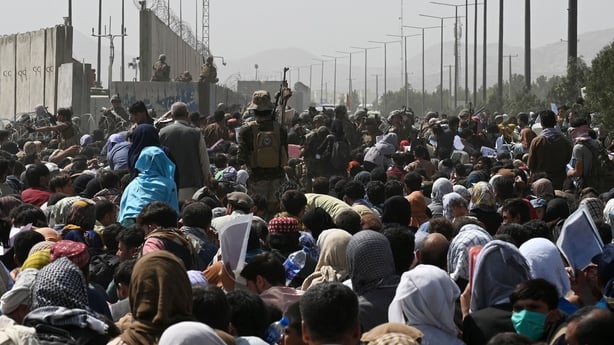 Afghans trying to press their case with American soldiers crowded the paths and even a waste drain, but Aliya says even European passports were being overlooked in favour of those with US travel documents. With an Irish visa and an Afghan passport, her family had no chance.
"They were just pulling those people out of the sewage [channel near the Abbey Gate] and not others.
"And there were many, many people who have other countries passport like I have seen so many people who have passports from Holland and other countries, but they are not helping them and they were repeatedly saying that we are not Dutch very rudely.
"We were in the sewage, for almost I can say maybe three and four hours but then we failed, our blood pressure went down and we were feeling like unconscious, so we decided to come back home because staying [there] would not change anything.
"And we asked those [US] military too 'can [you] call us a Dutch military who can help us?' and then he was just ignoring us," she said.
After contact from the Dutch military, her family made another failed attempt to get on a charter flight.
"Another day we were again asked to come to the Abbey Gate and again we were not able to find anyone from the Irish or anyone from the Dutch and no one was helping us. So, we came back home again and we were not able to get to the airport.
"Near the airport, the mobiles are not working. We received a call from the Dutch military who were asking 'where are you?'. And we were telling him that we next to the tower because there was an orange flag in and we were asked to get close to that orange flag and when we get there so there was no Dutch military and the phone was not working at all because I think there is a signal jammer they have or something, I don't know, but the mobile phones are not working at all. You couldn't contact someone and ask for help. So that was the main problem," she said.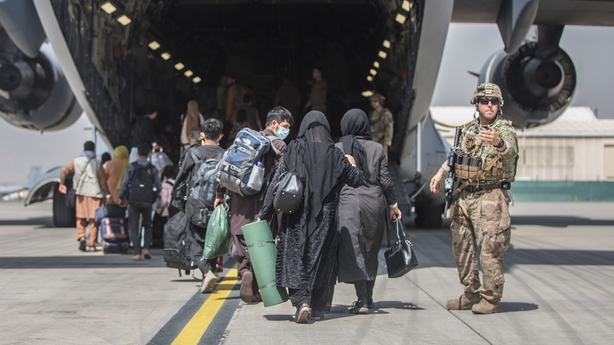 Shortly after her second attempt a notice was circulated that only US passport and green card holders would be allowed get through the perimeter.
The Taliban said it would not be letting any more people go to the airport. Finally, the ISIS-K bomb that killed scores of Afghans and 13 US Marines ended any possibility of trying to get out on a plane.
Her frustration with the visa was clear. She wanted to know why she was considered at sufficient risk to be granted refugee status, but not to get the help to use it.
"Like what should I do with those visa if I can't get into the airport? No, because now this visa is useless for me.
"There should be at least some planning when you were issuing a visa. You should plan for how to evacuate those people.....
"What if I had a visa from hundred countries, but I can't make it happen? I wish I could get help in this critical moment."
Consular assistance is not being offered by Ireland to people those holding visas like Aliya's.
Asked if she would try getting out over land, she was not hopeful: "I don't have visa for Iran, Uzbekistan or Tajikistan; even for Pakistan I don't have visa.
"But the reason I was trying to get into the airport is because I have a visa for Turkey. I have an Irish visa and I could make it.
"They could drop me anywhere I could get a ticket and travel to Turkey or maybe to Ireland because the visa from Irish is an approved visa and they said we will accept [me] as a refugee."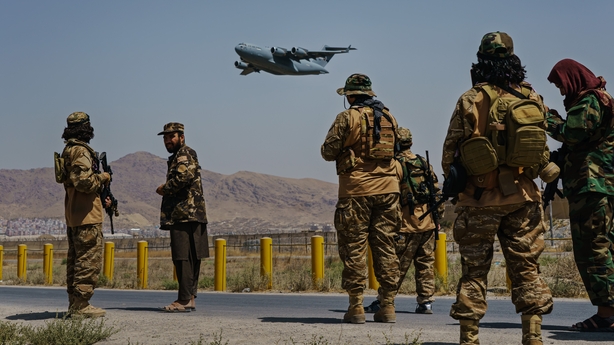 Late last week, Aliya sent a short message to tell me she was in hiding.
"We have escaped today from our home because today the Taliban were searching some homes. So when we saw them, we just left for a relative's home.
"Most of the people in our area have left their homes," she wrote, ending her text with a sad emoji.
When we spoke last month Aliya told me of her fears for the future under the Taliban - not just for her safety, but for her hard work and potential going to waste.
"I'm also scared because as an educated girl ... I would be left with nothing. I'm sure no one would give me any job. No one would let me to do my further studies, so I will be like an illiterate woman in the home.
"I'm very sad for this situation and I'm very worried about my future, you know. Because I don't deserve it, actually. Because I have made lots of effort [to get to where I am]. I have many barriers, I got injured, I was not able to walk for six months but still I didn't give up.
"When I continue to study and I continue to work by making for my country and to not give up but now - I'm feeling hopeless and I don't know what would happen to me," she said.
---
Read more:
Afghan president fled country to 'avoid bloodshed
Flight to safety - Image captures chaotic Kabul exodus
ISIS bombs kill dozens in Kabul, including 13 US troops
Dept assisting 60 people 'remotely' in Afghanistan
---
* Not her real name