Suicide bombers struck the crowded gates of Kabul airport with at least two explosions today, causing deaths among civilians and US troops and bringing a catastrophic halt to the airlift of tens of thousands of Afghans desperate to flee.
The Islamic State terrorist group - also known as ISIS - claimed responsibility for the attacks, according to its Amaq News Agency's Telegram account.
US officials put the American death toll at 13 service members killed, making it one of the deadliest incidents for US troops of the 20-year war.
These included marines and a navy medic, the US officials said. Fifteen more troops were injured.
There was no complete toll of Afghan civilians but video images uploaded by Afghan journalists showed dozens of bodies of people killed in packed crowds outside the airport.
General Kenneth McKenzie, head of Central Command in the US military, said the attacks were carried out by two suicide bombers from Islamic State.
He said the US airlift in Kabul would continue despite the deadly blasts.
"We continue to execute our number one mission, which is to get as many evacuees and citizens out of Afghanistan," said General McKenzie.
"ISIS will not deter us from accomplishing the mission," he added and said the US was determined to retaliate for the bombings.
"We are working very hard right now to determine attribution, to determine who is associated with this cowardly attack, and we're prepared to take action against them".
Breaking: At a press briefing, the @DeptofDefense has confirmed that 12 US service members were killed in today's attack at Kabul Airport. #Afghanistan @rtenews pic.twitter.com/3OxMwtSMDo

— Brian O'Donovan (@BrianOD_News) August 26, 2021
The military chief said the US "expects Islamic State will attempt more attacks in Kabul" and US forces were "prepared and ready to defend against" possible further ISIS attacks.
General McKenzie said he has seen nothing to convince him that the Taliban let the attacks happen.
Thousands of people had gathered near the airport hoping for a flight out of Taliban-controlled Afghanistan.
The blasts came as the 31 August deadline looms for the United States to withdraw its troops, and for it and other Western countries to end a massive airlift that has already evacuated nearly 100,000 people.
The airport is the only part of Afghanistan under foreign control following the Taliban's return to power on 15 August, and huge crowds have massed in the hope of being evacuated.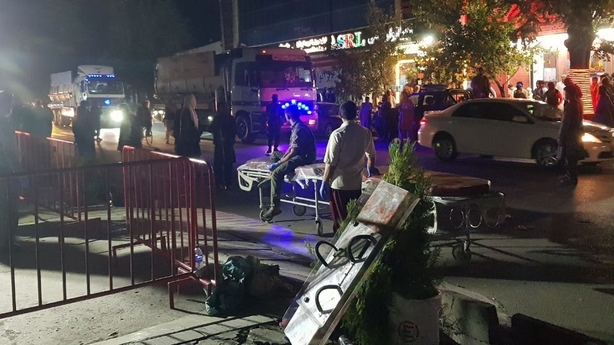 A Taliban official said at least 13 people including children had been killed in the attack and 52 were wounded, though it was clear from video footage that those figures were far from complete.
One surgical hospital run by an Italian charity said it alone was treating more than 60 wounded.
---
Read More:
Biden warns Kabul bombers 'we will hunt you down'
Who are ISIS-K and what threat do they pose?
36 evacuated from Afghanistan as Ireland ends Kabul mission
Biden: 'It's been a tough day'
---
The Taliban condemned the attacks, saying they were in an area under US military control.
"The Islamic Emirate strongly condemns the bombing targeting civilians at Kabul airport," said a statement released on Twitter.
A Taliban official said many Taliban guards, who are securing the airport, were among the wounded.
"Our guards are also risking their lives at Kabul airport, they face a threat too from the Islamic State group," said a Taliban official, speaking on condition of anonymity before the reports of the blasts.
Pentagon spokesman John Kirby confirmed two blasts occurred in a "complex attack" outside Hamid Karzai International Airport.
He said at least one explosion took place at or near the Baron Hotel. A short distance away, another blast occurred near the Abbey Gate of Kabul's airport.
US President Joe Biden had earlier cited an "acute" terrorist threat from the regional chapter of the Islamic State jihadist group.
We can confirm that the explosion at the Abbey Gate was the result of a complex attack that resulted in a number of US & civilian casualties. We can also confirm at least one other explosion at or near the Baron Hotel, a short distance from Abbey Gate. We will continue to update.

— John Kirby (@PentagonPresSec) August 26, 2021
Graphic video shared on social media showed bodies lying semi-submerged in a canal adjacent to the airport, where thousands have gathered since the Taliban takeover on 15 August, hoping for a flight out.
"When people heard the (first) explosion there was total panic," a man name Milad told AFP.
"The Taliban then started firing in the air to disperse the crowd. I saw a man rushing with an injured baby in his hands."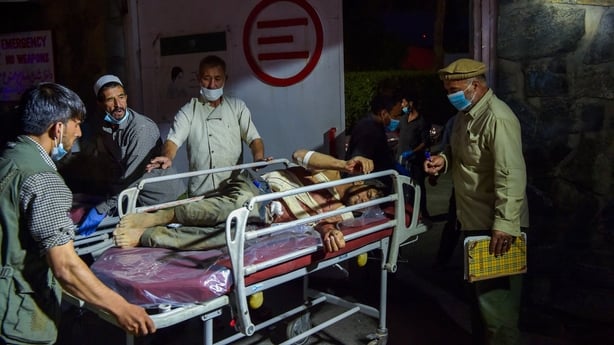 It comes as 36 Irish citizens and residents were evacuated Afghanistan, as Ireland announced it was ending its emergency mission in Kabul.
A small group of Army Rangers and two Department of Foreign Affairs officials had been in the Afghan capital to help facilitate the evacuation of remaining Irish citizens.
Britain will continue the operation to evacuate nationals and Afghans from Kabul despite today's "barbaric" bomb attack, Prime Minister Boris Johnson said.
"We've been ready for it," he said of the attack. "We're going to continue with that operation, we're now coming towards the very end of it in any event.
"We're going to work flat out... getting people through as fast as they can still, and we're going to keep going up until the last moment," said Mr Johnson, shortly after chairing a meeting of the UK's emergency COBRA committee.
US President Joe Biden ordered all troops out of Afghanistan by the end of the month to comply with a withdrawal agreement with the Taliban negotiated by his predecessor Donald Trump.
He rejected calls from European allies for more time.
Fighters claiming allegiance to Islamic State began appearing in eastern Afghanistan at the end of 2014.
They established a reputation for extreme brutality as they fought the Taliban both for ideological reasons and for control of local smuggling and narcotics routes, according to Western intelligence services.
Since the day before the Taliban swept into Kabul, the United States and its allies have mounted one of the biggest air evacuations in history, bringing out about 95,700 people, including 13,400 yesterday, the White House said.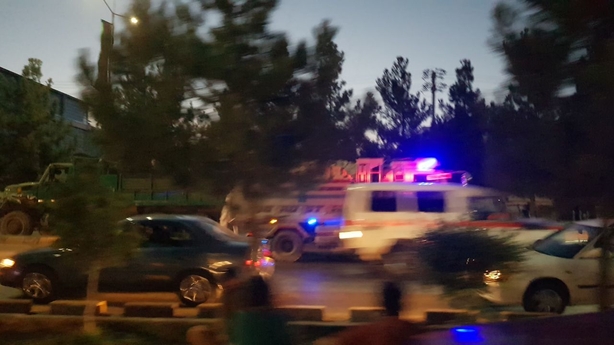 The Taliban has encouraged Afghans to stay, while saying those with permission to leave will still be allowed to do so once foreign troops leave and commercial flights resume.
The Taliban's 1996-2001 rule was marked by public executions and the curtailment of basic freedoms. Women were barred from school or work.
The group was overthrown two decades ago by US-led forces for hosting the al Qaeda militants who masterminded the 11 September 2001 attacks on the United States.
The Taliban has said it will respect human rights in line with Islamic law and will not allow terrorists to operate from the country.