Minister for Foreign Affairs Simon Coveney said that Irish citizens and residents in Afghanistan should await guidance from Irish consular teams in relation to plans to leave the country.
The minister said there are 60 people being assisted remotely.
There are also 150 cases of family reunification being prioritised by the Department of Justice and 250 people granted asylum in a refugee settlement programme.
He said it would take some time to reopen commercial flights and in the meantime it will require taking people across borders from the country by land.
A total of 36 Irish citizens and residents have already been evacuated from the country since the Taliban took hold.
Twenty-six of those were flown out last Friday as Ireland's emergency evacuation operation on the ground in Afghanistan came to an end.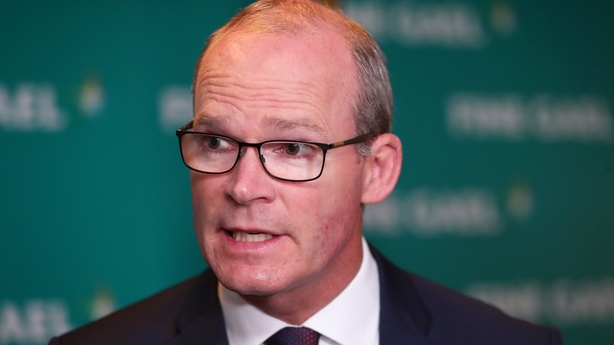 Mr Coveney said that a joint statement issued by 100 countries including Ireland, is a positive response to the Taliban's statement and shows that "should they not fulfil commitments there are very significant consequences for them in relations with the outside world".
He said "they need aid, financial support and access to financial markets to be able to trade, otherwise the country they have taken control of will collapse and we will see widespread famine".
Ireland is pushing to ensure meaningful participation of women in Afghanistan, in public life and in all sectors of society, he said.
Mr Coveney said the situation is shifting from a military exercise to a focused diplomatic exercise where "pressure is put on the Taliban to try and form a government that is as inclusive as possible and ensure humanitarian access".
He said the international community wants to hold the Taliban to account and is trying to prevent a humanitarian catastrophe from happening in the country.
Minister Coveney said that he is "not sure any country trusts the Taliban per se" but that Ireland "will work with whoever it needs to try to prevent a deteriorating humanitarian situation".
He said that through the United Nations, Ireland and other countries will put as much pressure as it can on the Taliban to stick to the commitments it has made.
He said "of course people are sceptical" about the commitment given by the Taliban to allow people with the right papers to leave the country.
However, he said that countries are working together to ensure there is safety for foreign nationals trying to leave, whether this is a safe zone around Kabul airport or other measures.
He said Ireland will take over the Presidency of the Security Council this week and will work to get the permanent five members to build consensus and agree on a resolution on Afghanistan, adding that "we need unity now".
He said "there it nothing easy here"... and that the international community needs to deal with the Taliban to get people out and get assistance into the country.