A total of 36 Irish citizens and residents have evacuated Afghanistan, as Ireland announced it was ending its emergency mission in Kabul.
Since the deployment of the Emergency Consular Assistance Team, which comprised two Irish diplomats and the Army Ranger Wing, 26 Irish citizens and residents were taken out of Afghanistan. 10 people had already been evacuated before the Irish team arrived.
The Department of Foreign Affairs said it is now aware of around 60 Irish citizens in need of support in Afghanistan, as well as 15 Afghan citizens with Irish residency.
Given the warnings issued around Kabul airport, however, the remaining Irish citizens and residents in Kabul and beyond have been advised "against coming to or remaining at" the airport.
Minister for Foreign Affairs Simon Coveney said the Irish evacuation "is not over", but he could not say how those still in Afghanistan will get to Ireland.
Speaking on RTÉ's Prime Time, Mr Coveney said Ireland has granted refugee status to about 250 people from Afghanistan and that number will rise.
He said it will not be easy to get people out, but all European countries are in the same situation.
He said the Government is keeping in contact with people in Afghanistan, saying "we will work with them on it but I won't promise miracles".
Asked if Ireland should have a heavy lift plane to evacuate citizens, he said the problem in Afghanistan was not getting people on planes but getting them to the airport safely and having an Irish plane would not have made a difference in recent days.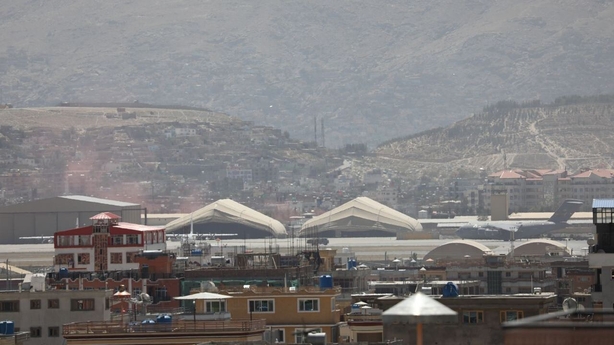 The withdrawal of the Irish mission in Kabul was pre-planned and was designed to be a short-term response to the situation, said the Department of Foreign Affairs.
"In line with other countries, the decision to withdraw today was made against the backdrop of an anticipated deteriorating security situation," a statement from the Department said.
The Department said the number of Irish citizens, residents and their family members in need of ongoing Irish consular assistance in Afghanistan is "fluid".
"Over the last 48 hours we have been contacted by a significant number of additional people requesting assistance," it said.
Minister for Foreign Affairs Simon Coveney confirmed the Irish team's departure from Kabul, saying the group split in two to get out as many Irish citizens as possible.
Most came out on a French plane this morning at 11.30am (Irish time), he said. The last three of the team, a senior diplomat and two soliders, left on a Finnish flight this afternoon, the first flight to take off after today's explosion. The three had stayed back to accompany 15 Irish people who also travelled on that flight.
The minister thanked the team for their "rapid deployment" to such a challenging environment.
"I know there are many in Ireland today with deep concerns for family members, friends and colleagues who remain in Afghanistan. Along with other countries, our team needed to evacuate due to the deteriorating security situation," said Mr Coveney.
"I can give full assurance that the overall consular effort is continuing and we remain strongly committed to assisting those requiring ongoing consular support in Afghanistan."
Mr Coveney said that from here onwards, he expects "the numbers of civilians coming through that airport and being airlifted will be virtually none."
"I mean, in effect, the airport is now closed to people coming in.
"There may be some people for specific reasons allowed into the airport, but the security situation is now such that very, very few if any others will be allowed into the airport, and the evidence of that is most countries are now saying that their defence force personnel will also be leaving either this evening or tomorrow."
When asked if he felt that there was hope of getting any of those 75 people on a different flight out of Afghanistan, Mr Coveney said: "I don't think so, which is why virtually every country now is advising their citizens to effectively stay where they are, and stay safe.
"That doesn't mean that we're not going to continue to stay in contact with them, we are.
"And I want to give all families that have family members still in Afghanistan a strong assurance that our consular team are going to stay in contact with your family members, we're going to keep working with them and we're going to keep working to find ways to help them get out of Afghanistan if that's what they want to do in the coming days and weeks.
"But that is going to take time."
Today, explosions outside Kabul's airport amid a huge evacuation effort from Afghanistan killed at least 13 people, including children, and wounded many Taliban guards, a Taliban official told Reuters.
It appeared to be caused by a suicide bomb, US officials said, citing an initial report and cautioning that it could change.
Our Team of diplomats & Army Rangers in Kabul r safe, busy & doing fantastic work with partners.
We remain in close contact with them to make decisions on exit.
We r also in continuing contact with all Irish individuals & families in Afghanistan to support & advise. @dfatirl

— Simon Coveney (@simoncoveney) August 26, 2021
Independent TD and former member of the Defence Forces Cathal Berry had earlier said it would be "prudent and sensible" for the Irish diplomatic mission to withdraw from Kabul airport before 31 August, saying it had achieved a lot in 48 hours.
Mr Berry told RTÉ's News at One that the withdrawal is 'no surprise' and is 'playing out entirely as anticipated' but that lessons must be learned for future emergencies.
He said that Ireland 'did not have a contingency plan in place' and the mission highlights decision-making and capability gaps that need to be addressed.
Chief among these is the lack of an independent airlift, which he said complicated the deployment and limited the length of time on the ground in Kabul, with Ireland relying instead on the scheduling of other countries "to bring our people home".
He said the mission achieved a ground liaison between Irish citizens trapped outside the airport perimeter and Ireland's multinational military and diplomatic colleagues inside the airport.
He said the "quality people on the tarmac will make the best use of available time" despite the limited timeframe.
Mr Berry said that contacts made by Irish officials and army personnel will be "priceless" after the 31 August deadline passes.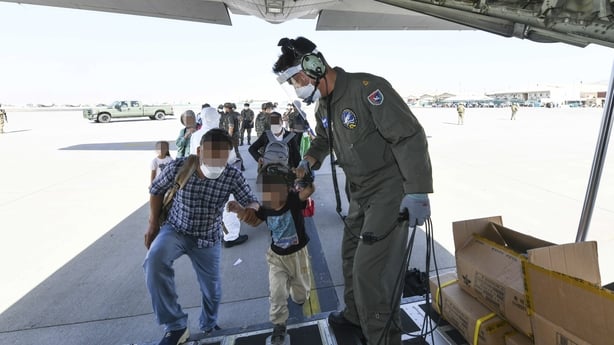 Western countries have urged people to move away from Kabul airport due to the threat of a terror attack by the so-called Islamic State group.
Meanwhile, the Dutch government has said it will stop evacuation flights today from Kabul in what it acknowledged was a "painful moment" that would leave some people behind in Taliban-ruled Afghanistan.
The Netherlands said it had been ordered by US forces to leave ahead of the withdrawal of American troops on 31 August, and advised people to avoid the airport for security reasons.
"The Netherlands has been informed today by the United States that it has to leave and will in all probability run the last flights later today," the Dutch foreign and defence ministers said in a letter to parliament.
"This is a painful moment because it means that despite all the great efforts of the recent period, people who are eligible for evacuation to the Netherlands will be left behind," Foreign Minister Sigrid Kaag and Defence Minister Ank Bijleveld said.
The Dutch embassy and military team at Kabul airport would also fly out on the last planes today, it said.
France is also to wind down its evacuation operation, with Prime Minister Jean Castex confirming it will wrap up tomorrow.