The Taliban has blamed the United States for the chaotic evacuation of tens of thousands of Afghans and foreigners from Kabul, one week after the hardline Islamist group returned to power.
The United States has warned of security threats and the European Union admitted it was "impossible" to evacuate everyone at risk from the Taliban, who have vowed a softer version of their brutal rule from 1996 to 2001.
But terrified Afghans continue to try to flee, deepening a tragedy at Kabul airport where the United States and its allies have been unable to cope with the huge numbers of people trying to get on evacuation flights.
"America, with all its power and facilities... has failed to bring order to the airport. There is peace and calm all over the country, but there is chaos only at Kabul airport," Taliban official Amir Khan Mutaqi said.
Britain's defence ministry has said seven people had died in the crowds, without giving further details.
A journalist, who was among a group of fleeing media workers and academics fortunate enough to reach the airport today, described desperate scenes of people surrounding their bus on the way in.
"They were showing us their passports and shouting 'take us with you... please take us with you'," the journalist said.
"The Taliban fighter in the truck ahead of us had to shoot in the air to make them go away."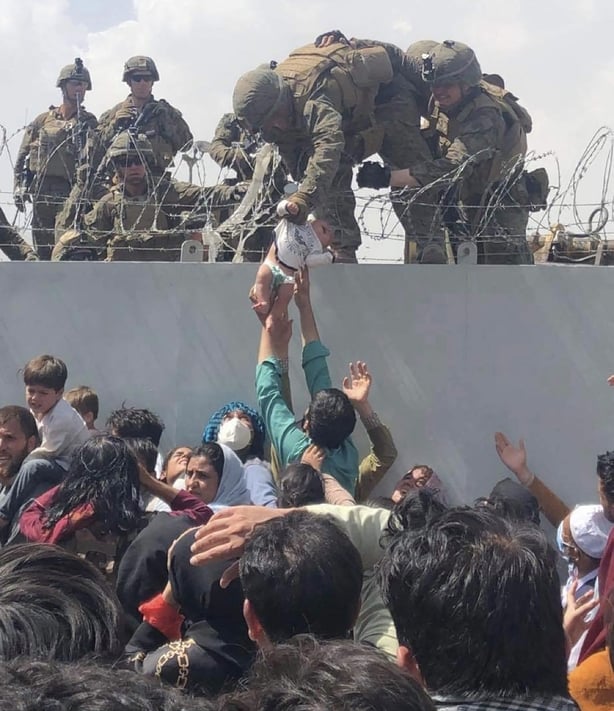 Britain's Sky News aired footage of at least three bodies covered in white tarpaulin outside the airport. It was not clear how they had died.
Other journalists at the scene have reported people being crushed, while others were dehydrated and terrified.
Harrowing videos have emerged of babies and children being passed to soldiers over razor-wire fences and men clinging to the outside of departing planes.
During the distress of evacuation, an Afghan woman went into labour on a US Air Force flight and gave birth to a baby girl in the plane's cargo bay moments after landing at a base in Germany, the Air Mobility Command tweeted.
---
Read more:
Afghan govt employees blocked from working by Taliban
EU says no recognition of Taliban, no political talks
Afghanistan crisis: A bad week for Biden
---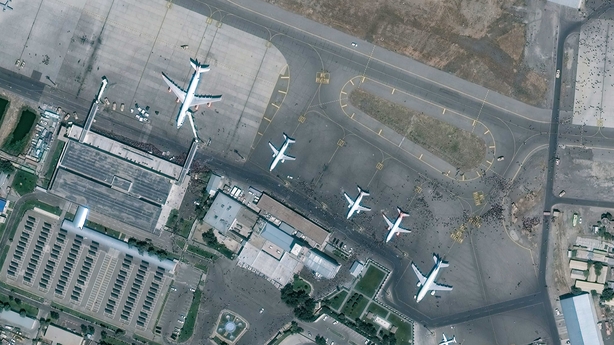 Former prime minister Tony Blair, who in 2001 took the UK into war in Afghanistan alongside the United States, condemned the United States' "abandonment" of the country as "dangerous" and "unnecessary".
In his first public comments on the crisis since the Afghan government collapsed last weekend, Mr Blair criticised the US motives for the withdrawal as "imbecilic" and "driven not by grand strategy but by politics".
"The abandonment of Afghanistan and its people is tragic, dangerous, unnecessary, not in their interests and not in ours," Blair wrote in a wide-ranging article published on his institute's website.
"We didn't need to do it. We chose to do it.
"We did it in obedience to an imbecilic political slogan about ending 'the forever wars', as if our engagement in 2021 was remotely comparable to our commitment 20 or even 10 years ago."
The comments will be widely seen as a direct attack on President Biden, who used the "forever wars" phrase repeatedly during campaigning last year.
Commercial airlines called on
The United States has enlisted several major airlines in its frantic evacuation attempts. Secretary of Defence Lloyd Austin activated the rarely-used Civil Reserve Air Fleet (CRAF) to aid the onward movement of people arriving at US bases in the Middle East, the Pentagon said.
"We're going to try our very best to get everybody, every American citizen who wants to get out, out," Mr Austin said in an ABC interview on the evacuation mission, adding that the same applied to America's Afghan allies.
Eighteen civilian craft, from American Airlines, Atlas, Delta, Omni, Hawaiian and United, will aid dozens of military cargo transports involved in the evacuation, the statement said.
Rather than going in and out of Kabul, the planes will transport people from US bases in Qatar, Bahrain and the United Arab Emirates to European countries and, for many, onward to the United States.
With thousands of troops trying to secure the Afghan capital's airport, Washington has set a deadline to complete one of the largest evacuation missions the Pentagon has ever conducted by 31 August.
But Mr Austin didn't rule out asking the president to extend the deadline.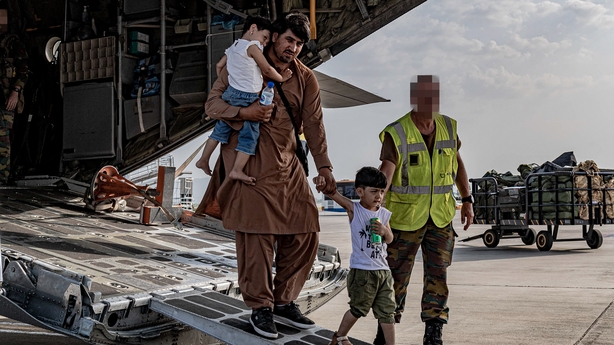 "We're going to continue to assess the situation. And again, work as hard as we can to get as many people out as possible. And as we approach that deadline, we'll make a recommendation to the president," he told ABC.
Up to 15,000 Americans need to be removed from Afghanistan, according to President Joe Biden, who says the administration wants to get at least 50,000 Afghan allies and their family members out of the country.
Taliban government
The Taliban meanwhile have been focusing on forming a government.
The group's co-founder Mullah Abdul Ghani Baradar flew into Kabul and planned to meet jihadi leaders, elders and politicians in the coming days.
Among them are leaders of the Haqqani network, a US-designated terrorist organisation with million-dollar bounties on its leadership.
However, there have since been flickers of resistance with some ex-government troops gathering in the Panjshir Valley, north of Kabul, long known as an anti-Taliban bastion.
One of the leaders of the movement, named the National Resistance Front, is the son of famed anti-Taliban commander Ahmad Shah Massoud.
The NRF is prepared for a "long-term conflict" but is also still seeking to negotiate with the Taliban about an inclusive government, its spokesman Ali Maisam Nazary told AFP in an interview.
"The conditions for a peace deal with the Taliban is decentralisation, a system that ensures social justice, equality, rights, and freedom for all."