"Biden you betrayed us!" they chanted.
As Kabul was taken over by the Taliban last weekend, hundreds of Afghan-Americans protested in front of the White House.
They carried placards saying: "Save Afghanistan" and "Stop the Killing".
"I'm shocked at what has happened very quickly," Khadija Bahari told Washington radio station WTOP.
"It's the start of a dark era and we have to stop the Taliban. It's just shocking what has happened with Afghanistan," she said.
US President Joe Biden was not inside the White House to hear the chants of the protesters.
He was on his summer break in Camp David. It was a holiday that had to be cut short so he could rush back to Washington to deal with the biggest international crisis of his presidency so far.
In an address to the nation on Monday, President Biden defended the US exit from Afghanistan.
"I stand squarely behind my decision. After 20 years, I've learned the hard way that there was never a good time to withdraw US forces," he said.
US President Joe Biden says he had to follow through on the agreement to withdraw forces from Afghanistan, but 'this did unfold more quickly than we anticipated'.

'I stand firmly behind my decision.' | Follow live updates: https://t.co/MsCesNr9Do pic.twitter.com/G7JgBiAPHl

— RTÉ News (@rtenews) August 16, 2021
The US President did acknowledge that the situation in Afghanistan deteriorated far more quickly than they had anticipated but insisted that the mission had never been about nation building, rather it was about tackling terrorism.
Joe Biden did not take questions from the media following Monday's address but he did sit down for an interview with ABC News in the days that followed.
"The idea that somehow, there's a way to have gotten out without chaos ensuing, I don't know how that happens," he said.
He once again defended his administration's handling of the exit saying it was impossible to anticipate the collapse of US-backed Afghan forces and the speed with which the Taliban took over the country.
Joe Biden was also pressed on the fact that just last month he said that a Taliban takeover of Afghanistan was "highly unlikely".
He responded by saying that intelligence reports had suggested such a takeover was more likely by the end of the year.
There has been a major focus on the intelligence failures that led to the chaotic scenes of the last week.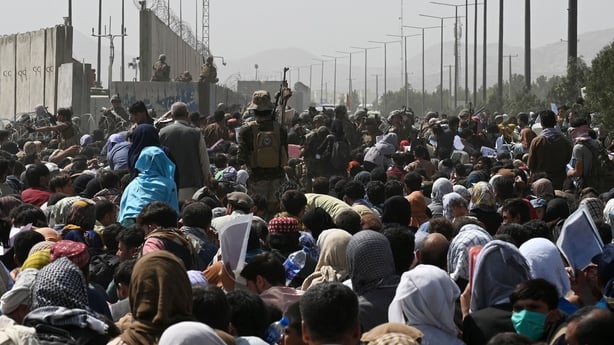 America's top general, Mark Milley, denied reports that officials had been warned that a quick Taliban takeover was likely.
He said that intelligence indicated that "multiple scenarios were possible".
"The timeframe of rapid collapse was widely estimated and ranged from weeks to months and even years following our departure," General Milley said.
"There was nothing that I saw that indicated a collapse of this army and this government in 11 days."
It sparks wider questions over how, after 20 years in Afghanistan, the US could not predict how its eventual departure would end.
The entire crisis has been politically damaging for Joe Biden, someone who has portrayed himself as the foreign policy president who understands world affairs.
After he was elected, he vowed to work with allies and return the US to the international stage, following four years of Donald Trump's 'America First' policies.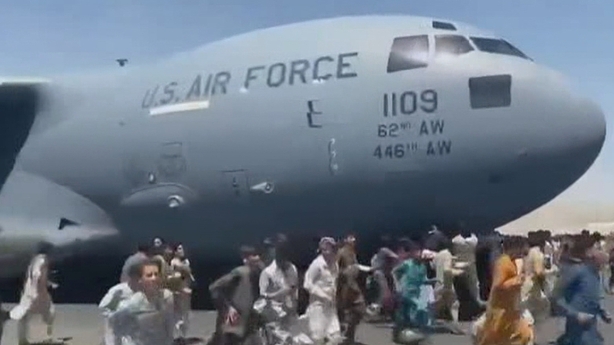 Mr Biden has also been seen as an empathetic leader who cares deeply about human suffering but when asked by ABC News this week about images of the chaotic scenes at Kabul Airport, he dismissed the question and appeared to become annoyed at the interviewer.
"That was four days ago, five days ago!" he snapped.
The president Pried to strike a more compassionate tone in an address from the White House on Friday.
"The past week has been heart-breaking," he said.
"We've seen gut-wrenching images of panicked people acting out of sheer desperation. You know, it's completely understandable. They're frightened. They're sad. Uncertain what happens next."
'I have seen no question of our credibility from our allies around the world,' says US President Joe Biden in a briefing on Afghanistan. 'We went and did the mission - it's time to end this war.' | Read: https://t.co/2xASHDJ0rX pic.twitter.com/y3v4enYita

— RTÉ News (@rtenews) August 20, 2021
During Friday's address, he also rejected criticism of his handling of the chaotic withdrawal from Afghanistan and promised stranded Americans that he would get them home.
There is a sense here in the US that after seven months in the White House the honeymoon period for this president is very much over.
In the days following the fall of Kabul, Joe Biden's approval rating dropped to its lowest level since he took office.
On Monday, a Reuters/Ipsos poll found that 46% of American adults approved of his performance, a fall of 7 percentage points from the previous week.
He is facing harsh criticism from normally friendly media outlets amid claims that the botched exit from Afghanistan makes America look weak on the international stage.
The world's greatest military superpower has been forced to rely on the goodwill of the Taliban to allow US citizens and vulnerable Afghans to access Kabul Airport and board evacuation flights.
Unsurprisingly, the loudest attacks are coming from Republicans led by Joe Biden's predecessor Donald Trump.
He has said that the US President should resign in disgrace.
"It is a terrible time for our country. I don't think in all of the years our country has ever been so humiliated. I don't know what you call it – a military defeat or a psychological defeat, there has never been anything like what's happened here," Mr Trump told Fox News on Tuesday.
The White House has been keen to highlight that its hands were tied by a deal agreed by the Trump administration which established a deadline of 1 May to withdraw US troops from Afghanistan.
Officials have also been quick to blame the Afghan government for its failure to mount a defence.
The finger-pointing, however, has not lessened the criticism of Joe Biden, even from his own party.
Democrats control both the House of Representatives and the Senate and they have vowed to hold hearings on Capitol Hill to get to the bottom of what went wrong in Afghanistan.
"I am disappointed that the Biden administration clearly did not accurately assess the implications of a rapid US withdrawal," the Senate Foreign Relations Chairman Bob Menendez said in a statement.
"We are now witnessing the horrifying results of many years of policy and intelligence failures," he added.
Bringing US troops home from Afghanistan has always been politically popular with most people opposed to never-ending conflicts in foreign lands.
But now, after 20 years, thousands of lives lost and trillions of dollars spent, America's longest war is ending in chaos and the Taliban is back in power.
Many Americans, like voters around the world, have short memories and the modern news cycle moves so fast these days other issues and crises will soon replace Afghanistan on the front pages.
How much long-term political damage will be inflicted on Joe Biden depends on what happens over the coming weeks.
If the US President fails in his task to safely evacuate thousands of Americans and vulnerable Afghans then the protests outside the White House, and beyond, will grow ever louder.
---