The European Commission vice-president for promoting the European way of life conceded that Brussels cannot act against plans for a new football Super League, despite condemning it forcefully.
Asked in an interview with Italy's Il Messaggero newspaper what the commission might do to block the project, Margaritis Schinas said: "Look, this is not the responsibility of the commission.
"Europe has for years recognised the right of (football) federations and UEFA to decide independently. It is they who will have to find solutions to this problem."
Mr Schinas had yesterday joined a chorus of condemnation of plans by 12 of Europe's most powerful clubs to form a breakaway league.
The group is made up of six English clubs Manchester United, Liverpool, Manchester City, Tottenham Hotspur, Chelsea and Arsenal, along with Atletico Madrid, Barcelona and Real Madrid from Spain, as well as Italian sides AC Milan, Inter Milan and Juventus.
"We must defend a values-driven European model of sport based on diversity and inclusion," Mr Schinas said on Twitter.
(1/2) We must defend a values-driven European model of sport based on diversity and inclusion. There is no scope for reserving it for the few rich and powerful clubs who want to severe links with everything associations stand for:

— Margaritis Schinas (@MargSchinas) April 18, 2021
"There is no scope for reserving it for the few rich and powerful clubs who want to sever links with everything associations stand for: national leagues, promotion and relegation and support to grassroots amateur football.
"Universality, inclusion and diversity are key elements of European sport and of our European way of life."
Meanwhile, UEFA president Aleksander Ceferin told the English Premier League's "Big Six" that they had made a "huge mistake", and urged them to think again.
Speaking at UEFA's congress, the Slovenian criticised the attitude of owners who he said view the game as a "product" and fans as "consumers" but then spoke directly to the Premier League rebels.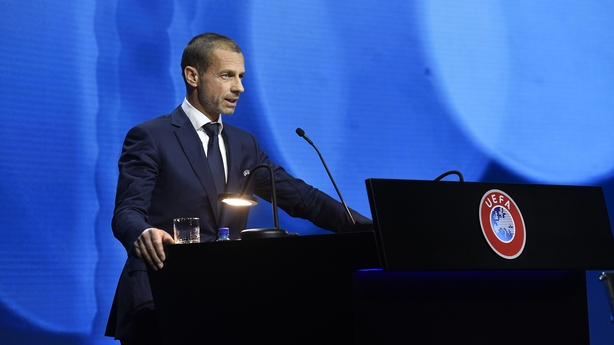 "I would like to address the owners of some English clubs. Gentlemen, you made a huge mistake. Some will say it is greed, others disdain, arrogance or complete ignorance of England's football culture, but actually it doesn't matter," he said.
"What matters is that there is still time to change your mind, everyone makes mistakes, English fans deserve to have you correct your mistake, they deserve respect."
FAI President Gerry McAnaney said the association backs UEFA opposition to the move.
"The integrity of the game is at stake here and such an elitist competition cannot be considered," he said.
UEFA is taking legal advice on the sanctions it might be able to impose, from expelling clubs to banning players from international competition including Euro 2020, though this may prove to be a negotiating tactic as the two camps size each other up.
---
Read more
UEFA and FIFA reiterate opposition to breakaway league
Plans for European Super League announced
---
In an interview with Spanish TV, Super League chairman Florentino Perez was vehement that expulsion from the Champions League would not happen.
"It will not happen, the law protects us," he told El Chiringuito.
"We will not get into legal issues. It is impossible."
In his first public comments since the league was announced, Mr Perez said the Super League would help the sport "evolve" in the wake of the pandemic.
He added: "When you don't have income beyond television, the way to make it profitable is to make more attractive matches. That's how we started working.
"We came to the conclusion that by doing a Super League during the week, instead of the champions, we would be able to mitigate the lost income (from the pandemic)."
In England, there has been widespread criticism of the move, with Everton's board of directors saying the six clubs are displaying "preposterous arrogance" and tarnishing the reputation of England's top-flight.
"Everton is saddened and disappointed to see proposals of a breakaway league pushed forward by six clubs," the Premier League side said in a statement.
Statement From The Board.

— Everton (@Everton) April 20, 2021
"Six clubs acting entirely in their own interests. Six clubs tarnishing the reputation of our league and the game. Six clubs choosing to disrespect every other club with whom they sit around the Premier League table. Six clubs taking for granted and even betraying the majority of football supporters across our country and beyond.
"At this time of national and international crisis - and a defining period for our game - clubs should be working together collaboratively with the ideals of our game and its supporters uppermost."
Everton, one of the founding members of the Football League who also helped form the breakaway Premier League in the early 90s, said the plans of the 'Big Six' appeared intent on disenfranchising supporters across the game.
"This preposterous arrogance is not wanted anywhere in football outside of the clubs that have drafted this plan," Everton said.
"On behalf of everyone associated with Everton, we respectfully ask that the proposals are immediately withdrawn and that the private meetings and subversive practises that have brought our beautiful game to possibly its lowest ever position in terms of trust end now."