FIFA president Gianni Infantino says his organisation strongly disapproves of the European Super League plans while UEFA president Aleksander Ceferin has said there was still time for the 12 'founder' clubs to change their mind.
Infantino told the UEFA Congress today: "We can only strongly disapprove the creation of the Super League, a Super League which is a closed shop, which is a breakaway from the current institutions, from the leagues, from the associations, from UEFA and from FIFA.
"There is a lot to throw away for the short-term financial gain of some. They need to reflect, and they need to assume responsibility."
Ceferin - who has threatened to ban the 12 breakaway clubs from European competition "as soon as possible" - thanked Infantino, before pointing out that success and club size can change over time.
"You showed that you care about the values of football. And if we stand together, we are unbeatable," he said.
"Where were Manchester United in the decade before Sir Alex Ferguson arrived on the scene? And where were Juventus 15 years ago?"
Addressing the six English breakaway clubs directly, he added: "Gentlemen, you made a huge mistake. What matters is that there is still time to change your mind. Everyone makes mistakes.
"Come to your senses, not out of love for football, because I imagine some of you don't have much of that, but out of respect for those who bleed themselves dry so that they can go to the stadium to support the team and want the dream to be kept alive. For those, you (must) change your mind."
---
European Super League reaction - live updates
---
UEFA is taking legal advice on the sanctions it might be able to impose, from expelling clubs to banning players from international competition including Euro 2020, though this may prove to be a negotiating tactic as the two camps size each other up.
"I didn't say they're not allowed to come (and talk), that they are banned from European football forever or something like that," Ceferin said.
"But for the rest I don't want them to come begging us to take them back – I just want them to respect us."
But the German Football Association (DFB) demanded the suspension of the 12 clubs that announced the creation of a breakaway European Super League from all competitions until they reconsider.
"The clubs and their youth teams should be banned from all competitions until they think of their many supporters who have made them into top clubs in the world in the first place, and not only of their purses," DFB President Fritz Keller said on the official DFB Twitter account.
💬 DFB president Fritz Keller on the European Super League concept: "Football is open to everyone. A closed Super League, however, is only for the super rich and super ruthless." pic.twitter.com/fKIc7mN38Y

— Germany (@DFB_Team_EN) April 19, 2021
Nadine Kessler, UEFA's chief of women's football, warned of the damage the creation of a European Super League could have on the women's game.
The plans published by the 12 clubs involved in the rebel project included the creation of a women's competition.
Kessler, a former Germany international and world player of the year, said of the ESL in a letter published on Twitter: "It is a direct threat to all the plans we have carefully crafted, together with ECA (European Club Association), your clubs and the leagues, for (a) new UEFA Women's Champions League.
"Clubs need to be able to have the ambition of being part of the top of European women's club football, the UEFA Women's Champions League. With a closed European Women's Super League, this is not possible.
"Of course, such (a) development would be equally devastating for the national leagues, who have made enormous efforts to professionalise the women's game. All the great steps made in recent years… will have less of a chance of becoming a reality."
President Gerry McAnaney outlined the view of the Football Association of Ireland: "I have confirmed to UEFA that we stand with them in their stance against this Super League proposal. The integrity of the game is at stake here and such an elitist competition cannot be considered."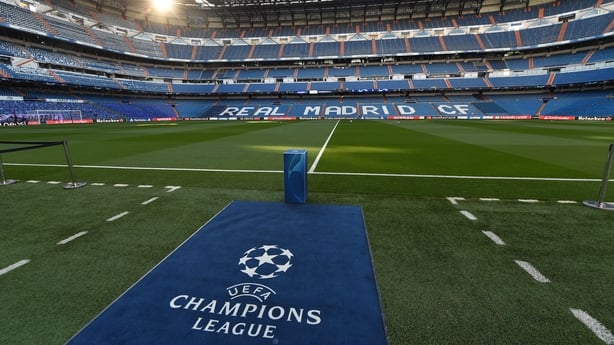 In an interview with Spanish TV last night, the proposed Super League chairman and Real Madrid president Florentino Perez was vehement that expulsion from the Champions League would not happen.
His club, Manchester City and Chelsea have all reached the last four of this season's competition, along with Paris Saint-Germain, who have not signed up to the Super League.
"It will not happen, the law protects us," Perez told El Chiringuito. "We will not get into legal issues. It is impossible."
"They are the threats of someone who confuses monopoly with property.
"Madrid will not be kicked out of the Champions League, definitely not. Nor City, nor anyone else."
He also said that players should not fear missing out on the Euros or World Cup.
"Any player can be totally calm because that is not going to happen,
"UEFA is a monopoly and it also has to be transparent. UEFA does not have a good image in its history. It has to be open to dialogue and not threatening."
In his first public comments since the league was announced, Perez said the Super League would help the sport "evolve" in the wake of the pandemic.
"Football is the only sport that is global. Television has to change to adapt to the times. We have to think about why 16-24 year-olds are no longer interested in football.
"There are poor quality matches and there are other platforms for entertainment. Football has to change.
"When you don't have income beyond television, the way to make it profitable is to make more attractive matches. That's how we started working.
"We came to the conclusion that by doing a Super League during the week, instead of the Champions, we would be able to mitigate the lost income (from the pandemic).
"A group of clubs from some European countries want to do something to make this sport more attractive worldwide."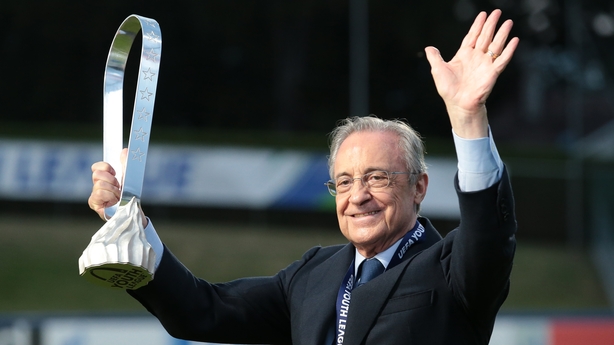 When shown a montage of critical comments from the likes of Gary Neville, Jurgen Klopp and UK prime minister Boris Johnson, Perez added: "All those people, they don't know the truth. They have said it is a league for the rich and it's not true. It's a league to save football.
"The new Champions League is supposed to start in 2024. In 2024, all the clubs will be dead.
"They have said it is a league for the rich and it's not true. It's a league to save football. The money goes to everyone, it is a pyramid. If those above have money, it trickles down.
"There are 15 teams that generate value and five will enter on sporting merit. It is not closed. It is open. We have never thought of a closed league."
International Olympic Committee president Thomas Bach warned that the European sports model was "under threat".
Speaking at the UEFA Congress, the German said: "In so many ways the crisis has revealed, and even deepened, existing fault lines and inequities.
"In this polarising environment, narrow self-interest and egotism have been gaining ground over solidarity, shared values and common rules."