Twelve of Europe's biggest soccer clubs and the sport's governing bodies appear to be on a collision course after the clubs announced the formation of a new Super League competition.
A statement from the Super League confirmed that AC Milan, Arsenal, Atletico Madrid, Chelsea, Barcelona, Inter Milan, Juventus, Liverpool, Manchester City, Manchester United, Real Madrid and Tottenham Hotspur have all joined as founding clubs.
According to the statement, three more clubs are expected to join in time for the inaugural season with a 'qualifying mechanism for a further five teams to qualify annually based on achievement in the prior season.'
The statement did not clarify when the inaugural season will be, but did mention that it would 'commence as soon as practicable.'
The founding clubs will be given $3.5 billion "to support their infrastructure investment plans and to offset the impact of the Covid pandemic", the statement said.
It added the 12 clubs would now seek to work with UEFA and world governing body FIFA to "deliver the best outcomes for the new League and for football as a whole".
The competition format puts it directly head to head with UEFA's Champions League, with mid-week games involving two groups of 10 teams who play home and away with the top three teams in each group going through to the quarter-finals along with play-offs for the last two quarter-final places.
However the make-up of the teams involved is likely to prove highly controversial with all 15 founder clubs seemingly guaranteed a place in the competition in perpetuity with only five places available for the rest of the teams in European soccer.
This contrast sharply with the UEFA Champions League which had a total of 79 clubs entering in 2019/20, all earning their place in the competition based of their domestic league performance in the prior season.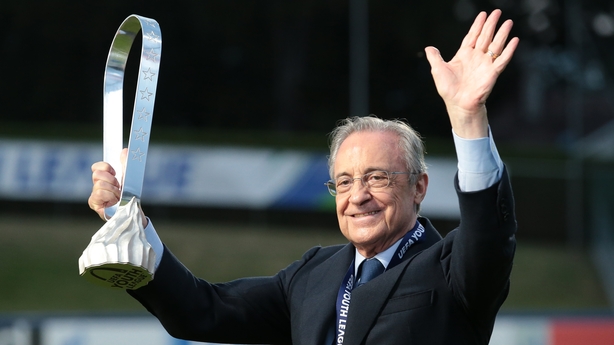 Real Madrid president Florentino Pérez has been named as the first Chairman of the Super League and claimed that the new competition is in response to fan desire.
"We will help football at every level and take it to its rightful place in the world," he said. "Football is the only global sport in the world with more than four billion fans and our responsibility as big clubs is to respond to their desires."
However the Super League appears to have a fight on its hands to establish itself with UEFA and football authorities in England, Spain and Italy coming out strongly in opposition to it.
A joint statement from UEFA, the Football Associations of England, Spain and Italy, plus the Premier League, LaLiga and Serie A added they remained united in their efforts to "stop this cynical project" and were considering all "judicial and sporting (measures) in order to prevent this happening".
The statement said: "If this were to happen, we wish to reiterate that we - UEFA, the English FA, RFEF, FIGC, the Premier League, LaLiga, Lega Serie A, but also FIFA and all our member associations - will remain united in our efforts to stop this cynical project, a project that is founded on the self-interest of a few clubs at a time when society needs solidarity more than ever.
"We will consider all measures available to us, at all levels, both judicial and sporting in order to prevent this happening. Football is based on open competitions and sporting merit; it cannot be any other way.
"As previously announced by FIFA and the six Federations, the clubs concerned will be banned from playing in any other competition at domestic, European or world level, and their players could be denied the opportunity to represent their national teams."