The memory of having to flee Syria is raw for Wafa Mustafa.
"It still feels like the first day since I left. Every single dream that I have is actually about Syria. And that is where my dad is. I cannot just forget about that."
The 31-year-old describes leaving Syria with her mother and sister for their safety after her father "forcibly disappeared" from their home eight years ago.
"Leaving Syria was one of the things that broke me"
Since then, she has had no information of his whereabouts despite exhaustive attempts for answers, including bringing her campaign to the United Nations.
Speaking from her home in Berlin in Germany, the Syrian activist and journalist reflects on the country she grew up in, devastated by conflict for the past ten years.
Raised in a "quiet liberal family" in Hama in western Syria, she recalls how people did not generally discuss politics because there was always a level of fear surrounding this.
"The slogan we repeated in school each morning was unity, freedom and democracy," she remembers.
"But we only heard of these words, we didn't really know what they meant. We didn't even have the right to practice them."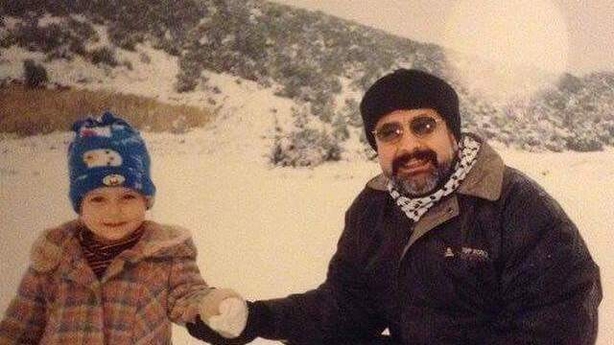 In 2011, Wafa was attending university in the capital, Damascus, when the uprising against President Bashar Al Assad began.
In the lead up to the pro-democracy protests, she describes a growing frustration over a lack of political freedom.
She also remembers immense support for the demonstrations happening in Libya that was gaining traction across the Middle East.
For Wafa, joining the protests was not a difficult decision to make.
"I did not think, should I take part or not? I just found myself there," she said as she remembers joining a demonstration in Damascus.
"The only thing I can recall is the feeling of being among the crowd and the people chanting 'Freedom, Freedom, Freedom' and the feeling that this is actually happening."
Her father, Ali, was also joining pro-democracy protests in the city of Hama. At first, the protests in Syria were peaceful, but then government forces opened fire.
The violence became widespread and the country descended into civil war. Wafa's family, like millions of others, lived under the threat of bombing and daily attacks that ravaged cities.
Two years into the conflict, she details the traumatic incident of how her father was taken from their home in Damascus.
With no trace of where he was being held and fearing for their own lives, Wafa, her mother and younger sister made the decision to travel to neighbouring Turkey. She describes this as one of the hardest moments of her life.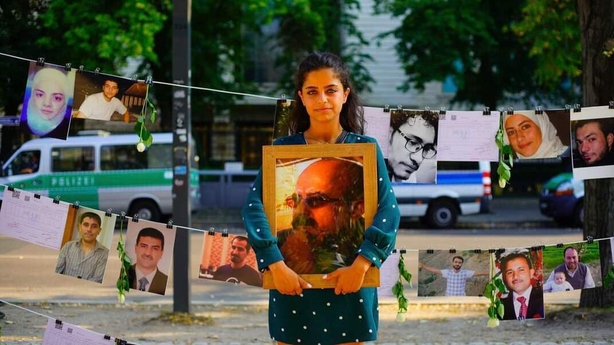 "I left Syria one week after my dad's disappearance. I was 23 years old. We fled with nothing except our passports," Wafa said.
"I remember every day and I will remind the whole world you cannot ignore what is going on in Syria."
Distraught over her father's disappearance and battling severe depression, she also faced the pressure of ensuring her family could survive in Turkey. "I had to work 15 to 16 hours a day to support the family," she said.
---
Read more:
Syrian lives changed beyond measure
Ten years on: Syria's war in numbers
---
After three years in Turkey, Wafa has since moved to Germany, where she continues to seek answers to her father's disappearance, believing he is being held with thousands of others illegally in Syrian prisons. She is not certain if he is still alive.
She said: "We have only one question. Is he alive or not? And the government will not even give us that answer. The only crime he committed was demanding freedom for his country.
Bringing her campaign to the global stage, Wafa addressed the UN General Assembly just two weeks ago, calling for action on crimes against humanity and support for Syria's disappeared. Rather than instill hope, it has left her frustrated.
She said she is confronted by this "ugly reality", whereby she finds the countries that "have the ability to change the situation" do not have the political will to do it.
"I feel frustrated. We only hear talk but we don't see any actions," Wafa said.
For now, she believes her only option is to keep telling her story.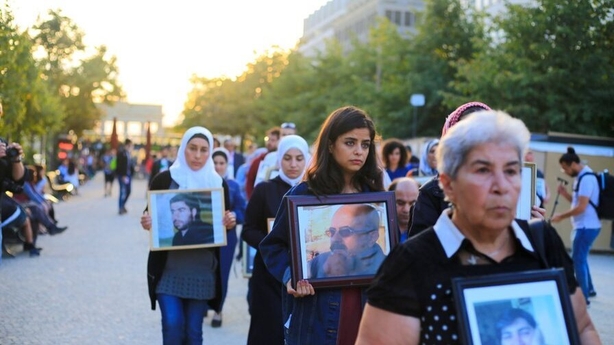 "The only thing I am trying to do is tell the whole world what it means to wake up one day and you have lost your dad for no reason and the high price that people, not just in Syria but many other places too, are paying only to demand basic human rights," she said.
When I ask her if she ever imagined at those first anti-government protests ten years ago of the unfortunate consequences and devastation, she responds that she was always "realistic".
"I knew that it would take a long time. I knew it would not be easy. But I doubt that anyone could expect this amount of violence and this amount of terror."
Her voice quivers as she assesses the possibility of when there may be a resolution to the conflict.
"I am sure, somehow, I will not be alive when Syria becomes a free and democratic country. But I still want to be part of building this future for Syria even if I don't have the chance to live it," she said.
With her extended family still in Syria, daily contact with them gives Wafa insight into the situation there. She cannot describe "how painful it is" to hear how it is in her native country.
Wafa is also trying to cope with the trauma she has endured in the last decade.
"Leaving Syria was actually one of the things that broke me. The first thing was actually losing one of my best friends who was killed by a bombing. And then my dad disappears. And then leaving Syria."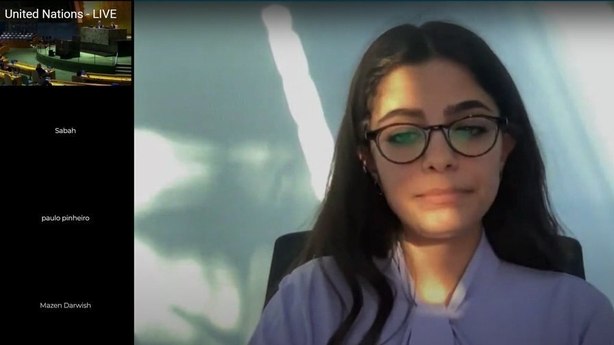 Wafa told the UN General Assembly two weeks ago that Syria is a "torture state" under President Assad. She ended her speech by stating: "Syrians have been through horrific things but we do not give up on fighting for our freedom."
Undeterred energy is driving her campaign forward, but so too is the grief that has shaped her path.
Bringing attention to her plight, she is regularly campaigning for those missing in Syria, as she clutches a photograph of her father Ali.
Each day she notes the number of days it is since she last saw him. Today, on the 10th anniversary of the Syrian conflict, it marks 2,814 days.
She refuses to let any memory of her father or Syria be forgotten.
"I remember every day and I will remind the whole world you cannot ignore what is going on in Syria. It is about my dad and about the fathers and mothers and loved ones of millions. And you cannot just ignore that."