Pope Francis has asked for prayers ahead of his three-day historic visit to Iraq.
It will end two decades of efforts to bring a pope to the birthplace of Abraham, the prophet central to Christian, Muslim and Jewish faiths.
Few doubt the risks involved, including Vatican officials.
The Pope is entering a conflict zone in the midst of a pandemic where there are rising cases of Covid-19. Despite all that, he is pressing ahead.
Bishop Basilios Yaldo, who is coordinating the Papal visit in Iraq, has described the pope's determination to visit as "exceptional".
"Despite the coronavirus pandemic and despite Iraq's security situation and also the infection of the Vatican's ambassador to Iraq with coronavirus days before the visit, he is still determined to come," he said.
This afternoon, on the eve of his departure for #Iraq, #PopeFrancis went to the Basilica of St Mary Major for a moment of prayer before the icon of the Virgin Salus Populi Romani, entrusting his coming apostolic journey to her protection. pic.twitter.com/O9H6atO4Le

— Holy See Press Office (@HolySeePress) March 4, 2021
Iraq is currently seeing a resurgence of Covid-19 infections, with daily new cases nearing the height of its first wave.
The Vatican has defended the visit, insisting that it has been designed to limit crowds and that health measures will be enforced.
The final event is a 10,000-ticketed outdoor Mass at a stadium in Erbil.
Vatican spokesman Matteo Bruni has acknowledged there might be consequences to the visit, but said the Vatican measured the risks against the need for Iraqis to feel the Pope's "act of love".
The trip aims to offer hope to Iraq's minority Christian community, which has been devastated by wars and repression by Islamic State insurgents.
Twenty years ago, a planned visit by the then Pope John Paul II was cancelled. In that time, Iraq's Christian population has diminished from 1.5 million to 300,000.
Francis is going to Iraq to encourage these Christians to persevere and remain, and to emphasise that they have an important role to play in rebuilding the country.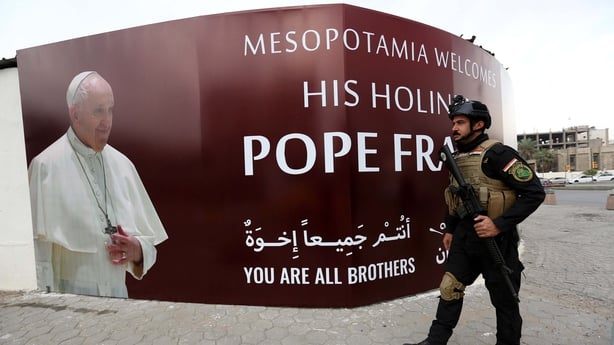 He will pray in a Mosul square surrounded by four destroyed churches and visit another church in the Christian city of Qaraqosh that has been rebuilt in a sign of hope for Christianity's future there.
One of the most significant moments will occur on Saturday when he will meet Shia Islam's most authoritative figure in the city of Najaf the Grand Ayatollah Ali al-Sistani.
Sistani is one of the most important figures in Shia Islam.
He commands a vast following among Iraq's Shia majority and has huge influence over politics and public opinion.
The 40-minute meeting between the two men will take place in in the city of Najaf, behind closed doors.
A Vatican official pointed out that in Abu Dhabi two years ago, Pope Francis reached out to Sunni Muslims who account for 80% of all Muslims.
Now he wants to embrace the other part of the Muslim family, the Shias through the arranged meeting.
Its symbolism is recognised in Iraq and beyond.
Increased violence in the country has raised concerns over the visit for which around 10,000 security personnel will be deployed.
Two weeks ago, a military base inside the Erbil airport, where Pope Francis is set to meet representatives from Iraqi Kurdistan was attacked.
It is reported that the Pope will be travelling in armored vehicles.
The visit will begin when Pope Francis arrives at Iraq International Airport tomorrow.
He will meet Prime Minister Mustafa Al Kadhimi, before a short ride to the Presidential Palace in Baghdad for an official welcoming ceremony.