Six months ago, on 4 August 2020, the largest non-nuclear explosion in history ripped its way through Lebanon's capital city Beirut.
The blast killed 200 people, injured more than 6,500 and flattened whole neighbourhoods including homes, schools and hospitals.
Close to 300,000 people were left homeless, with many more continuing to live in homes that have yet to be repaired.
"It is palpable. You can feel it. A lot of people are angry. A lot of people are upset, but people are also just exhausted"
Irish woman Alison Heron, from north county Dublin has lived in the city of Beirut for the last two years, where she works as Trócaire's Head of Programmes.
Although her apartment in the neighbourhood of Gettawi was destroyed in the blast, she still lives in the same area.
"My recollections are still very fresh. The idea that it's been six months, half a year since the explosion, is a little bit, to be honest, hard to comprehend. It feels like it only happened recently and I'm sure that's the same for many people who experienced it.
We need your consent to load this rte-player contentWe use rte-player to manage extra content that can set cookies on your device and collect data about your activity. Please review their details and accept them to load the content.Manage Preferences
"Like many others who are down close to the blast site, I think it maybe took a little bit longer for the trauma or realisation of what happened to kind of resonate and maybe because everyone was in flight or fight mode, it took a few months before the reality kind of set in, and slowly and surely it has."
Her neighbourhood lies between two of the city's hospitals, St George University Hospital and Hospital Gettawi, that were severely damaged in the blast.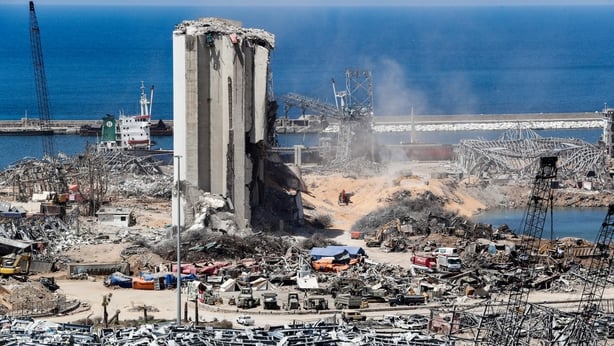 Rebuilding has been slow due to a lack of financial support and aid, with strict lockdowns as a result of the Covid-19 pandemic severely stalling the recovery process.
"There's still rubble and buildings missing windows and doors. There's still a lot of construction work happening, but it's definitely quieter because of the lockdown. There really is a sense of stillness in a lot of the areas because so many people have had to leave and haven't been able to rebuild because of all the difficulties."
A huge amount of ammonium nitrate being stored at the port in unsafe conditions has since been blamed for causing the blast.
An investigation is under way as to whether the ammonium nitrate, which is used for fertiliser but also explosives, may have been destined for neighbouring Syria, before it was detained at the port.
"We are overwhelmed with requests. Recently we've received requests from an average of 10,000 families a month, for food and basic hygiene items"
The decade-long conflict in Syria has resulted in around 1.5 million people fleeing across the border into Lebanon, where many are living in deep poverty. They made up a significant proportion of those killed in the blast, with 41 confirmed dead and two still missing, according to Kayan Tlais, who represents victims' families.
Most received little aid and struggled to afford food and shelter, even before the blast. Now, with many Lebanese families also having lost everything, aid agencies say what little help was available is having to stretch even further.
"We are overwhelmed with requests. Recently we've received requests from an average of 10,000 families a month, for food and basic hygiene items," says Fadi Halisso, co-director of Basmeh and Zeitooneh, an NGO which partners with the charity Christian Aid.
It was set up in 2012 to help Syrian refugees, but since the devastation caused by the blast and the Covid-19 pandemic, more and more Lebanese citizens are also asking for help as well:
"Mothers are telling us that they are feeding their babies watered-down tea, as they cannot afford milk or baby formula. Many families who have been out of work for months are barely eating, they send us pictures of their empty kitchen shelves. It's heartbreaking," he said.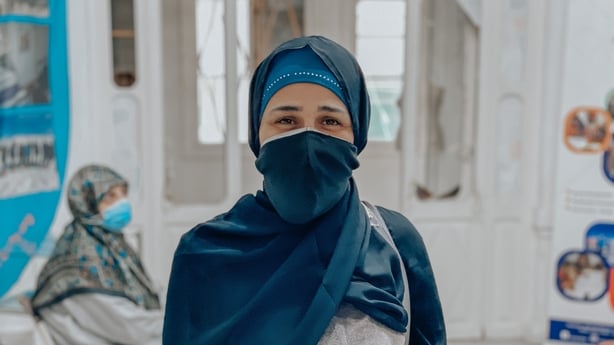 "While we continue to help Syrian refugees, about half of those asking for assistance in recent months have been Lebanese citizens. Before, it was rare to find Lebanese families asking for help with such basic needs. Now, even households who were managing before are hurting."
Lebanon was already in financial meltdown before the blast struck Beirut, leaving thousands more homeless and out of work. But while locals are struggling, refugees from Palestine and Syria do not receive any support from the Lebanese government.
Majid, originally from Syria, came to Beirut with his family ten years ago and his home in Bourj Hammoud in the city was damaged in the explosion, when the doors and windows of his building blew in, injuring his wife.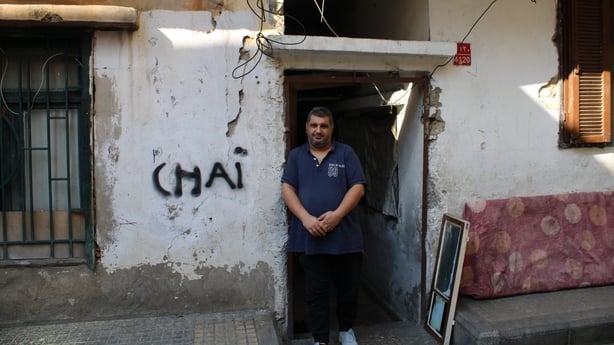 He said his children are still traumatised by what happened that day: "My children aren't able to forget the sound of the explosion, when they hear any sound or noise around us, immediately they remember what happened…even my little son is now having speech problems."
Six months after the blast, he is receiving cash support from Christian Aid's local partner Association Najdeh in Beirut, which has enabled him to buy some food and helped to pay his rent.
700 other vulnerable families, directly affected by the explosion, are also being helped in this way by the charity.
"The price of normal items such as food, basic items that people need has just tripled and so people are really suffering"
However, a government ban on work during the lockdown has meant Basmeh and Zeytouneh has completed work on just 110 of the roughly 200 homes it received funding to refurbish after the blast. Many still have no windows, doors or insulation.
The Norwegian Refugee Council estimates that around 9,000 of a total 200,000 homes that were damaged or destroyed in the blast still require repairs.
"Syrians were often the last ones who had houses renovated, and many still haven't been refurbished," said Nabil Khalouf, a Syrian relief worker with Edinburgh Direct Aid, who spent months working in the worst-affected areas.
Basmeh and Zeytouneh prioritises widows and other families headed by women, as they are especially vulnerable.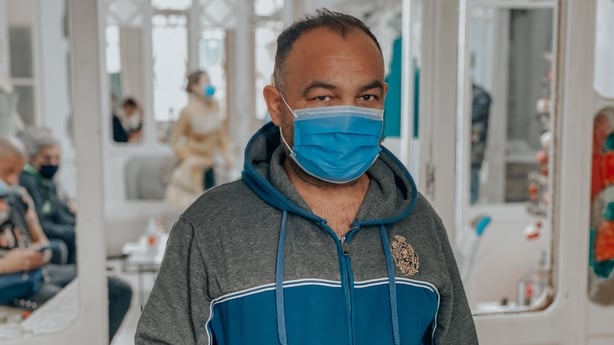 But with 75% of the Lebanese population now needing some form of aid, according to outgoing Social Affairs Minister Ramzi Moucharaifeh, Basmeh and Zeytouneh and other organisations like it are under intense pressure.
"It's looking very grim," says Fadi Halisso.
"People cannot be kept under curfew indefinitely with no government support. Lebanon's government and politicians must find solutions – and that will need continued pressure from abroad, as well as greater international financial support directed to local organisations serving those in greatest need."
Lebanon's currency has lost more than 80% of its value since 2019 when a financial crisis accelerated and anger erupted into protests over the economy, state corruption and political mismanagement.
"Before Covid and before the explosion, there was already an economic crisis and a political crisis happening," said Alison Heron.
Now she said the price of basic food and medicine is simply out of reach for some people:
"The price of normal items such as food, basic items that people need has just tripled and so people are really suffering. And the most vulnerable communities in Lebanon, whether that's Lebanese communities or Syrian refugees or migrant workers who would normally need a daily labour in order to just meet their basic needs.
"They cannot do that because of the lockdown now."
Some have already taken to the streets in the northern city of Tripoli and in the southern city of Sidon.
"They just are saying that they'd prefer to die from Covid than starvation, and that's the sad reality now because many Lebanese are just at breaking point," said Ms Heron.
Similar to the situation in Ireland, she said cases of Covid-19 rocketed in Lebanon after Christmas and the New Year. Hospitals are now full and struggling to cope and it is difficult to find even basic supplies like paracetamol in the pharmacies.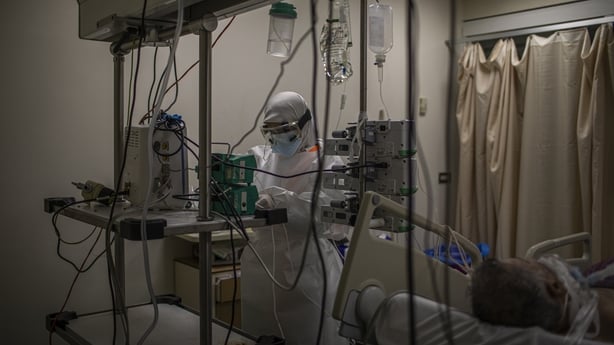 She said that despite the restrictions further street protests are expected today to mark the lack of progress six months on from the blast. Many are angry over the lack of political accountability and criminal convictions.
"It is palpable. You can feel it. A lot of people are angry. A lot of people are upset, but people are also just exhausted. The trauma, the impact of this and just the feeling of just not knowing how to bring about change is challenging."
Additional reporting Reuters