Kamala Harris is a woman with many firsts to her name and her election in November could create many more.
However, when she was announced as Joe Biden's running mate the immediate headlines surrounding her nomination were not solely about those firsts, rather her name.
TikTok lessons and YouTube videos with the correct pronunciation did the rounds as US President Donald Trump and news anchors came under fire for mispronouncing it.
Political consultant Richard Goodstein went viral for pointing out to annoyed Fox News host Tucker Carlson that Ms Harris' name was in fact pronounced 'Comma-la'.
"I think out of respect for someone who is going to be on the national ticket, pronouncing her name right ... is kind of a bare minimum," said Mr Goodstein.
The name Kamala is a nod to her Indian roots. It means lotus and is an epithet for the Hindu goddess Lakshmi.
Her mother Shyamala Gopalan hails from the southern Indian state of Tamil Nadu.
She moved to Berkeley, California in the late 50s to study science and met her future husband Jamaican Donald Harris on the front line of the civil rights movement.
Shyamala's younger brother Gopalan Balachandran told RTÉ's States of Mind podcast that while politics didn't run in the family, his mother, Ms Harris' grandmother, was active in women's groups.
For Gopalan Balachandran his niece's curious character always stood out.
"[Kamala] used to spend a lot of time with my parents, go for walks with her grandfather and all she did was ask a lot of questions - why is this, why is that?" he said.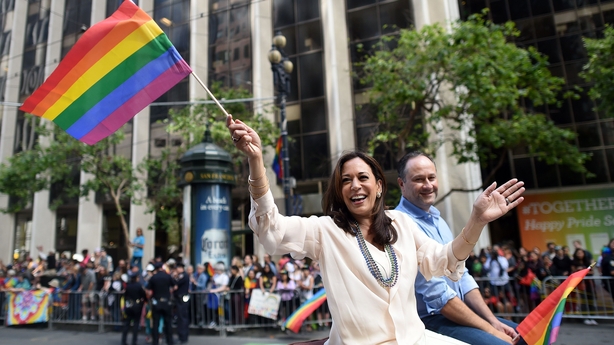 Born in Oakland in 1964, Kamala Harris had a pram-eyed view of the civil rights movement and often argues that her identity makes her uniquely suited to fight for people who have been traditionally ignored.
After her parents separated, she lived with her mother and sister in Berkeley where she went to both a black Baptist church and Hindu temple.
In her autobiography, she said that he mother "understood very well that she was raising two black daughters" and "she was determined to make sure we would grow into confident, proud black women".
Following graduations at a historically black college and law school in San Francisco, Kamala Harris wasted no time establishing her career as a prosecutor in the 90s.
As an assistant district attorney she focused on sex crimes and went on to be recruited by the San Francisco District Attorney's office, where in 2003 she successfully ran for the DA role against her former boss.
She became the first African-American and first woman elected district attorney in San Francisco and during her first three years in office, San Francisco's conviction rate jumped from 52% to 67%.
Less than a decade later, she clocked another first. Kamala Harris was the first person of colour and first woman to hold the office of Attorney General in California even though few thought she would win the race.
Her tough reputation only grew during her time as AG. Notably, Ms Harris battled for more money for the state of California in a national foreclosure crisis settlement, eventually securing around $20bn dollars compared to the initial offer of $4bn.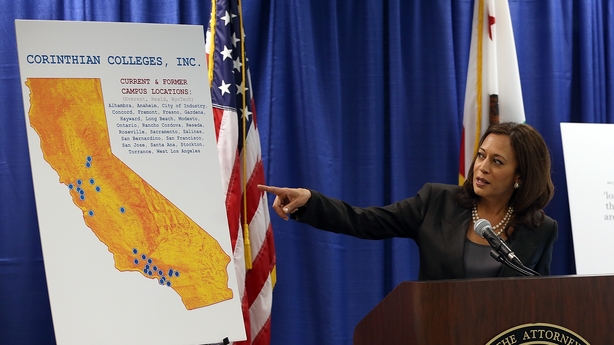 It also connected her to Joe Biden. His son Beau Biden was Attorney General of Delaware and the two got to know each other during negotiations.
She was also on the sidelines of the fight for same-sex marriage in the state of California and married the couple who sued the state to restore marriage equality.
That decade also saw her own marriage to Doug Emhoff, a corporate lawyer in LA. He has two children from his previous marriage who call her Momala.
Using her rising star within the Democratic Party, Kamala Harris successfully ran for the Senate in 2017.
Senator Harris gained a reputation for being merciless as she flexed her prosecutor muscles questioning Attorney General Jeff Sessions on the Russia investigation in 2017 and Supreme Court nominee Brett Kavanaugh.
She also clashed with Joe Biden over his past opposition to federal busing in a heated exchange on the second night of the first Democratic presidential primary debate in 2019.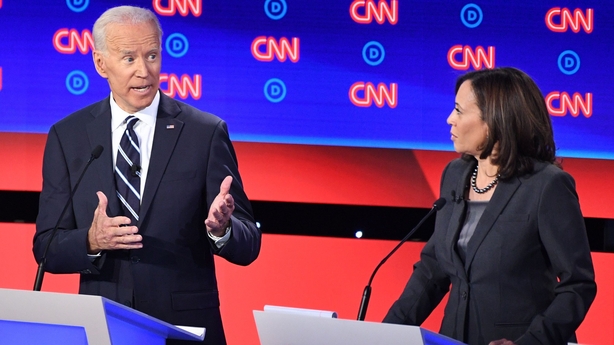 Her uncle Gopalan Balachandran said she was always combative.
"She's very quick on her feet. There's no question about it" he said.
"The times I used to see her was when I used to be with Shyamala when she was in California. Two young nieces, playing around, fighting with each other and trying to involve me in their quarrels and things like that," he added.
Kamala Harris' bid for president was short lived in 2019 after oscillations between policy positions and the campaign ran out of money.
She was also criticised for her track record on crime, including a controversial decision in 2004 to not pursue the death penalty against the man who murdered a police officer in San Francisco.
While others argued she did not do enough to address police brutality.
However, her bid for a new administration in 2020 did not end there. Senator Harris became the first woman of colour on a major party ticket when Joe Biden asked her to be is running mate in Election 2020.
Her mother once said to her: "You may be the first, but make sure you're not the last."
Dr Joel K Goldstein, an expert on the US vice presidency, said her nomination is significant because it is not just about being the first woman of colour on a ticket, but this is the first time a woman has run for Vice President in a competitive position.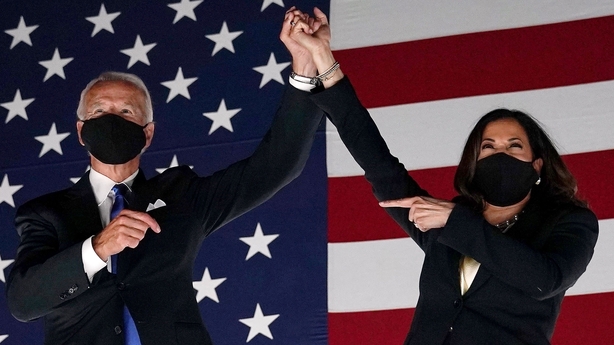 "The two previous times - in 1984 when Walter Mondale chose Geraldine Ferraro and when John McCain chose Sarah Palin - both of those times the ticket was far behind in the polls," he said.
Dr Goldstein said Kamala Harris' nomination "reflects a change in American politics" adding that America's democracy is now opening up to groups who were once traditionally excluded.
While American voters along with Kamala Harris' family are gearing up for this week's debate, her uncle said from what he knows of his fiery niece is that it will be probably be a "walk over".
But he may be biased.