For US Vice President Mike Pence Doonbeg is not just another location for his boss's hotel.
Rather, it is a familiar haunt where he and his family are known and remembered as the 'American cousins' who brought gifts of US sports memorabilia in the 90s.
Mr Pence's great-grandmother hails from the Clare village and his distant cousin believes those Irish roots make up a huge part of who he is.
"We call him 'Mike'. I've met him a bunch of times and he's just a really approachable and really nice guy. The fact that he is vice president was lost on us," said Hugh McNally, who runs Morrissey's in Doonbeg where Mike Pence learned how to pull a pint. 
The Irish connection goes beyond Clare. His grandfather Richard Michael Cawley emigrated from Tubbercurry in Co Sligo to Chicago in 1923.
It was 36 years later that Mike Richard Pence was born into an Irish Catholic family in Columbus, Indiana. His parents Nancy and Edward Pence, a US army veteran, operated a series of petrol stations.
Mr Pence's mother Nancy instilled the Irish heritage in her children and is "constantly trying to send as many of the family over", said Hugh McNally.
"Nancy would always be sending me emails saying this cousin is going over to Ireland, look after them. She's always trying to send people over and that comes across on Mike as well," he told RTÉ's States of Mind podcast.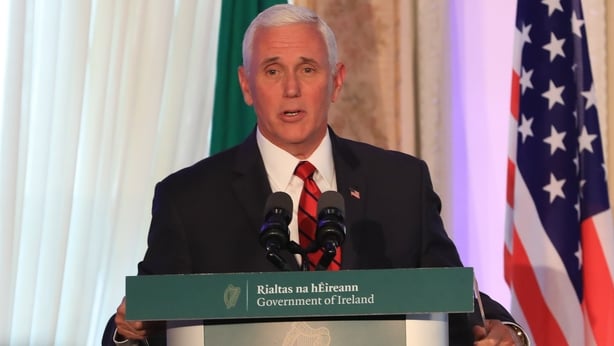 Like many Irish-American families in the '60s, Mike Pence grew up idolising former Democratic President John F Kennedy and even voted for Jimmy Carter in 1980.
But as his relationship with religion changed and deepened in the '80s while a student at Hanover College, so did his placement on the political spectrum.
Shortly after marrying Karen Batten in 1985 and time as a private practice lawyer, Mike Pence became involved in the Republican Party and unsuccessfully ran for the US Congress in 1988 and again in 1990.
He has described himself as a Christian, a conservative and Republican "in that order".
However, adapting his religious beliefs to his political ambitions was a new challenge for Mr Pence.
During those elections he struggled with attack ads and penned an essay in 1991, vowing to preach a positive message from then on.
'The Mike Pence' radio show became an outlet for his conservative agenda. He was hailed for having a level-headed manner and a willingness to listen to opposing views.
Mike Pence went on to successfully run for the US Congress in 2000, winning re-election five times and climbing the Republican leadership ladder along the way. In 2013, he was elected governor of Indiana.
When it looked like Donald Trump would secure the Republican nomination for president in 2016, team Trump looked to broaden his base and tighten support among congressional conservatives with an evangelical running mate.
Dr Joel K. Goldstein, an expert on the US Vice Presidency, said it is unusual for voters to make their presidential decision based on the likability of a running mate.
However, the president's decision on who they want by their side can make a difference in the way "voters perceive the presidential candidate".
For Donald Trump, that came in the form of Mike Pence.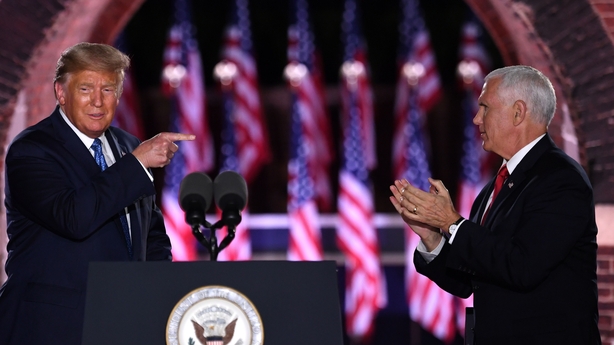 His evangelical Christianity fuels his political agenda and that is seen in previous attempts to deny federal funds to the reproductive health care organisation, Planned Parenthood, and efforts to make it legal for religious conservatives to refuse to serve gay couples.
Mike Pence also opposed same-sex marriage and ending a rule that made gay members of US military hide their sexuality due to risk of expulsion.
His wife also came under fire in 2019 when she resumed teaching at a school that bans LGBT students. Mr Pence said it amounted to an "attack" on religious education. 
According to an article in the Washington Post, Mr Pence told a reporter in 2002 that he will not attend events without his wife, if alcohol was being served, to avoid rumours of impropriety.
All eyes were on the Pence family during St Patrick's Day celebrations in 2018 when then taoiseach Leo Varadkar said that he was going to raise the issue of LGBT rights with the vice president.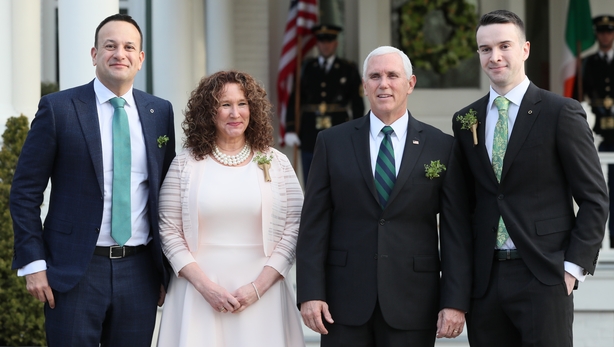 While the media were not allowed to attend the event, the following year Mike Pence invited the taoiseach and his partner Matt Barrett to visit his home with his sister Anne.
During his Vice Presidency, Mike Pence has become Donald Trump's defender and has worked behind the scenes with the people the president was criticising publicly.
Mike Pence is a heartbeat away from the presidency and would assume the role of president if anything happened to Donald Trump. His office came into focus in recent days with the president's Covid-19 diagnosis.
With that reminder of potential power, fresh eyes will be on the vice president and what he stands for during Wednesday night's debate.