Here are some of the latest developments in the coronavirus crisis.
More than 309,000 dead
The coronavirus has killed at least 309,296 people worldwide since it surfaced in China late last year, according to the latest AFP tally based on official sources.
There have been 4,588,360 officially recorded cases in 196 countries and territories.
The United States has recorded the most deaths at 87,991. It is followed by Britain with 34,466, Italy with 31,763, Spain with 27,563, and France with 27,625 (see below).
---
France death toll now at 27,625
France reported 96 new coronavirus deaths today, a lower figure than in previous days, as its overall toll from the pandemic reached 27,625.
Several other recent positive trends continued as well, with 71 fewer people in intensive care, the health ministry said.
The latest figures came as France enjoyed the sixth day of the partial easing of a nationwide lockdown imposed on 17 March to battle the virus.
---
Bundesliga is back ... but no Italian soccer yet
Germany's Bundesliga returns to action with the resumption of the first top European league since the lockdown watched closely to see if it provides a blueprint for other competitions.
The football matches are being played behind closed doors and players and coaches, who have been in quarantine for the past week, must follow stringent hygiene guidelines.
However, in Italy, Prime Minister Giuseppe Conte said more certainties were needed before the Serie A  soccer teams would be back in action.
He also announced that gyms, swimming pools and sport centres will reopen on 25 May while theatres and cinemas will reopen from 15 June.
Italy also said it will reopen to European tourists from 3 June and scrap a 14-day mandatory quarantine period.
Shops, bars and restaurants are due to reopen  in Italy from this Monday.
---
Santiago lockdown
Chile's government orders a week-long total lockdown for its capital Santiago after a spike in infections over the last days when cases rose by 60%.
---
Spain stays on high alert
The Spanish government will seek a fresh extension of its state of emergency that will last "about a month" until the transition out of lockdown is completed, said Prime Minister Pedro Sanchez. 
---
'Corona demos' in Germany
As part of a growing wave of demonstrations in Germany by conspiracy theorists, extremists and anti-vaxxers against coronavirus restrictions, thousands of people are set to mass in Stuttgart, Munich and Berlin, with police out in force.
---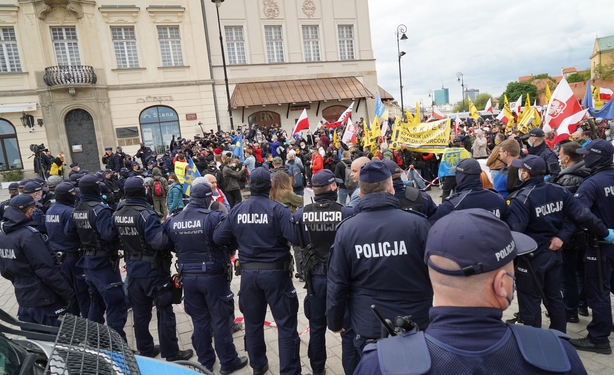 Police use tear gas on Polish shutdown protesters
Police in Warsaw used tear gas against protesters demanding the government act faster to allow businesses to reopen following a coronavirus shutdown.
Hundreds of protesters gathered in Warsaw's Old Town in the early afternoon, carrying signs saying "Work and bread" and "It will be normal again."
Police blocked the planned march, saying in a statement published on Twitter that public gatherings are still banned under the government restrictions.
---
Air Canada to slash workforce
Air Canada, which has reduced its flights by 95 percent, announces it will lay off at least half of its approximately 38,000 staff.