Spain's government will seek a fresh extension of its state of emergency that will last "about a month" until the transition out of lockdown is completed, Prime Minister Pedro Sanchez has said. 
If such a measure is approved by politicians, it would mean the state of emergency that is currently set to expire on 24 May would last until late June. 
"The Spanish government will ask parliament to approve a new extension of the state of emergency.. it would be the last state of emergency and would continue until the end of the rollback," Mr Sanchez said in a televised address. 
"For that reason.. instead of being a 15-day (extension) it will be for about a month."
The lockdown was first declared on 14 March to slow the spread of the virus in Spain, which has suffered one of the world's most deadly outbreaks with 27,000 deaths and more than 230,000 cases. 
Mr Sanchez said if Spain had followed a "herd immunity" strategy - allowing the virus to freely circulate to let the population develop mass immunity - deaths and infections could have been vastly higher.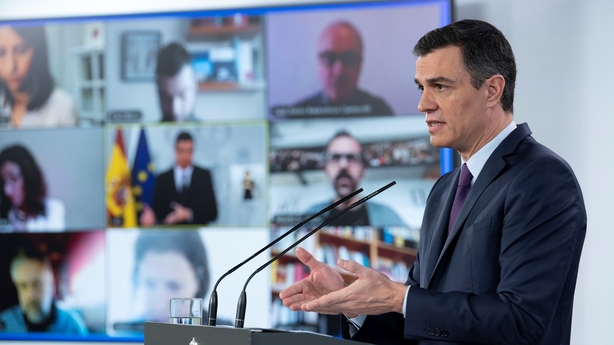 "If we had taken this path, the number of people infected could have been more than 30 million. And it could have cost the lives of around 300,000 people," he said.
Renewed four times, the state of emergency has let the government impose some of the world's tightest restrictions on Spain's nearly 47 million population, although it has since begun a cautious rollback which is due to finish by late June. 
The latest data showed a further fall, with the number of overnight deaths dropping to 102 in what was the lowest figure in two months - and a far cry from the 950 of 2 April when the epidemic peaked. 
Since 11 May, half of Spain's population has benefited from an easing of the restrictions, with cafe terraces reopening and people allowed to meet in groups of up to ten people.
And by Monday, fully three-quarters of the population will be able to enjoy such freedoms although these measures have not yet been rolled out in the worst-hit areas such as the Madrid region and Barcelona.
The government's decision to keep Madrid in the so-called preparatory phase zero has provoked a backlash from the regional authorities who have accused the central government of playing politics and even threatened to take legal action.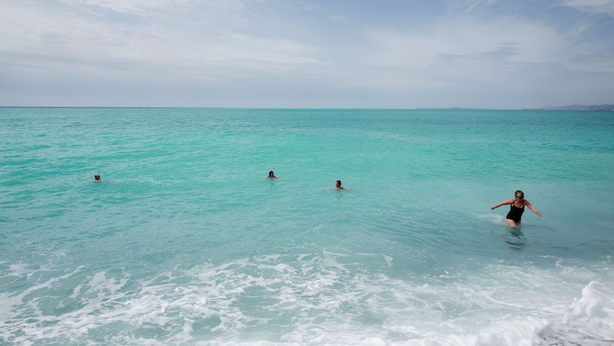 Meanwhile beaches in France and Italy were open for the first weekend since the easing of coronavirus lockdowns while football fans experienced the return of major league action with Germany's Bundesliga resuming.
Italy also announced it will reopen to holidaymakers from 3 June and scrap quarantine requirements for arrivals, welcome news for the important tourism industry in one of the nation's worst hit by Covid-19.
The timeline - deemed unrealistic by many experts - is more aggressive than the one-year scenario put forward by European scientists.
The hunt for a vaccine for a disease that the World Health Organization says may never disappear has also threatened to become a source of tension between the globe's haves and have-nots, with trials under way in various countries.
Many governments are not waiting, with borders and beaches reopening around Europe after two traumatic months in which life ground to a halt.
Germany, which this month began its slow emergence from confinement, was ready to kick off its top-flight football league this weekend, although in front of empty stadiums and under draconian health measures.
"The whole world will be looking at Germany, to see how we get it done," said Bayern Munich boss Hansi Flick.
"If we manage to ensure that the season continues, it will send a signal to all leagues."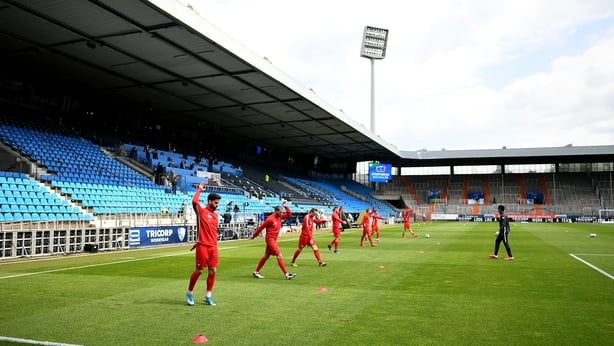 Russia pushed ahead with plans to ease restrictions despite reporting more than 10,000 new cases, with its football league set to return next month and thousands of people being tested for antibodies to show whether they have had the virus or not.
World athletics chief Sebastian Coe also said it was crucial to get top events started again and warned that sports leaders may rebel and decide to resume even without the approval of local authorities.
"We will be respectful, but we have to make decisions in the best interest of our sport and our athletes," the British former track legend told Indian television channel WION.
---
Read more:Latest coronavirus stories
---
Slovenia became the first European country to open its borders, despite new infections still being reported.
In northeast Europe, Latvia, Lithuania and Estonia were creating their own "Baltic bubble" allowing free movement among the three countries.
France called for self-restraint as the country prepared for its first weekend since easing its lockdown, warning that police would break up any large gatherings.
Several nations have eased restrictions to stem the economic damage from lockdowns.
Hungary's government will gradually lift lockdown restrictions in Budapest from Monday, two weeks after it ended the lockdown in the rest of the country, Prime Minister Viktor Orban said on his official Facebook page.
"It has become clear that we have managed to curb the epidemic in Budapest as well," Orban said in a video.
"Therefore, we can shift to the second phase of defence in Budapest as well, cautiously ... and thus we lift the lockdown."
With the European summer fast approaching, the key tourism industry is trying to salvage something from the wreckage.
Parasols and sunloungers are starting to appear on coastlines in Italy.
"It moves me to see these sunshades," said Simone Battistoni, whose family has been running the Bagno Milano beach concession in Cesenatico on Italy's east coast since 1927.
Austria took an important symbolic step Friday by reopening its restaurants and traditional Viennese cafes.
"We missed it and we're going to come back as much as possible," said Fanny and Sophie, 19-year-old students waiting for breakfast at a cafe in the Austrian capital.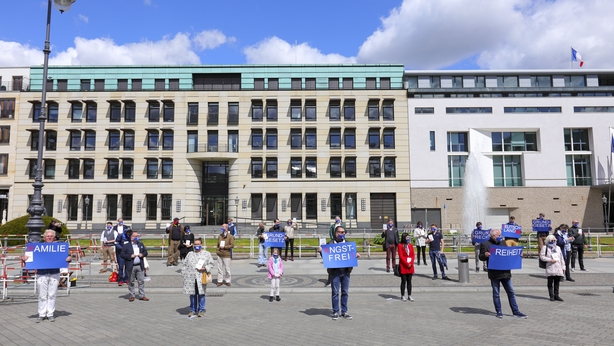 Elsewhere Russia has recorded its highest daily death toll yet from the coronavirus while new cases fell to the lowest level in two weeks.Russia is in second place in the world to the United States with 272,043 cases, with 9,200 new cases announced today, the lowest number since 2 May.
But the number of deaths announced for the last 24 hours was the highest yet in Russia, at 119.
Critics have cast doubt on Russia's low mortality rate, accusing authorities of under-reporting deaths in order to play down the scale of the crisis.
The total number of officially confirmed deaths is now 2,537, lower than a number of other countries with fewer cases.
Russian health officials say one of the reasons the count is lower is that only deaths directly caused by the virus are being included.