An outbreak of Covid-19 in Yemen could be a "disaster" and "catastrophic" for the war-torn country, according to aid agencies.
Following years of violence, millions are displaced while the World Food Programme states that 15.9 million people wake up hungry every day.
Diseases including dengue, malaria and cholera are already causing massive problems in hospitals which are struggling to function.
The first reported case of coronavirus in Yemen came on 10 April, in the southern province of Hadramout.
Speaking to RTÉ News from Sanaa, Médecins Sans Frontières' Head of Mission in Yemen said that fears are growing over what a coronavirus epidemic would mean for the country and the disaster it could cause.
Claire Ha-Duong said that Yemen only has enough protective supplies for one month while services are struggling to provide basic care.
"That's why we've seen some epidemics of measles etc reappearing in Yemen. Clearly it's a sign that the basic healthcare is not implemented because of a lack of resources.
"So you add a very vulnerable population, who are much more at risk, and then a disease which is quite contagious… you face a disaster," she said.
Healthcare workers could be seen on the streets of southwestern city of Taez today, checking people's temperatures before they came into the area as anxiety grows on the ground.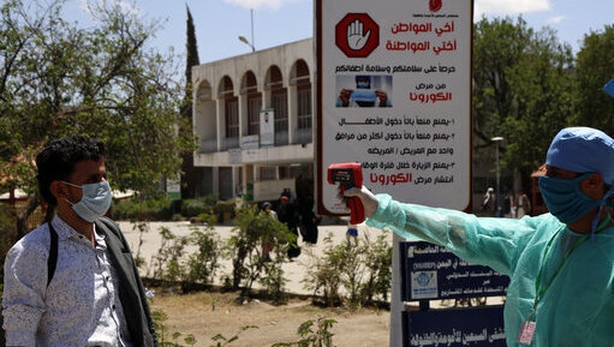 Some medics are so petrified of the virus, that they are fleeing.
"There's a lot of very scared reaction that we can see, even healthcare workers are fleeing the hospitals if they think there is a suspected case which is a bit of a problem," said Ms Ha-Duong.
She added that health staff have not been paid in Yemen for the past five years, unless they work for aid agencies like MSF.
The coronavirus poses a massive threat to the country, which is already suffering one of the world's worst humanitarian crisis.
War-torn Yemen could face further "disaster" if more ppl are confirmed with #COVID19. Some healthcare staff are so nervous and scared of the virus that they are fleeing hospitals says MSF's Claire Ha-Duong, who is in Sanaa. More here: https://t.co/YqVwadXNBc pic.twitter.com/tUS58DMnAL

— Jackie Fox (@jackiefox_) April 12, 2020
As many nations around the world scramble to get protective equipment for health care works, Claire Ha-Duong said that Yemen is "at the bottom of the list" and it is difficult to compete with other countries.
"I'm quite scared that we will face a disaster very soon if there is an outbreak, " she said.