The global coronavirus death toll has topped 100,000 as Easter celebrations around the world take place in near-empty churches with billions of people stuck indoors to halt the pandemic's deadly march.
The grim milestone came as the World Health Organization issued a dire warning that prematurely lifting lockdown restrictions - which have kept more than half the planet's population in lockdown - could spark a dangerous resurgence of the disease.
A total of 100,661 people have been killed, including 70,245 in Europe, since the virus first emerged in China in December.
Italy has the highest number of deaths with 18,849, followed by the United States with 18,700 and 16,353 in Spain.
The figures also show that more than 1.6 million cases have been recorded since the coronavirus emerged in China in December.
According to Johns Hopkins University, the number of confirmed Cvoid-19 cases in the US has now exceeded 500,000.
This makes it the hardest-hit country in the world in terms of cases.
EU agrees on response
The European Union has agreed to a €500 billion ($550 billion) rescue package aimed at reducing pain across the 27-nation bloc, especially hardest-hit Italy and Spain. However, they do not agree on proposals for pooled borrowing, which divide north and south.
German Chancellor Angela Merkel has described the economic rescue deal agreed by the EU as "an important milestone" and said it should be implemented as soon as possible.
Oil production cut accord
Top oil producers except Mexico have agreed to cut output in May and June by 10 million barrels per day, OPEC says, after marathon talks at a video conference, as they seek to deal with a collapse in demand due to the coronavirus and a Saudi-Russian price war.
'Great Depression' and Fed steps in again
International Monetary Fund (IMF) chief Kristalina Georgieva anticipates "the worst economic fallout since the Great Depression" from the pandemic.
Meanwhile, the US central bank has announced another series of financing facilities to provide $2.3 trillion to support the US economy amid the pandemic.
Apple and Google join forces to combat coronavirus
Apple and Google have launched a major joint effort to leverage smartphone technology to contain the Covid-19 pandemic.
New software the companies plan to add to phones would make it easier to use Bluetooth wireless technology to track down people for who may have been infected by coronavirus carriers.
The idea is to help national governments roll out apps for contact tracing that will run on iPhones and Android phones alike.
The technology works by harnessing short-range Bluetooth signals.
Using the Apple-Google technology, contact-tracing apps would gather a record of other phones with which they came into close proximity.
Such data can be used to alert others who might have been infected by known carriers of the novel coronavirus, although only in cases where the phones' owners have installed the apps and agreed to share data with public-health authorities.
Software developers have already created such apps in countries including Singapore and China to try to contain the pandemic.
Trudeau hints at summer return of normalcy
Canadian life could soon return to a semblance of normality if people bear down now to stop the spread of the coronavirus, but the risk of resurgence will remain until a vaccine is developed, Prime Minister Justin Trudeau said on Friday.
During his daily press conference in front of his Ottawa home, Trudeau said a "more normal" phase could come as early as this summer.
"If we do things right, this will be the first and worst phase that we go through as a country in terms of COVID-19," Trudeau said.
Once the first phase of contagion has passed, "we will be able to talk about loosening up some of the rules that are in place" to get some people back to work "and get things rolling again," he said.
Johnson out of intensive care
British Prime Minister Boris Johnson has been able walk short distances as part of the care he is receiving to aid his recovery, his office said.
"The prime minister has been able to do short walks, between periods of rest, as part of the care he is receiving," a Downing Street spokesman said.
"He has spoken to his doctors and thanks the whole clinical team for the incredible care he has received."
Johnson is recovering on a hospital ward after ending three days in intensive care for COVID-19.
"I do not believe you can walk away from this and get straight back to Downing Street and pick up the reins without a period of readjustment," his father Stanley Johnson says.
Divided UN seeks consensus
UN Secretary General Antonio Guterres has urged the Security Council to display unity as it meets to discuss what he called the "fight of a generation" -- the global coronavirus pandemic. The body limits itself to giving its support to Guterres.
Italy planning lockdown extension
Italy is ready to extend confinement measures due to expire on 13 April to 3 May, newspapers report.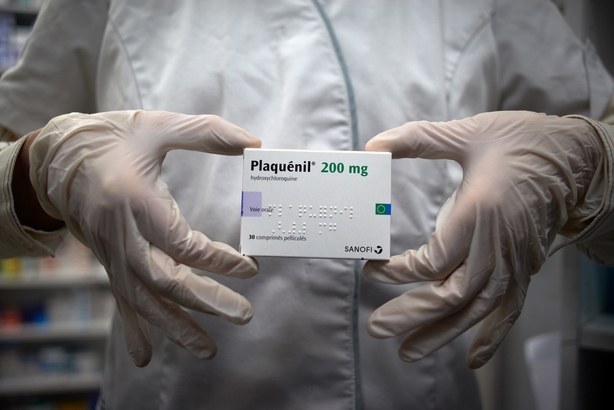 Hydroxychloroquine offer
French pharmaceutical giant Sanofi says it will offer 100 million doses of hydroxychloroquine, a treatment for rheumatoid arthritis and lupus, to governments worldwide if studies show it can safely to be used to treat COVID-19 patients.
Turkey bans citizens from leaving home for 48 hours
Turkey ordered citizens to stay at home for 48 hours across 31 cities starting midnight Friday to contain the spread of the new coronavirus, immediately triggering panic-buying in some cities.
The interior ministry said in a statement the order would last until midnight on Sunday in dozens of cities, including the economic hub of Istanbul and the capital Ankara.
Almost immediately afterwards, thousands of people in Istanbul and Ankara flocked to markets and bakeries still open for last-minute shopping, AFP correspondents said.
Roads in both cities were also full of traffic, with long queues forming outside off-licences, grocery stores and banks.
Face mask scandal sees emergency supply agency head quit
Finland's government says it has accepted the resignation of the head of the country's emergency supply agency, over the multi-million euro purchase of Chinese face masks that proved unsuitable for hospital use.
Prime Minister Sanna Marin earlier said she had lost confidence in the official, Tomi Lounema.
Coronavirus death toll passes 1,000 in Brazil
Brazil, the hardest-hit Latin American country in the coronavirus pandemic, passed the mark of 1,000 deaths on Friday, the health ministry said.
The ministry's latest figures gave a toll of 19,638 confirmed COVID-19 cases, with 1,056 deaths - one fewer than it had indicated in an initial tally earlier in the day.
With a worldwide death toll of more than 100,000, Brazil's figure is still relatively small compared to the number of deaths in countries such as Italy (more than 18,000), the United States (nearly 17,000) and Spain (nearly 16,000).
But health officials are bracing for things to get worse.
Experts predict the outbreak will only start to peak in Brazil toward late April.
Uruguay to repatriate cruise ship passengers
An Australian cruise ship stranded off the coast of Uruguay for two weeks with more than 100 people aboard infected with the coronavirus arrived at the port of Montevideo on Friday.
Following an agreement between the governments of Uruguay and Australia, about 110 passengers are due to be evacuated from the Greg Mortimer and taken along a "sanitary corridor" to Montevideo's international airport, where they will take a medically equipped charter flight to Melbourne.
The Australian and New Zealander tourists -- including people who tested negative and others confirmed ill with the virus -- will be taken on buses with a police escort straight to the runway without entering the terminal.
They are due to take off in the early hours of Saturday.
Of the 217 people - passengers and crew - aboard the ship, 128 have tested positive for the virus.
Russia to block "fake news" criticism
Russia's Prosecutor General's Office said it would start blocking from Friday access to "fake news" social media posts criticising quarantine measures taken by the city of Moscow to curb the coronavirus.
Moscow officials have unveiled a tracking app and also plan to roll out a QR-code system to show codes to police monitoring compliance with the lockdown in Russia, where there have been 94 deaths and nearly 12,000 cases.
The prosecutor's office said that one video in which a man accused authorities of trying to set up a "digital concentration camp" falsely stated that a coup d'etat was underway.
Another post falsely described a system of special passes allowing holders to move around the city freely, it said.
South Asia
India says it has ramped up coronavirus testing as documented cases there rose above 6,700 and topped 12,000 across South Asia.
The epidemic has killed 206 in India, data shows, with its capital Delhi and financial hub Mumbai emerging as hotspots, and Prime Minister Narendra Modi is under pressure to extend a 21-day nationwide lockdown beyond Tuesday, when it is due to end.
In neighbouring Pakistan, where the official tally climbed to 4,601 cases and 66 deaths, a crowd of worshippers attacked police enforcing lockdown rules outside a Karachi mosque when the officials tried to stop them from offering a congregational prayer, said city police chief Ghulam Nabi Memon.
Authorities earlier warned of tough penalties if people went to mosques for Friday prayers. The lockdown rules allow only five people to pray at a time, but many more gathered in individual mosques last week.