Spain has recorded its lowest daily death toll from the new coronavirus in 17 days, with 605 people dying, the government said today.
The update raised the overall number of fatalities to 15,843 in Spain, which has suffered one of the worst outbreaks of Covid-19 in the world, and where the total number of confirmed cases now stands at 157,022.
The figures showed the death rate slowing to 4%, down from just over 4% yesterday in line with a trend which began on 25 March when it stood at over 27%.
The rate of infection also slowed, with 4,576 new cases over the past 24 hours, while the number of people who recovered from the virus rose to 55,688.
Prime Minister Pedro Sanchez said yesterday that the "fire started by the pandemic is starting to come under control".
---
---
Although health chiefs say the pandemic has peaked, they have urged the population to pay strict attention to the ongoing national lockdown which was put in place on 14 March in order to slow the spread of the virus.
The restrictions will remain in place until 25 April although the government has made clear it expects to announce another two-week extension.
The government will distribute masks in metro or interurban train stations "where usage is recommended" and where work will resume after the Easter weekend "on Monday or Tuesday," Health Minister Salvador Illa added.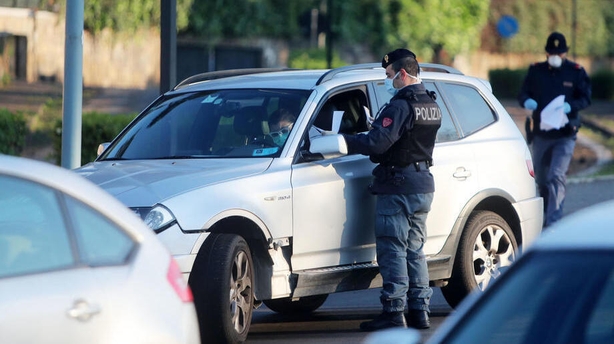 Deaths from the COVID-19 epidemic in Italy rose by 570 on Friday, down from 610 the day before, and the number of new cases also slowed modestly to 3,951 from a previous 4,204.
The latest tallies broadly confirm what experts describe as a plateau of new cases and deaths, which are no longer accelerating but are still not falling steeply.
The total death toll since the outbreak came to light on 21 February rose to 18,849, the Civil Protection Agency said, the highest in the world.
Italian Prime Minister Giuseppe Conte is reportedly ready to extend most measures of his country's month-long lockdown until early May in order to avoid a second coronavirus wave.
Italy's main newspapers said Mr Conte will published a decree either today or tomorrow prohibiting people from taking walks or lounging in parks until 3 May.
The reported decision followed days of consultations with government scientists and regional leaders.
The Corriere della Serra newspaper said Mr Conte will however bow to growing pressure and allow a tiny number of businesses to reopen when the existing restrictions expire on 13 April.
These reportedly include book and stationery stores as well as lumber companies and factories that make agricultural machinery.
The government and scientists reportedly view these as businesses with the least amount of human interaction.
France has reported 987 more coronavirus deaths today. Deaths in hospitals are up by 554 to 8,598 with deaths in nursing homes up by 433 to 4,599.
The total number of deaths from the virus in France now tops 13,000.
The health ministry said 7,004 people were in intensive care, a fall of 62 or 0.9% following a 1% fall on Thursday.
"We seem to be reaching a plateau, albeit a high level," health ministry director Jerome Salomon told a daily press briefing by video.
Portuguese President Marcelo Rebeleo de Sousa said on Friday he would propose next week extending a national lockdown till 1 May as the number of coronavirus cases in the country rose above 15,000.
Parliament is likely to approve his request. Portugal declared a 15-day state of emergency on 18 March and last week approved its extension by a further 15 days till 17 April.
"We have to be very focused on a fight that we haven't fully won yet," Rebelo de Sousa, who was himself in quarantine for two weeks last month despite testing negative for coronavirus, told a news conference.
"We cannot let our guard down."
Portugal has so far reported 15,472 confirmed cases and 435 fatalities, far below neighbouring Spain's death toll of 15,843,the second highest in the world after Italy.
Speaking at a morning show on TVI television on Friday,Portugal's Prime Minister Antonio Costa said: "It would be a wrong signal for the country to lift the state of emergency."
"There is still no light at the end of the tunnel," Costa said. "We have to walk through this tunnel and the more disciplined we are now the faster we will get to the end of it."
Both Costa and Rebelo de Sousa said it was critical that the Portuguese stay home during the usually busy Easter period to avoid contagion.
The government has tightened restrictions further over the Easter holiday period, closing all airports to commercial flights and banning domestic travel from 9-13 April.