At a time when many African nations are already struggling with malnutrition, disease and a lack of healthcare facilities, the Covid-19 pandemic could be disastrous for developing countries on the continent.
This is the stark warning from aid agencies, with the International Red Cross stating that the area is in "a race against time" to curb the spread of the illness.
It appeared initially that Africa was being spared from this outbreak. However, as March came to a close, the number of countries affected across the continent increased from nine to 41.
Official figures put the number of cases at over 5,000 but researchers at the London School of Hygiene and Tropical Medicine estimate that by the beginning of May, most African countries are likely to pass 1,000 reported cases with another 10,000 in the weeks that follow.
Fears are growing about unreported numbers and the lack of life saving equipment needed to help patients.
Health systems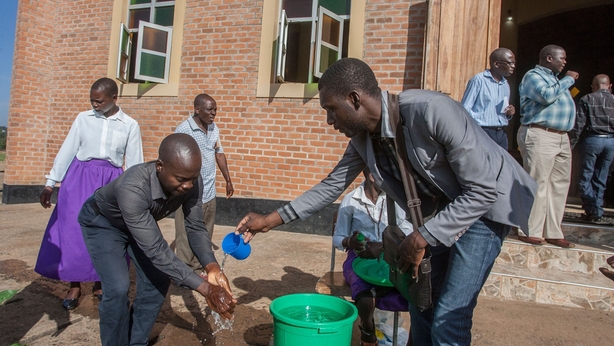 Healthcare facilities in Africa have a limited capacity to absorb the pandemic. How to treat Covid-19 will depend on the availability of intensive care beds, ventilators and electricity. That is not a reality for many.
In Liberia, there are no intensive care units with ventilators. Malawi has around 20 ICU beds for a population of about 18 million people.
Uganda has 0.1 ICU beds per 100,000 population. When compared with western countries it is a tiny number. Ireland has 5.2 ICU beds per 100,000 while the United States has 34.7.
For the 19 million people in Malawi, there are around 20 intensive care beds, according to the World Health Organisation. An Irish aid agency reports that South Sudan and Sierra Leone have none.
Somalia's displaced people have no access to water and food facilities and rely on charities for health services, said Trócaire Country Director Paul Healy.
Somalia's 700,000 displaced people have little or no access to water and rely on charities for health services. @trocaire says they are the only health provider in the region Gedo, which is about the size of Ireland. pic.twitter.com/0g1dMWw9qu

— Jackie Fox (@jackiefox_) April 2, 2020
"We're the only health provider in Gedo, which is about the size of Ireland. That's going to be really, really problematic to maintain the work that we're doing on malnutrition and health … and at the same time trying to manage the situation with coronavirus," Mr Healy told RTÉ News from Nairobi in Kenya.
One of the poorest and hungriest countries in the world, the Central African Republic (CAR), now has another burden of being deemed one of the least prepared countries in terms of the capacity to respond to the pandemic.
It has three ventilators available to help save the lives of people who struggle to combat Covid-19, while 70% of health centres are reliant on charities to work and to function.
The situation with humanitarian needs is already extremely concerning in CAR. Around two million people are in need of health assistance, while 700,000 people are displaced from their homes due to violence without access to water, sanitation or hygiene. About 60% of the population is hungry and four out of ten children are stunted with malnutrition.
Concern's Country Director in the Central African Republic, Elise Ponson, told RTÉ News that there is some "very minor capacity" in the capital Bangui, but outside there is "absolutely no capacity" in terms of intensive care units.
"The entire country of five million people has three ventilators only so we can say the level of preparation is basically non-existent at the moment," she said.
70% of health centres in CAR are reliant on charities to even function. There is "absolutely no capacity" in terms of intensive care units outside of the capital - says @concern's Country Director in the Central African Republic, Elise Ponson. pic.twitter.com/RQ3B8s17mN

— Jackie Fox (@jackiefox_) April 2, 2020
While the situation is alarming, anxiety continues to rise among the population as they watch healthcare systems in Europe coming under severe pressure, she added.
For some time, Zimbabwe's health system has been in decline with reports of doctors washing and reusing bandages.The country has less than 20 ventilators to help people in severe respiratory distress.
Numbers of confirmed cases of Covid-19 remain low, however local media say only 300 people have been tested so far.
Doctors and nurses are growing nervous, downing tools and striking over a lack of protective equipment.
They are hoping a donation of PPEs to the country from Chinese 'Alibaba' billionaire Jack Ma will help step up efforts to combat the spread and detection of the illness.
Illness
With health systems stretched, developing African countries are also trying to fight the spread of many other illnesses such as cholera, malaria, measles and HIV/AIDs.
Rainy season has come early this year, which may see malaria cases peak in conjunction with this pandemic.
Around 12% of adults in Zimbabwe are HIV positive and with a deepening economic crisis, medicines are in short supply resulting in limited access to antiretroviral drugs.
Preventable but contagious diseases such as measles are also ripping through Congo unchecked in remote regions. More than 6,000 people have died, though healthcare workers say the number is likely to be much higher because reporting rates are so low.
Social Distancing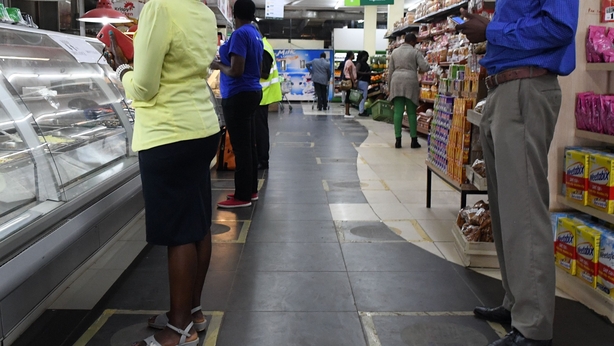 Around one in five people all over the globe are under lockdown. Kenya, Sierra Leone, Rwanda and Uganda are among those who imposed 14-day shutdowns to fight the spread of Covid-19.
Sudan has also closed its borders while Zimbabwe is shut for 21 days.
However, even as countries enter lockdowns over the virus, social distancing is challenging as people push it aside to work in order to buy food and medicine and obtain water.
Social distancing in Africa has been described as a "privilege few can afford". Among the 736 million people who live on less than $1.90 a day, 413 million are in sub-Saharan Africa, according to the UN.
Largely Zimbabweans have heeded the call to stay at home during their 21-day lockdown. But the country's health system was deteriorating before the #COVID19Pandemic. It has around 20 ventilators for 16m ppl and there are worries over a shortage of testing kits + PPEs. pic.twitter.com/KWgSYJ0t9G

— Jackie Fox (@jackiefox_) April 2, 2020
Curfews in Kenya have led to social unrest with police firing tear gas against residents defying the rules. A 13-year-old boy was shot dead on his balcony by police who were enforcing the stay-at-home policy in Nairobi.
Trócaire's Paul Healy said that while the streets of Nairobi are quiet this morning, practicing social distancing in some parts will be "next to impossible".
"People have to get up and find where they are going to get enough money to have food today so they have to move around and they have to engage," he said.
"The markets are teeming with people. When that shuts down, social discontent can happen and it can cause deep, deep trouble in the community."
In the Central African Republic, it would be near "impossible" to social distance as the economy is so informal that people need to get out and make the small amount of money that will feed them, added Concern's Elise Ponson.
"If we disturb that, we will increase the hunger in the population," she said. 
Religious leaders have also been called upon to join the fight by thinking of new ways to hold services, or none at all, in an effort to practice social distancing as over 80% of people in Uganda and Ethiopia attend houses of worship.
For aid agencies working on the ground, who are also restricted from travelling, they argue that the western response will not work in Africa.
"We're going to have to think beyond a health response (and bring) a community response to this," said Mr Healy.
"We have to have a different strategy in developing countries than what has been rolled out in Europe, The United States and China. We don't have the health facilities."
Bolstering health facilities, increasing hygiene measures and promoting social distancing is the plan for now.
However, they are unsure how to prepare for what is projected to come in the next few weeks.