French President Emmanuel Macron has ordered people to stay at home from midday tomorrow except for necessary reasons such as shopping, saying any violations of the stricter rules to battle the coronavirus would be punished.
In a 20-minute address to the nation, he said the French had to "severely restrict movements for the next 15 days at least" and limit social contacts as much as possible. Any violation of this new regime would be "punished" he said.
Mr Macron, who repeatedly said France was "at war" with the virus, also announced that the second round of local elections due to be held on 22 March would be postponed and revealed the European Commission's proposed 30-day travel ban to the EU.
France's public health authority reported today that the number of confirmed cases of Covid-19 had risen from 5,423 on Sunday to 6,633, an increase of over 20% in 24 hours. 148 people have died in France.
We need your consent to load this rte-player contentWe use rte-player to manage extra content that can set cookies on your device and collect data about your activity. Please review their details and accept them to load the content.Manage Preferences
US President Donald Trump predicted that the pandemic that has killed thousands and brought life in countries across the world grinding to a halt could end by July in the United States.
"So it seems to me that if we do a really good job... people are talking about July, August, something like that," Mr Trump told reporters at the White House when asked how long the outbreak might last.
"So it could be right in that period of time where it, I say, it washes through.
"With several weeks of focused action, we can turn the corner and turn it quickly."
Mr Trump, who said the US "may be" heading into a recession due to the virus, said he was asking Americans to home-school their children, restrict gatherings to groups of fewer than 10 when socialising outside or indoors and avoid going to bars, restaurants and food courts.
Mr Trump said the new guidelines from his coronavirus taskforce applied for 15 days and were meant to slow the spread of the virus.
"We've made the decision to further toughen the guidelines and blunt the infection now," Mr Trump told reporters at the White House.
"We'd much rather be ahead of the curve than behind it."
Asked how he would rate his response to the #coronavirus, @realDonaldTrump says he would give himself a ten. @rtenews pic.twitter.com/R6qSl9INVG

— Brian O'Donovan (@BrianOD_News) March 16, 2020
Mr Trump said a nationwide curfew was not under consideration at this point and that his administration has talked regularly about domestic travel restrictions but hopes not to have to put such things in place.
The president has faced criticism for his handling of the pandemic after playing down its seriousness in the early days of the virus' spread.
There have been at least 4,200 confirmed cases in the US and 70 deaths.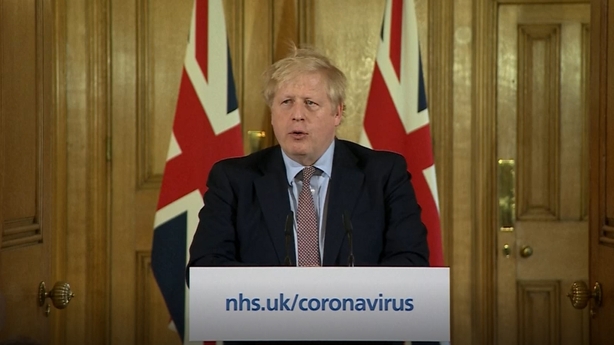 British Prime Minister Boris Johnson has moved to ban mass gatherings and ordered the most vulnerable to isolate for 12 weeks.
Mr Johnson had faced a backlash after his government took a less stringent approach to tackling the virus than countries such as Italy, France and Spain, which have effectively locked down much of Europe.
In a toughening of Britain's approach to the outbreak today, Mr Johnson closed down any remaining social life in the world's fifth largest economy and ordered those over 70 with underlying health problems to isolate for 12 weeks from this weekend.
"What we are announcing today is a very substantial change in the way that we want people to live their lives and I can't remember anything like it in my life time," Mr Johnson said at a news conference in Number 10 Downing Street.
"I don't think there's really been anything like it in peacetime and we have to accept that it's a very considerable psychological, behavioural change that we're asking you, the public, the nation to do," he said.
People should avoid pubs, clubs, restaurants, cinemas and theatres, the government said, though Mr Johnson stopped short of ordering them to close. He said he hoped the venues would take a responsible approach.
People should also avoid unnecessary travel and work from home where possible, he said, adding that this was particularly important in London as it appears to be "a few weeks ahead" of the rest of the country.
The hospitality industry criticised the move, saying that since they were not being compelled to close, businesses would not be able to claim on their insurance.
The number of confirmed coronavirus cases in the United Kingdom has risen to 1,543, up from 1,372 the day before. The UK death toll has risen to 55.
"It looks as though we are now approaching the fast growth part of the upward curve and without drastic action cases could double every five or six days," Mr Johnson said.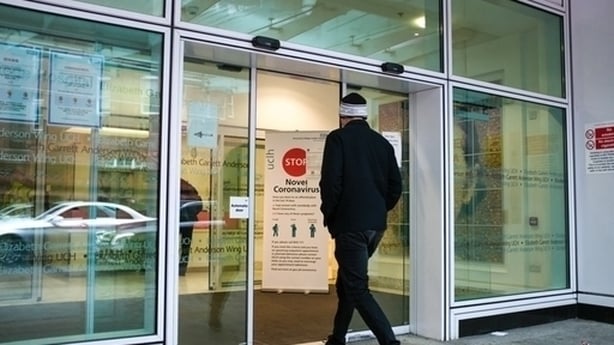 When asked about the need for a globally coordinated response, Mr Johnson said there was widespread agreement in the G7 that measures would be needed.
"We are going to need to make sure everybody has access to liquidity," he said. "If we do things jointly then I think that the global markets will understand that we're all operating in the same sort of fiscal framework and I think we'll be much more successful that way."
Mr Johnson faced a backlash today over his decision to keep schools open, with angry parents keeping their children at home and complaining that other countries like Ireland were doing more to stop the spread of coronavirus.
The UK government's chief scientific adviser, Patrick Vallance, said that it was too soon to take this step.
"At some point, it may be necessary to think about things like school closures," he said. "But those things, again, need to be done at the right time in the right way, at the right stage of the outbreak."
Northern Ireland First Minister Arlene Foster and Deputy First Minister Michelle O'Neill have clashed over the decision to keep schools in Northern Ireland open while they are they have shut in the Republic.