A number of Irish citizens in Tenerife have contacted the Department of Foreign Affairs after a hotel was put on lockdown as two guests were hospitalised and diagnosed with coronavirus.
Hundreds of people have been confined to their rooms at the H10 Costa Adeje Palace hotel.
The first guest, an Italian doctor who was on holiday with his wife, was admitted to hospital in Tenerife yesterday, and a Spanish government spokesman earlier today said his wife was now also in hospital suffering from the virus.
Canary Islands health authority spokeswoman Veronica Martin said: "Hundreds of hotel clients are being monitored for health reasons and the degree of supervision will be assessed during the day, but so far, we're not talking about quarantine."
The Department of Foreign Affairs said a number of Irish citizens staying in the area have made contact with it and it is providing consular assistance.
It said the embassy in Madrid is "closely monitoring the situation" and they are in touch with the local health and tourist authorities.
It said anyone with specific concerns regarding Irish people in the area can contact the DFA at 01-4082527.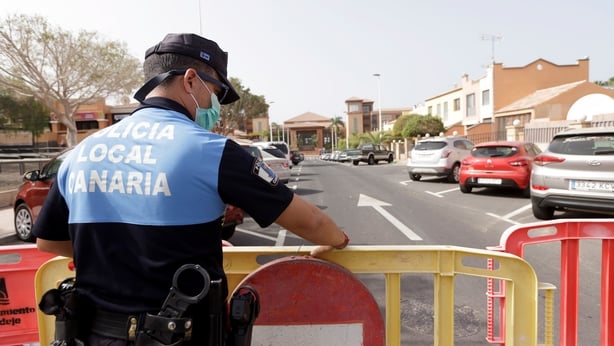 An Irish woman, who was staying in the Costa Adeje Palace hotel in Tenerife, has been told that she no longer needs to self-quarantine.
She said she was advised this evening by the Health Service Executive that she should contact her doctor if she develops any coronavirus symptoms.
The woman checked out of the hotel in Tenerife yesterday afternoon and returned to Ireland, after a week-long holiday. She arrived back on a flight to Cork Airport.
Earlier, the woman told RTÉ News that the H10 Costa Adeje Palace had made contact with her travel agent, which in turn contacted her this morning, asking her to make contact with the HSE.
We need your consent to load this rte-player contentWe use rte-player to manage extra content that can set cookies on your device and collect data about your activity. Please review their details and accept them to load the content.Manage Preferences
She said she called her local doctor, who provided her with a number to call a HSE helpline, to seek further instruction.
The woman said she had looked up the symptoms of Covid-19, and as a precaution had self-isolated herself at home.
However, she said she feels well and is not displaying any of the symptoms of the virus.
The woman also said there were a number of other Irish people staying in the hotel in question.
Meanwhile, a Co Wicklow man who has been staying at the H10 Costa Adeje Palace in Tenerife, who was due to go home tomorrow, described the situation in the hotel.
The man who was identified as 'Brian' told RTÉ's Liveline that he has been staying there for three weeks.
He said that some people are congregating around the pool area, but that the rest of the guests are "seemingly in their rooms, waiting to be tested by a medical doctor".
He said: "You'd want an army of doctors to come and deal with it."
He read out a notice that he received under his door this morning which said: "We regret to inform you that for health reasons the hotel has been closed down. Until then the sanitary authorities warn that you must remain in your rooms."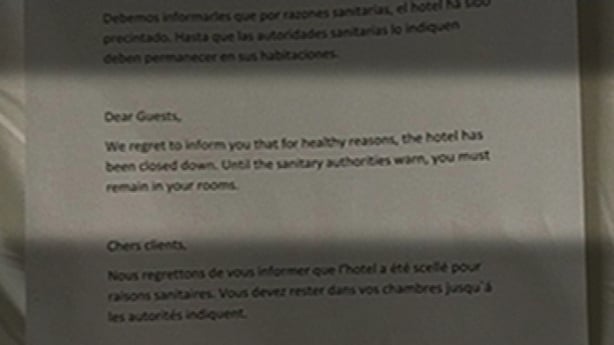 He said he could see other people at the pool area so he and his travel partner joined them.
Brian said he has been back in his room for a couple of hours now, where he can enjoy a "nice view from the veranda".
When asked whether he would contact the Department of Foreign Affairs he said: "We're putting everything on the long finger. We will decide when we hear if we're going to be seen by the medical doctor."
Earlier, a British guest staying at the H10 said all hotel guests were asked to remain in their rooms, but had been allowed to have breakfast in the hotel restaurant.
Chris Betts said: "We can see from the window there are security officers outside the hotel and about 50 hotel employees."
He said he had not been tested for the virus yet.
Mr Betts said guests cannot go out either "front or back" of the hotel.
"There are police cars stationed at all entrances", he said.
"There is a side entrance at the side of our room where the employees enter", and that for the most part, the hotel "seems to be acting normally".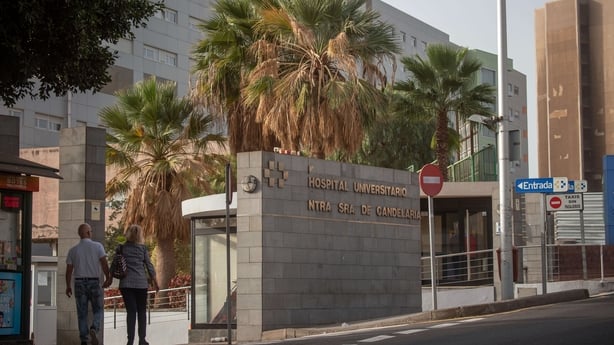 ---
Read More:
Coronavirus: Latest advice as cases rise abroad
Virus outbreak in South Korea 'very grave' - Moon
What European nations are doing to block coronavirus
---
The management could not be reached for comment.
According to its website, the hotel has 467 rooms, four outdoor pools as well as two jacuzzis.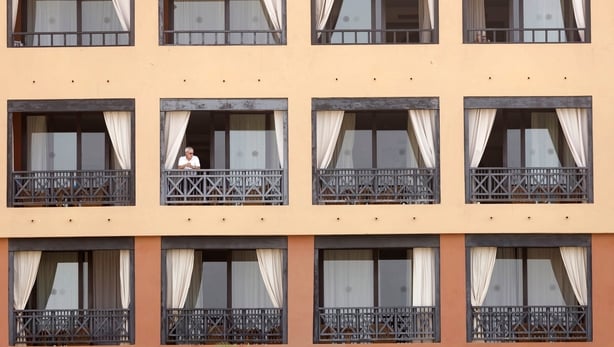 The Italian tourists were being kept in isolation in a hospital, making it four cases identified in Spain after a German tourist in La Gomera, another Canary Island, and a British man in Mallorca were tested positive.
"We are checking people who had contact with the patient including the people in the hotel," a spokeswoman for Canary Island's health department said.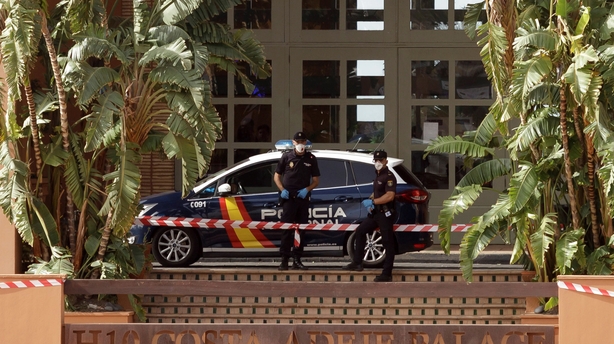 Tens of thousands of people are expected this week in the Canary Islands for carnival festivities.
Freelance journalist Cliodna O'Flynn, who is in Tenerife, said there is a "slight panic" around the hotel and that roads around it have been cordoned off by police.
Speaking earlier on RTÉ's Today with Sean O'Rourke, she said she had spoken to a German couple who were meant to check-in to the hotel this morning, but have been denied access.
She said most of the police and journalists outside the hotel are wearing masks, but face masks are sold out at local shops.
Spanish authorities have repeatedly ruled out imposing tighter border controls as a way of preventing the spread of the virus as some nations have done.
The evidence that this measure works "is very scant and Spain right now is not planning it," Fernando Simon, director of the Centre of Coordination of Health Emergencies at Spain's health ministry, told a news conference on Sunday following the surge in coronavirus cases in Italy.
Seven people in Italy have so far died after catching the virus, making it the hardest-hit country in Europe.
In China, where the virus first appeared, the authorities have implemented unprecedented measures to try to contain the spread of the virus, which has killed more than 2,600 people in the mainland, including locking down tens of millions of people in Hubei province.
Here, the Department of Foreign Affairs has opened a dedicated phone line for callers with concerns relating to COVID-19 outbreak.
It said anyone who has specific concerns regarding Irish citizens currently in any affected area can contact 01-613 1733
Additional reporting: Fergal O'Brien, PA